Snoop Dogg's Wife Flaunts Her Gorgeous Smile in a New Selfie and Is Praised for Her Beauty
Snoop Dogg's wife, Shante Broadus, is being showered by compliments after sharing a selfie on Instagram, as fans claim she looks "ageless."
Shante Broadus has been dancing a storm during this quarantine, showing off her best moves and her curves at her Boss Lady Entertainment studio week after week.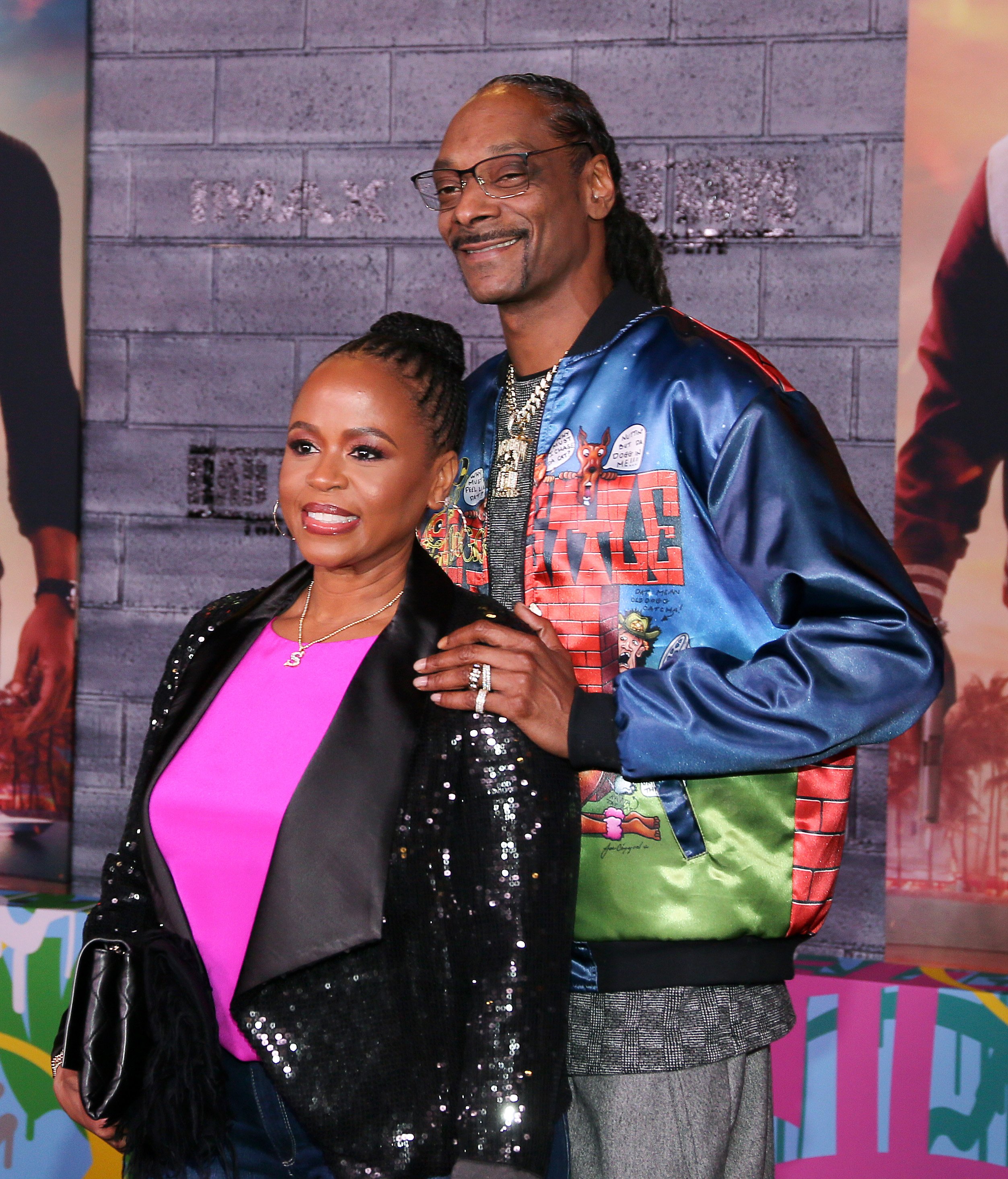 AN AGELESS BEAUTY
It seems like Broadus enjoys spending time at the studio a lot, and her most recent selfie shared to Instagram looks like it was taken while she laid on the wooden floor of the dancing space.
Rumors about Snoop cheating on Broadus with Celina Powell resurfaced last year.
The photo shows Broadus donning a black hoodie with "Boss Lady" written on it and a blue headwrap to add some color to her outfit. She gave the camera a bright smile, and her skin looked naturally flawless as she went makeup-free.
"How Deep is your love," Broadus captioned the post, which was filled by comments from fans gushing about her age-defying beauty.
"Naturally beauty. Keep shining," wrote one fan, while another added "Look at all that black not cracking," and a third one agreed, saying,
"Money can't buy Natural Beauty no matter how hard they try!"



FACING THE STORM TOGETHER
Shante Broadus has been married to Snoop Dogg for more than two decades. She's the rapper's high school sweetheart and came into his life before all the fame and money.
However, the couple has faced many ups and downs, and their marriage has been far from a perfect fairytale.
They almost divorced in 2004, when Snoop admitted he was blinded by fame, and later relinked their relationship after their daughter was diagnosed with lupus.
Snoop and his wife share three kids: sons Corde and Cordell, who are already parents, and daughter Cori, who's following Snoop's steps into the music industry.
Last September, the family went through a sad situation when Corde's newborn son Kai Love died after only ten days of being born.
CHEATING RUMORS
As if that wasn't enough, rumors about Snoop cheating on Broadus with Celina Powell resurfaced last year after the so-called Black Widow recounted her encounters with the rapper in a YouTube video.
Broadus seemingly reacted to the video by sharing an Instagram post that read, "U ever watch somebody u love turn into somebody u don't know…" and captioned it, "Where Did We Go Wrong."
Despite the complications, Broadus and Snoop are still together. On Valentine Day's this year, the pair took advantage of the Boss lady's dance studio to get cozy while dancing to some romantic tunes, proving that their long-time connection is stronger than ever.