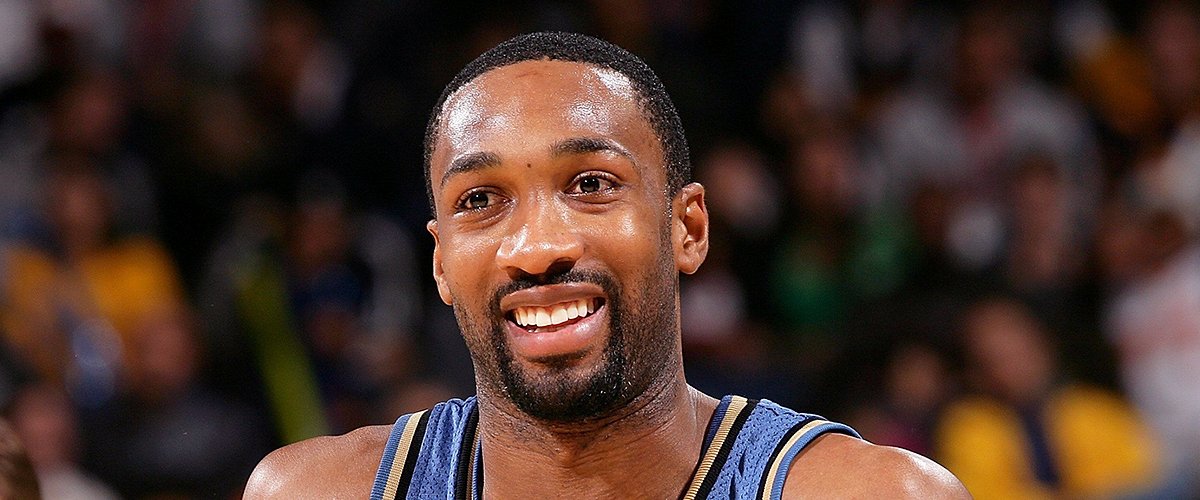 GettyImages
Gilbert Arenas' Arrests and Gun Case — A Look Back at the Former NBA Star's Troubled Career
Former NBA point guard and Washington Wizards star Gilbert Arenas had one of the most promising careers in the league, but as quickly as he rose to fame, he met his downfall.
Gilbert Arenas' NBA career started as the perfect story of the underdog becoming the superstar. He went from a second-round pick with little to no expectations from experts, to Most Improved Player and free agent within two years.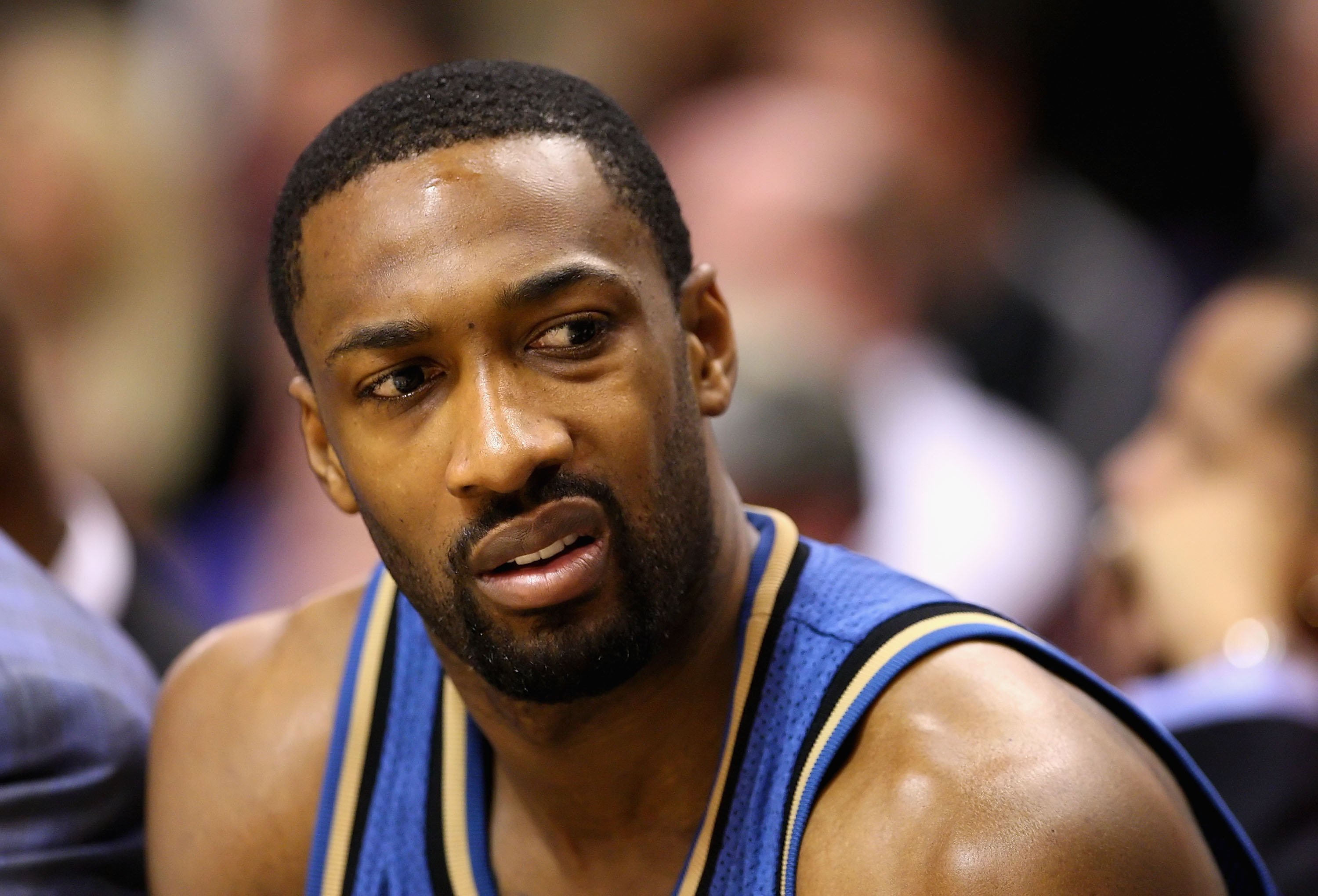 Gilbert Arenas sits on the bench during the NBA game against the Phoenix Suns at US Airways Center on December 19, 2009 in Phoenix, Arizona. | Photo: GettyImages
Arenas was an entertainer on the court, always giving the fans something to look forward to if he had the ball in his power. He thrived in doing last-minute shots and could make a crowd go crazy with some of his best plays.
However, Arenas took some questionable choices that put his reputation on the line. That, mixed with an MCL injury, eventually led to the end of his basketball career.
GILBERT ARENAS' RISE TO STARDOM
Arenas enrolled at the University of Arizona in 1999 and entered the NBA draft in 2001, forfeiting his last two years of college to kickstart his professional career.
In 2018, Arenas was involved in another scandal when a woman accused him of threatening her with releasing an adult video.
Although Arenas had been considered by some teams on the draft's first round, he ended up being picked as the 31st overall pick by the Golden State Warriors in the second round.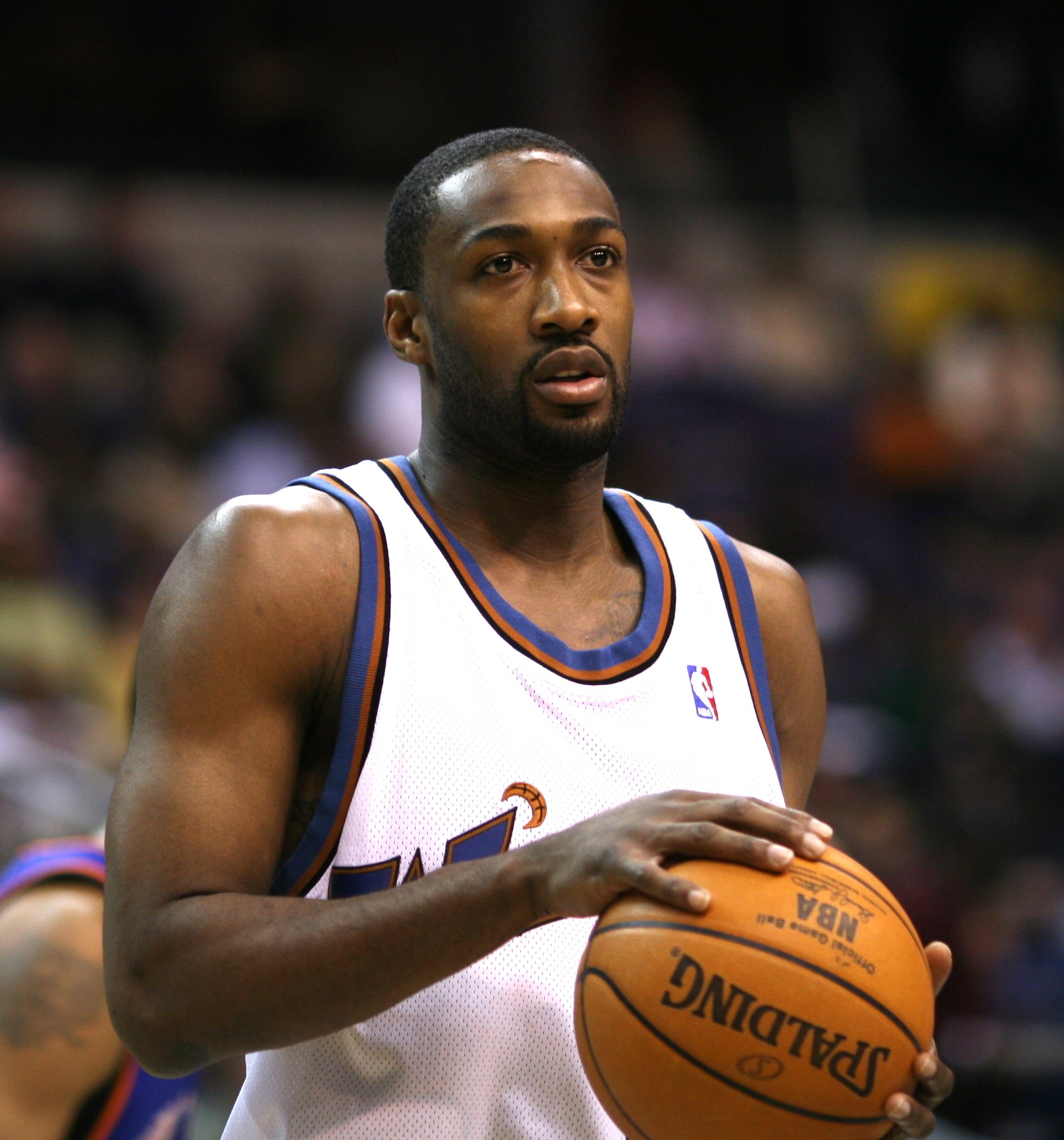 Gilbert Arenas, Washington Wizards, 2008 | Photo By Keith Allison - Flickr, CC BY-SA 2.0, Wikimedia Commons Images
The point guard famously chose number 0 for his jersey to represent the number of minutes that experts predicted he would play in the league. He proved them wrong.
Arenas' ascension to the top of the league was fast-paced. During the 2003-2003 season, he won the NBA Most Improved Player Award a became the MVP of the Rookie-Sophomore game during the NBA All-Star Weekend.
By the following season, Arenas had become a free agent and signed a contract with the Washington Wizards.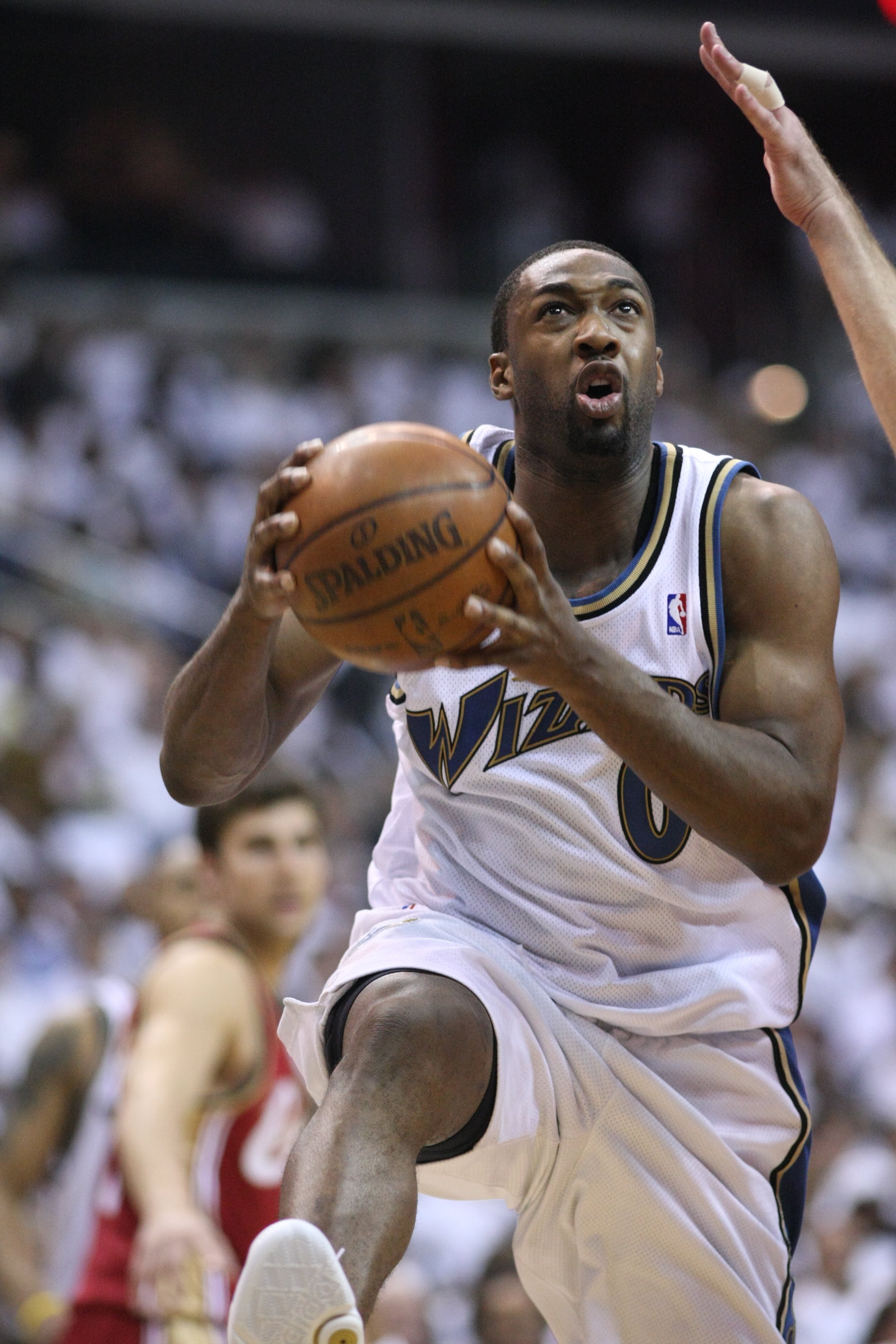 Gilbert Arenas during his tenure with the Washington Wizards, April, 2008 | Photo By Keith Allison - originally posted to Flickr as Gilbert Arenas, CC BY-SA 2.0, Wikimedia Commons Images
In 2005, he led the team to their first playoff in six years and was selected to his first of three NBA All-Star Games. The following year, Arenas set the Wizards' record for most points scored by a single player in a game with 60 points in a game against the Lakers.
Arenas' performance only kept improving through the season, but in 2007, he tore his medial collateral ligament after Charlotte Bobcats' player Gerald Wallace accidentally fell on his (Arena's) knee.
Arenas had to sit out the rest of the season when it was clear he wasn't fully recovered even after going under surgery.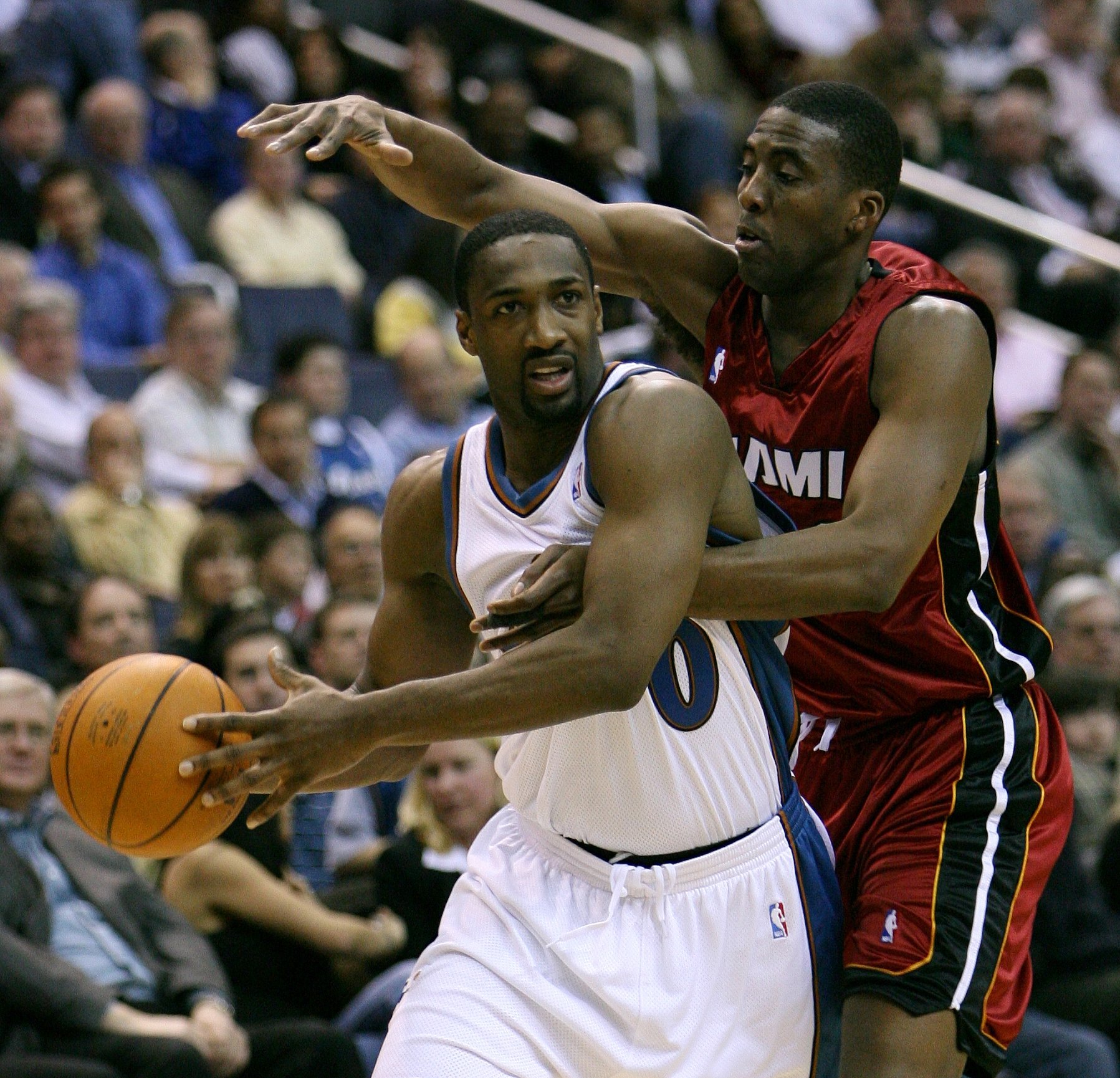 Gilbert Arenas of the Washington Wizards NBA team drives with the basketball while Eddie Jones of the Miami Heat defends, February 2007 | Photo By Keith Allison, CC BY-SA 2.0, Wikimedia Commons Images
In July 2008, Arenas signed a new six-year contract with the Wizards. He started the 2009-2010 season with a reignited spark, but in December 2009, his career came to a halt after an incident with a firearm.
GILBERT ARENAS' GUN SCANDAL
Arenas admitted to having brought four unloaded guns to his locker room at the Verizon Arena–now the Capital One Arena–in Washington D.C, effectively breaking the NBA's rules against firearms, and violating Washington D.C's laws by carrying a gun without a license.
It was later reported that Arenas wasn't the only one with a gun. His teammate Javaris Crittenton also had his own, and the presence of firearms esteemed from a gambling confrontation the two players had a day earlier.
Arenas was eventually suspended without pay, a decision that then-NBA commissioner David Stern made after watching how Arenas made fun of such a serious issue on the court and social media.
Arenas apologized for his behavior, and after the NBA concluded its investigation, he was back on the game for the 2010–11 season.
During that season, Arenas was traded to the Orlando Magic, but he was waived from his contract and went on to sign with the Memphis Grizzlies for one season.
He played one last season with the Shanghai Sharks of the Chinese Basketball Association in 2012 before officially retiring from basketball.
MORE OF GILBERT ARENAS' SCANDALS
Although his basketball career didn't go how many thought it would—with him entering the Hall of Fame—Arenas has managed to stay relevant for other types of highlights, not necessarily positive.
For example, in 2013 alone, Arenas was arrested for having a truck filled with boxes containing illegal fireworks. He also admitted he regularly ran red lights and avoided tickets by using his dealer's plaques.
In 2018, Arenas was involved in another scandal when a woman accused him of threatening her with releasing an adult video of the two of them. Arenas claimed the allegations were false and fired back with a lawsuit for defamation.
The pair ended up agreeing on a settlement out of court, with the woman paying Arenas an undisclosed amount.
Last year, Arenas' former teammate Nick Young recalled during his podcast "Certified Buckets" one time Arenas shoot him with a BB gun.
According to Young, he and some other teammates appeared uninvited at Arenas' house one night with paintball guns in tow. Arenas was sleeping, so they woke him up by shooting him.
The next day, fearing Arenas' retaliation, Young brought a BB gun to the Wizards' locker, a decision that he regarded as dumb looking back.
That same day, the league had a gun safety meeting, so it was even more ironic when Arenas took the BB gun and shot Young with it.
Young laughed at the incident, recalling it as a memory of their troublemaker days in the Washington Wizards' league.
GILBERT ARENAS' GIRLFRIEND & KIDS
Arenas dated Laura Govan for over a decade, and they share four kids. Although the former couple was engaged at some point, their tumultuous relationship came to an end in 2014.
Govan is better known for taking part in the "Basketball Wives LA" reality show in 2011 and publicly accusing Arenas of cheating on her with her sister, Gloria. However, both sides have denied Govan's claims.
Arenas and Govan have been at odds since their split. They went through a very public child support legal battle, and Govan is always accusing Arenas of not being a hands-on father.
Please fill in your e-mail so we can share with you our top stories!