Eddie Murphy's Ex Nicole Shares Photo of Their Son & Grandbaby, Showing They Have the Same Eyes
Eddie Murphy is crazy about his grandbaby, who has inherited her grandmother, Nicole Murphy's extraordinary eyes.
Eddie Murphy is the proud dad of 10 children, and his son Miles and his girlfriend Carly Olivia made the comedian a grandfather, welcoming their first child, Evie, on July 2, 2019.
His ex-wife Nicole Murphy shared an adorable snap of the doting grandpa with his beautiful grandbaby, who seems to have inherited her grandmother's remarkable beauty.
Nicole and Murphy divorced in 2006, after 13 years of marriage, but they still share 5 children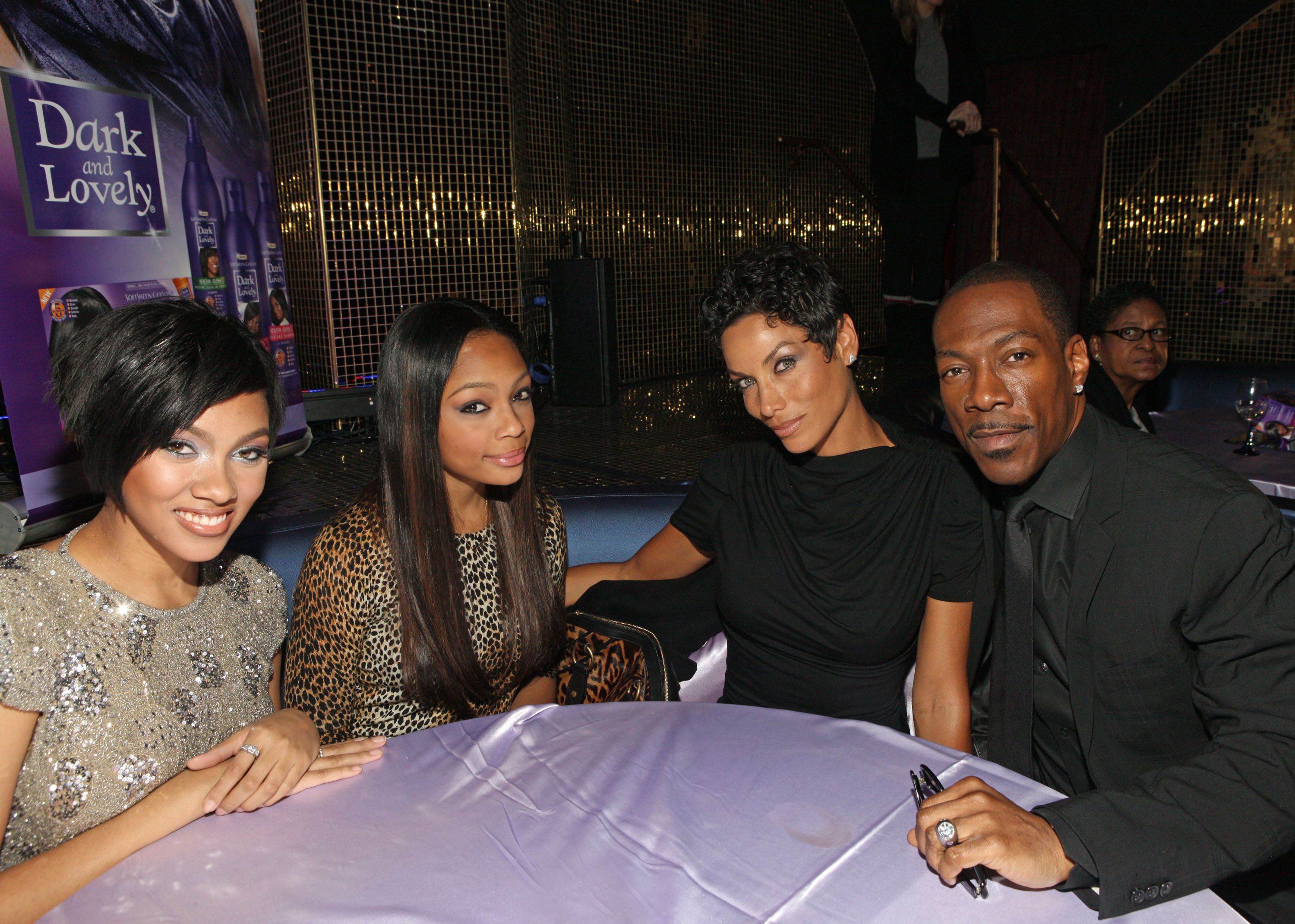 MEET EVIE MURPHY
Nicole and Murphy divorced in 2006, after 13 years of marriage, but they still share 5 children, daughters Bria, Shayne, Zola, and Bella; and son Miles.
Since 2009, they also share their first grandchild, Evie, and it seems that the sweet baby girl has brought her grandparents closer together.
NICOLE MURPHY SHARES SNAP OF EX-HUSBAND
Nicole stunned followers by sharing a photo of her ex-husband with their granddaughter. The snap shows the movie star cuddling with little Evie in her cradle. Nicole captioned the post:
"Love this pic."
THE APPLE OF GRANDMA'S EYE
We can't blame Nicole for boasting on her baby girl. Little Evie is absolutely gorgeous, and she has her grandmother's beautiful, and unusual eyes, although her hair is fair, and Nicole is a brunette. It won't be long before Evie is counted as the family beauty.
GRANPA EDDIE AND THE DIAPERS
Murphy is no less devoted to tiny Evie, but he won't break one cardinal rule he established with his own children -- his youngest has months of difference from Evie -- not even for his first granddaughter. He admitted:
"I'm not good. I don't change diapers. I would be horrible at it, and that's not fair to the child."
Model and actress Nicole met Murphy in 1988 and married in 1993 in a lavish ceremony in the Grand Ballroom of The Plaza Hotel in New York, which cost a mind-boggling $1.5 million. Sadly, the marriage faltered, but the couple's main concern was the well-being of their children. Murphy said at the time:
"The welfare of our children is our main concern and their best interest is our first priority."
NICOLE MURPHY LOSES IT ALL
The divorce settlement was amicable, and Murphy gave Nicole  $15 million in 2005, but she never enjoyed her windfall. Nicole entrusted her money to a childhood friend who promised to invest it. Unbeknownst to Nicole, that man, Troy Stratos, was a conman, who bilked the former model out of every cent she had.
BOUNCING BACK
Undaunted, Nicole has gone into business and teamed up with designer Yolanda Brady, to create a high fashion jewelry line, "FLP Jewelry Design." Since then, Nicole has branched out into a beauty care line, Zobela, manufactured exclusively from natural ingredients, without synthetic coloring agents or fragrances.
Now, with a new grandchild in her life, and some recent unsavory scandals behind her, Nicole seems set to take the new decade by storm.