Khloé Kardashian Poses with Her Adorable Lookalike Daughter True Thompson in a Cute Outfit
Media personality Khloe Kardashian takes to Instagram to post adorable heartwarming photos of herself with her daughter, True Thompson, in a bid to share tips on potty training.
Every child goes through the exciting and often challenging stage of potty training. For True Thompson, Khloe Kardashian's daughter, that time is now. The media personality and mom of one took to her Instagram story to share cute photos of herself with her daughter and wrote:
"Using the extra at home to potty train? So are we! Thanks to @pampersus Easy Ups training underwear and their new trolls characters, True has started to use the potty!"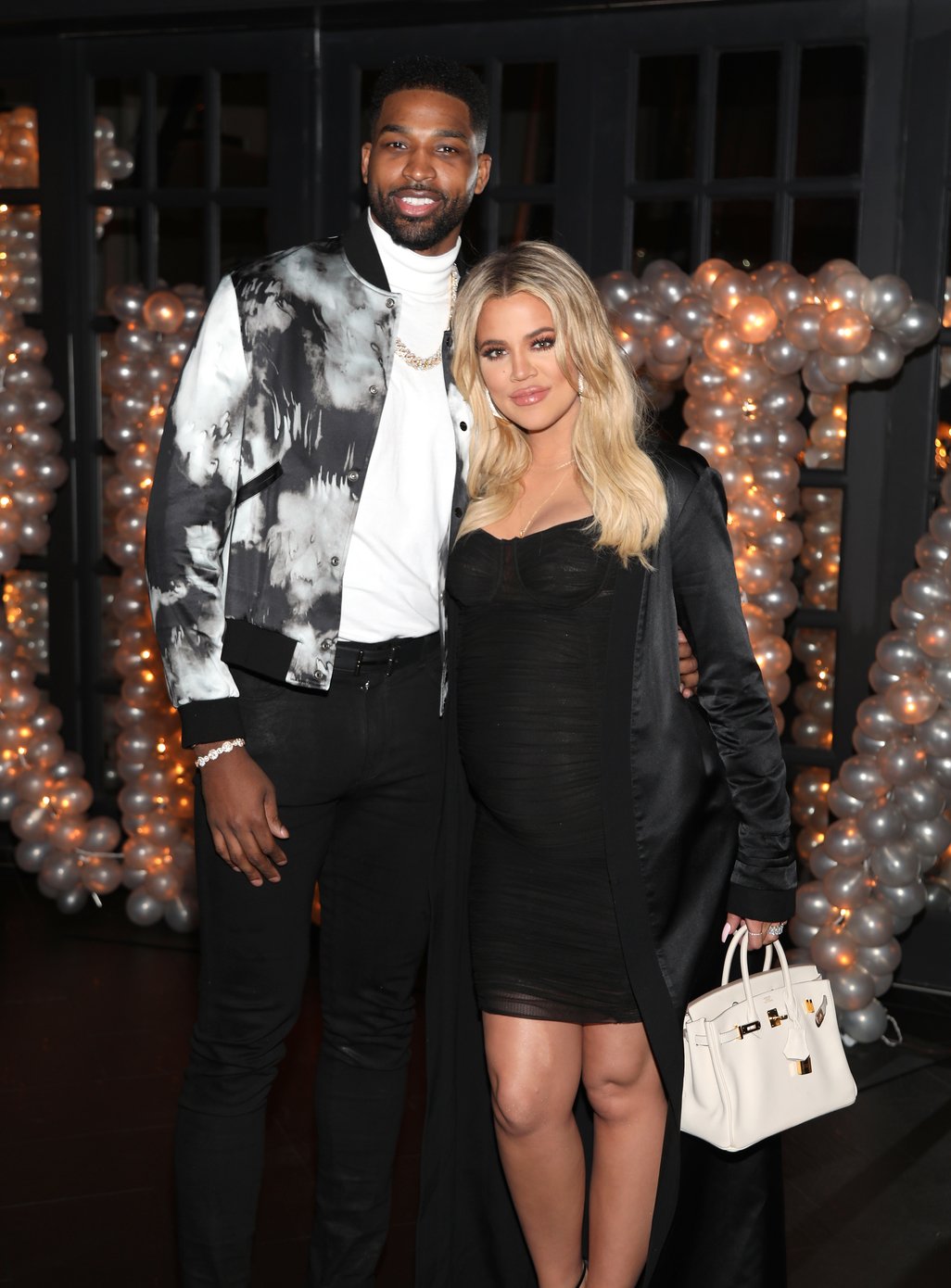 Little True was dressed in an adorable white off-shoulder ruffled top and a sample pair of the Easy Ups training underwear that her mother had talked about.
The cute toddler had her hair done in a sweet half bun with a larger portion of hair curls let down to her back as she beamed radiantly at the camera, surrounded by unopened boxes of the product Khloe was advertising.
The mom shared another photo of True wearing the same ruffled top and pampers underwear ensemble while kneeling by her daughter in a white top and a pair of bright blue jeans. Both mother and daughter looked charming and beautiful.
Just recently, Kardashian shared photos and videos of True playing with her My Little Pony collection on her Instagram story.
The snaps heralded True Thompson's induction into the world of baby brand sponsorships as her first-ever brand promotion. It was, however, only a matter of time before brands started snatching up the adorable two-year-old.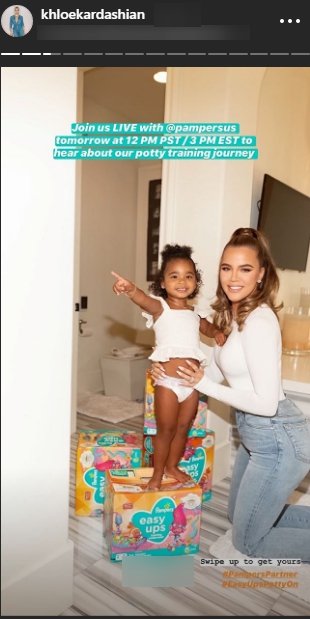 Long before the pair teamed up with Pampers, True has always been a frequent feature on her mother's social media pages. Just recently, Kardashian shared photos and videos of True playing with her "My Little Pony" collection on her Instagram story.
The lovable tot looked happy as a clam playing with her doll collection while her mother fawned over her in typical mommy behavior, cooing and aww-ing at her every move in adoration.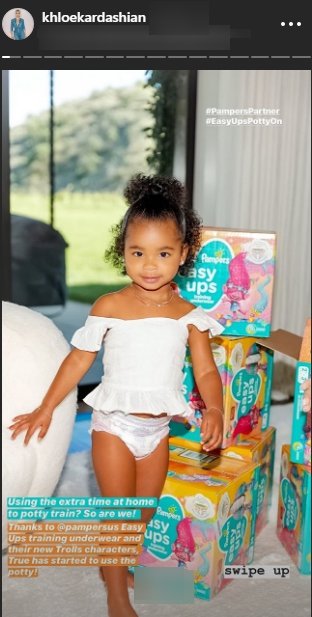 The story post came just a day after Kardashian and her daughter spent time on Father's Day with True's father, NBA star, Tristan Thompson, from whom the mom of one is separated after being in a relationship for almost three years.
True Thompson, Khloe Kardashian, and Tristan Thompson all enjoyed Father's Day together in Los Angeles, making lasting memories as a happy trio, celebrating the Cleveland Cavaliers star's fatherhood.
A source close to Kardashian told People that the thirty-five-year-old TV star was happy that she and her former partner are getting to spend time together and that they are in a very good place.
While Kardashian and her daughter are getting some quality time together with True's father they also won't be neglecting girl-time with many fun things to do together, including going through the stage of potty training.