Sacha Baron Cohen and Isla Fisher Met 18 Years Ago — a Glimpse into Their Love Story
Sacha Baron Cohen, the actor and comedian known for his portrayal of several fictional characters like Ali G and Borat Sagdiyev, has been in a relationship with Isla Fisher for 18 years!
Although Sacha has been involved in the entertainment industry since 1995, his big break came in 1998 when he portrayed one of his many characters, Ali G, in "The 11 O'Clock Show."
Sacha usually stays in character even when he is at home with his family.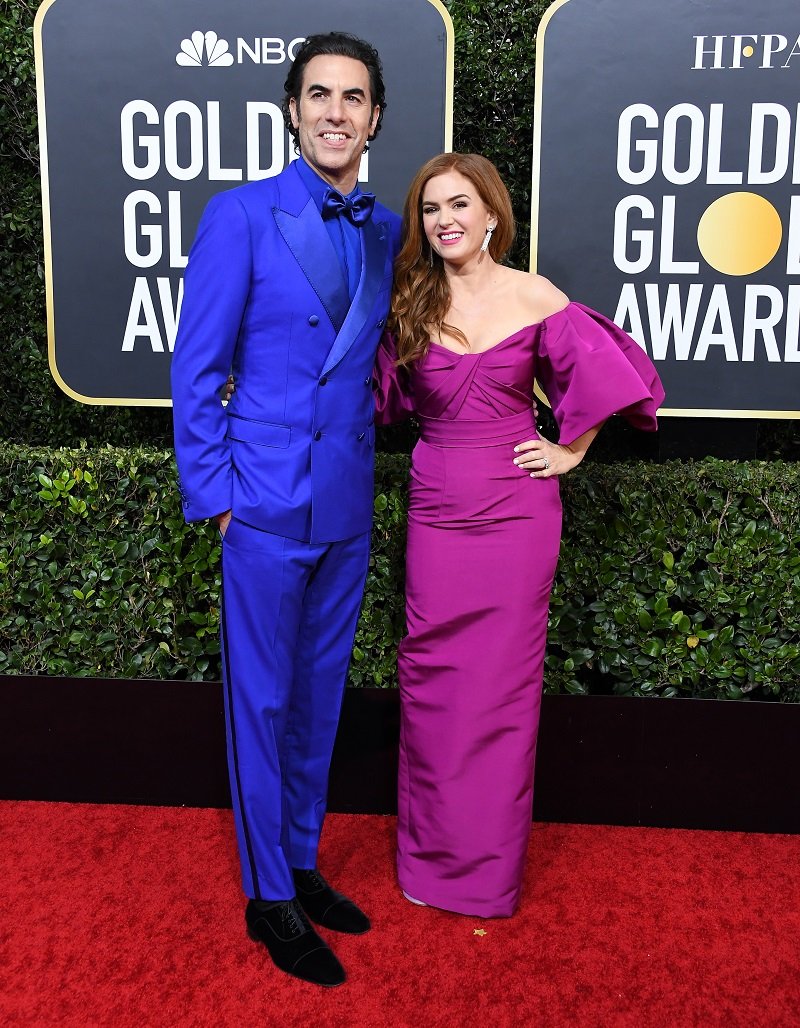 SACHA BARON COHEN'S CAREER
He did such an outstanding job that he managed to get two more projects: a spin-off titled "Da Ali G Show" and a film, "Ali G Indahouse."
In 2006, his career skyrocketed after portraying Borat Sagdiyev in "Borat," a comedy in which his character, a Kazakh TV host, was sent to the US to report about it, but ultimately decided to locate and marry Pamela Anderson.
The movie was critically acclaimed, receiving an Oscar nomination for Best Writing and a Golden Globe nomination for Best Motion Picture – Comedy or Musical. Sacha Baron Cohen, on the other hand, took home a Golden Globe for his performance.
Most recently, Sacha has been working on "Who Is America?" and "The Spy," and is expected to appear in the upcoming film "The Trial of the Chicago 7."
ISLA FISHER, SACHA'S WIFE
As per his love life, Australian actress Isla Fisher has been Sacha Baron Cohen's wife since March 15, 2010. The couple met each other at a party in Australia in 2002, and they started dating shortly after that.
Isla told Marie Claire that meeting Sacha was like "winning the lottery," admitting that their successful relationship was due to their similar sense of humor, their willingness to be married, and the fact that they are polar opposites.
She also revealed that, while Sacha usually stays in character even when he is at home with his family, she tries to separate her professional life from her family time.
In 2004, they got engaged, but waited six years to tie the knot in Paris after Isla converted to Judaism. One of the most exciting aspects of their traditional Jewish wedding was that they invited only six people.
One year before the ceremony took place, Isla confessed that she wanted a "beautiful ritual" with nobody but friends and family. She added:
"When you are in the public eye, to keep that private and to make it happen without it being really visible is really difficult."
THEIR VERY PRIVATE WEDDING
That is probably why the six guests to Sacha and Isla's wedding received "very little notice" before it happened. The couple then spent a week at the Hotel Ritz in Paris before returning to London, where Isla was filming "Burke and Hare."
By the time Sacha and Isla tied the knot, their eldest daughter, Olive, was two years old. At the moment, the couple shares two more children, daughter Elula and son Montgomery.
Back in March 2019, Isla was interviewed by Conan O'Brien about how her family feels with her husband's unique sense of humor, and the actress responded by sharing two hilarious anecdotes.
In both of them, her family was shocked by the unusual and explicit scenes in which Sacha Baron Cohen was involved.
SACHA BARON COHEN FREQUENTLY EMBARRASSES HER
The actress pointed out that in the premiere of "Brüno" in London, she could feel the stare of her mother boring into her as if wondering if that was really the man that she chose to spend the rest of her life with.
Years before, Isla told Conan how embarrassed she felt when actor Jack Black invited her and her husband to the premiere of one of his films. Once there, a lady in her 60s made a "really long speech" right before Jack got on stage and made a short one.
When the movie was over, Sacha and Isla congratulated Jack, who admitted that he would have made a longer speech had he known that the film would be that good. Isla hilariously explained:
"Then Sacha said, 'Yeah, like that woman who wouldn't shut up with the massive boobs.' And then Jack said, 'that was my mom.'"
Although Sacha Baron Cohen might make Isla feel embarrassed from time to time, they have proven to be a beautiful and supportive couple for almost two decades, something particularly difficult for people in the entertainment industry.