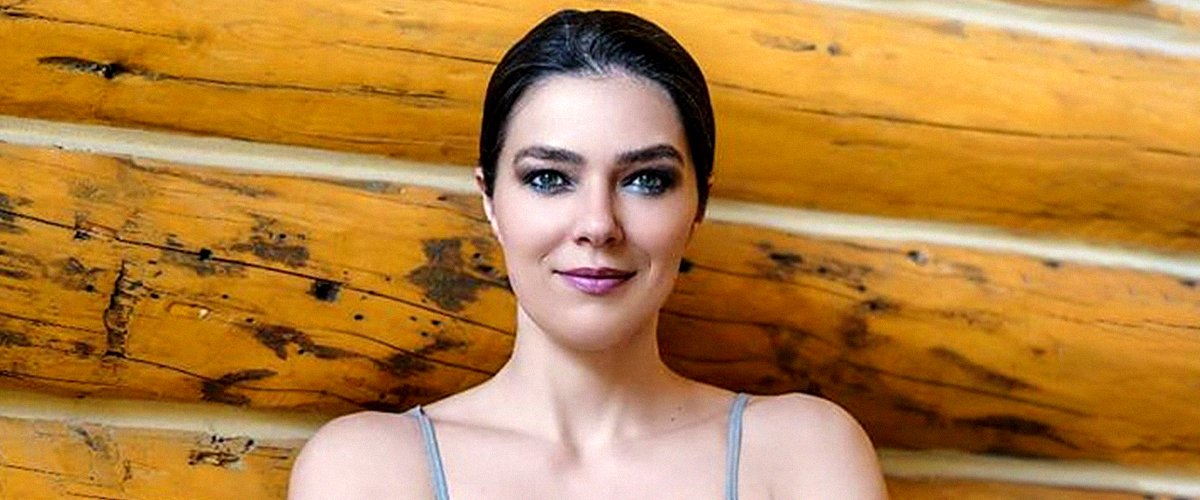 Getty Images
Adrianne Curry's Second Husband Matthew Rhode Is a Handsome Voice Actor — Meet Him
TV personality and fashion model Adrianne Curry recently got married for the second time to the movie-trailer voice actor, Matthew Rhodes. She has since quit Hollywood for a healthy life with her husband. Here is more on the handsome actor with a unique voice.
Fashion model Adrianne Curry, 37, grew up in Joliet, Illinois, and came from a humble background. In a bid to help her family, who lived below the poverty line, Curry pursued a career in modeling and gained widespread fame after emerging as the winner of season one of "America's Next Top Model."
After Adrianne Curry's "ANTM" victory, she was immediately thrust into unfamiliar territory with fans and paparazzi following her every move. In the years that followed, she enjoyed a successful modeling career and even graced Playboy's cover.
Curry began to get tired of the Hollywood lifestyle and admitted that the fame made her lose sight of her innateness. Years after her failed marriage, she found love again in the arms of actor Matthew Rhodes, who she says helped her find herself again.
MEET ADRIANNE CURRY'S HUSBAND MATTHEW RHODES
Matthew Rhodes, 38, grew up in Louisville, Kentucky, and later made a move to New York City to pursue his lifelong ambition of becoming an actor. Subsequently, Rhodes registered and graduated from the Neighborhood Playhouse School of the Theatre.
Rhodes initially enjoyed some success when he began appearing in TV commercials for organizations like Powerade and JC Penney. Still, the hunky actor always felt he had more to offer in the entertainment industry.
He fortuitously ventured into his voiceover career when an agent saw the potential in his voice, as he stumbled on a conversation between Rhodes and his agent.
Since then, Rhodes has done several voiceover works for brands like Miller Lite, Progressive Insurance, and Chevron. The heavily-built actor has gone on to feature in several movie trailers, including the 2019 hit movie "Crazy Rich Asians."
Before his voiceover career began, Rhodes made a living from playing video games, which were streamed on Twitch.tv. He met his wife, who is also a gamer, while she was streaming "Hearthstone" on the platform.
ADRIANNE CURRY AND MATTHEW RHODES' FASCINATING RELATIONSHIP
The couple met in 2015 while streaming on Twitch.tv, and they immediately began a friendship that developed into something serious.
Earlier in the year, the reality TV star took to her Instagram page to share a series of pictures with her husband while giving details about how they started their journey. She explained how he swept her off her feet and declared her undying love for him.
In September 2018, the cute couple eloped and got married in a very private ceremony at a National Park in Montana. Curry wrote extensively about her "Game of Thrones" themed wedding on her lifestyle blog.
She explained that she and her husband decided to have a private wedding for a few reasons, like the remote location and the fact that many people didn't support their union.
For her wedding, Curry was dressed as Daenerys Targaryen, and the couple exchanged wedding bands in front of a lake at the National Park.
Following her marriage, Adrianne Curry settled into a quieter lifestyle away from the buzz surrounding Hollywood. The couple eventually quit Hollywood and relocated to Montana to focus on their newfound happiness together.
Before Curry met Rhodes, she was married to former child star Christopher Knight, who is best known for his role as Peter Brady in the popular 70's show "The Brady Bunch."
The estranged couple met in 2004 while filming season four of VH1's "The Surreal Life." Knight and Curry, who share a considerable age difference, tied the knot in 2006, and after five years of marriage with no children, Knight filed for divorce, citing irreconcilable differences.
Neither of them commented on their divorce at the time, but the couple's manager confirmed that the divorce was amicable. He said:
"The agreement for divorce was a mutual one, and yes, Adrianne knew that I was going to serve her with papers."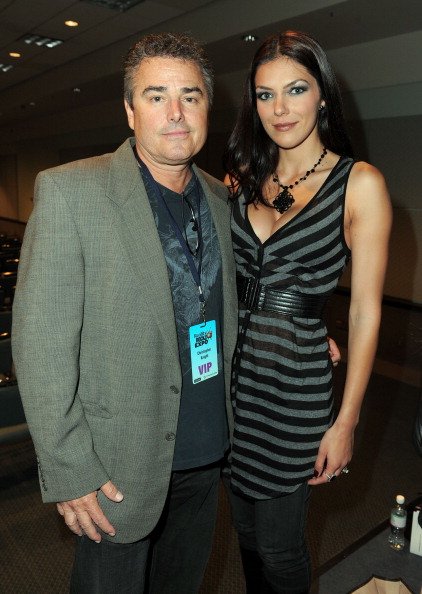 Christopher Knight and Adrianne Curry at the Los Angeles Convention Center on April 9, 2011. | Photo: Getty Images
WHAT IS ADRIANNE CURRY DOING NOW?
After Adrianne Curry was announced as the winner of the first season of "America's Next Top Model" at the age of 20, she enjoyed a successful career in modeling, featuring in several magazine covers, fashion walkways, and adverts.
Moving on from that, Curry featured in a few reality TV shows, including VH1's "The Surreal Life" and "My Fair Brady." The Playboy model grew tired of the exhaustive lifestyle in front of the cameras and eventually made her exit from Hollywood with her husband.
In 2017, Curry had to undergo major surgery to remove a tumor on her uterus. During her recovery period, she got inspired to sign up for an Avon kit after watching the movie "Edward Scissorhands."
While sharing how she started selling Avon products, Curry said:
"I was in the habit of posting funny videos online where I reviewed stuff and thought I'd do the same and post some crazy review of the Avon products…But I ended up actually really liking the products! So, I started selling Avon."
Adrianne Curry and her husband are currently enjoying their married life, and given that the couple is always smiling, fans may not see Curry on the big screens anytime soon.
Please fill in your e-mail so we can share with you our top stories!