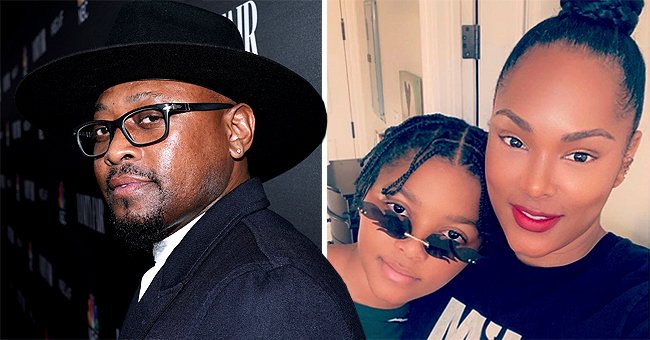 GettyImages instagram.com/lovekeishaepps
Omar Epps' Wife Keisha and Son Amir Show off Their Striking Resemblance in a Cool New Selfie
American actor Omar Epps' wife, Keisha, is a proud mother as she takes to social media to share a selfie of herself and her son rocking chic sunglasses.
Keisha Epps melted a lot of hearts recently after taking to her Instagram page with a picture of herself and her lookalike son, Amir. She captioned the cute photo:
"Time is passing by- I'm grateful for the time. I LOVE you, son."
Omar Epps and his wife Keisha Epps attend the American Black Film Festival Honors Awards Ceremony at The Beverly Hilton Hotel on February 23, 2020. | Image: Getty Images.
The 49-year-old mother followed the declaration with some crucial rules she hopes her son will grow to live by.
Some of them read, "Never forget who blesses & covers you," "Never live your life based on the opinions of others," and "Never allow someone to tell you- you can't."
The picture featured Keisha and her son, Amir, with his head on her shoulder. Keisha looked gorgeous in a black t-shirt. Her hair was bound tightly in a bun at the top of her head and she had on red lipstick.
Omar and Keisha live in California with their kids. The couple tied the knot in 2005 and they share two children, daughter K' Mari Mae and son Amir. Omar also has a daughter named Aiyanna Yasmine from a previous relationship.
Omar played his role by assisting his daughter with her accessories for the monumental day.
Omar was born in Brooklyn, New York. He was raised by his mother, Bonnie Maria Epps, an elementary school principal. As an actor, he has appeared in several lead roles in films like "Against the Ropes," "Alfie," and "The Wood," to name a few.
He has also acted in supporting roles in movies like "Breakfast of Champions," "Major League II," and "The Program."
The talented actor co-starred on the popular FOX medical drama, "House," for which he received an NAACP Image Award for "Outstanding Supporting Actor in a Drama Series" in 2007.
In 2005, Omar was nominated for an NAACP Image Award for Outstanding Supporting Actor in a Drama Series. In 2006, he was nominated for Outstanding Actor in a Drama Series.
Despite the life of glamour and popularity, his job as an actor affords him, Omar takes his duties as a dad very seriously. In 2017, his first daughter, Aiyanna, graduated and he helped send her off to prom.
Ever the dutiful father, Omar played his role by assisting his daughter with her accessories for the monumental day. The adorable moments shared between father and daughter left Keisha swooning.
She took to Instagram to share some photos documenting the moments—one featured Omar standing behind Aiyanna, who stood with a smile on her face as he helped her put on a gorgeous choker.
Please fill in your e-mail so we can share with you our top stories!