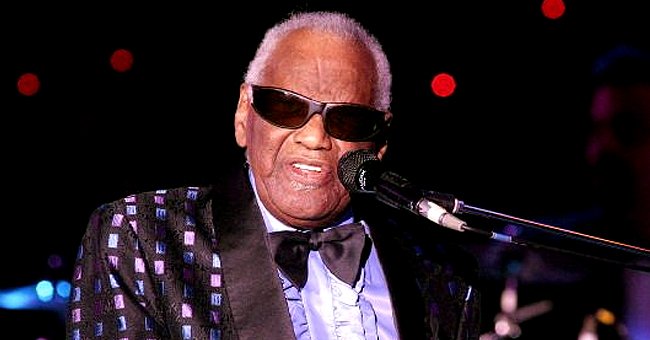 Getty Images
Ray Charles' Son Opens up about His Late Father in a Candid Interview

Almost two decades after singer and songwriter Ray Charles passed away, his son, Ray Charles Robinson Jr., opens up about the late musician and his life.
On June 10, 2004, legendary musician Ray Charles passed away after a long life of touching hearts with his music. 16 years after his passing, his first child, Ray Charles Robinson Jr., opened up to Closer Weekly about his father's legacy.
In the interview, Robinson recalled a distinctive memory he had of his father when he was just a little boy. The musician bought him a vibrant red Schwinn bicycle that was a little too big for Jr.'s small 6-year-old frame.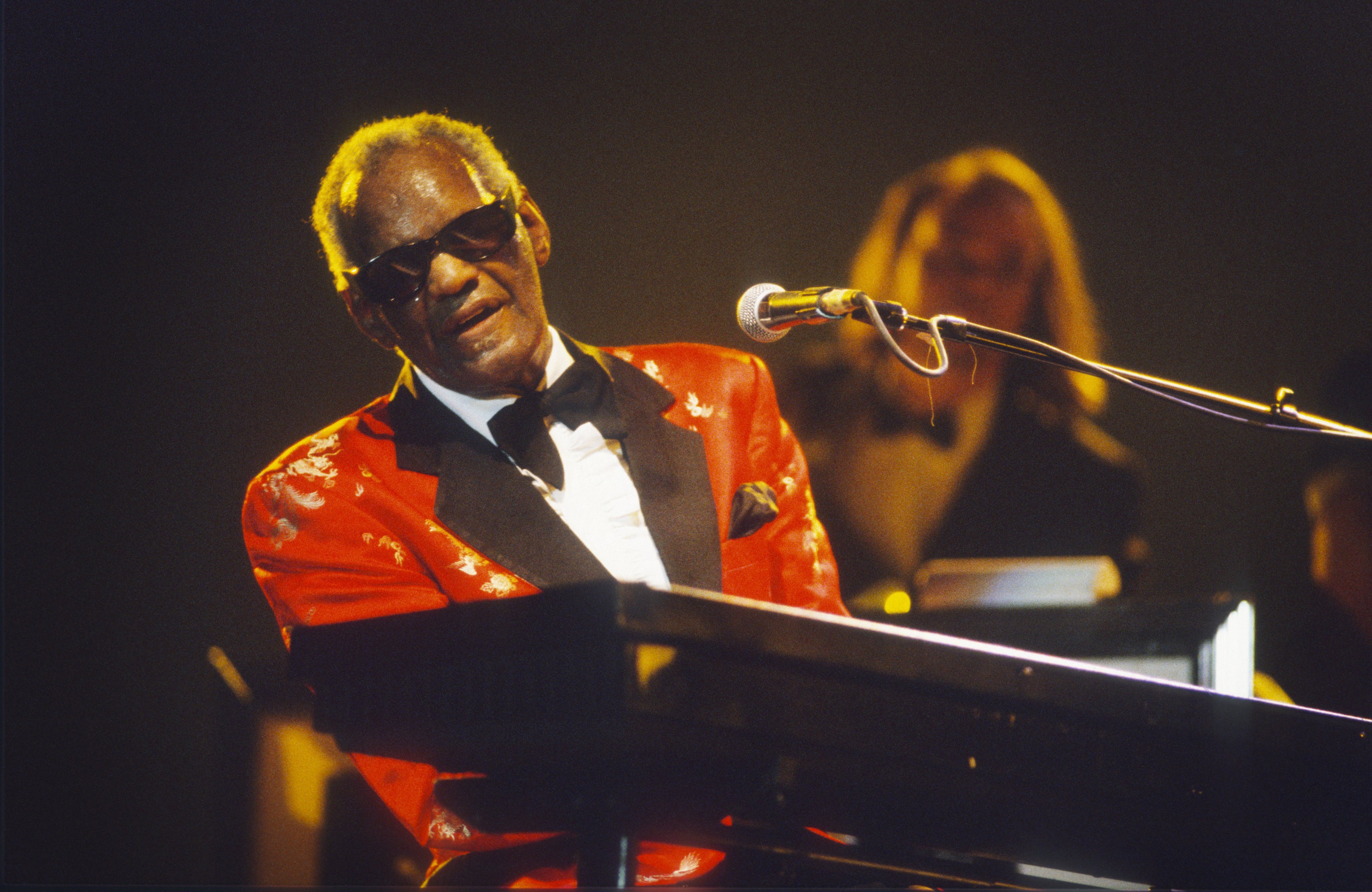 Ray Charles at the Rhythm 'n' Blues Festival, Peer, Belgium, in July, 1994 | Photo: Getty Images
Robinson said that his mother, the singer's wife, Della Bea, assured him that his father would be there to guide him and teach him how to ride.
Naturally, the young boy was confused. Ray Charles, who was blinded as a child by glaucoma, could not possibly guide him on a bike.
However, as Della Bea said, Ray Charles could do anything and that he did. Despite being visually impaired, teaching his son how to ride a bicycle was the smallest of the many feats that the iconic singer achieved during his lifetime.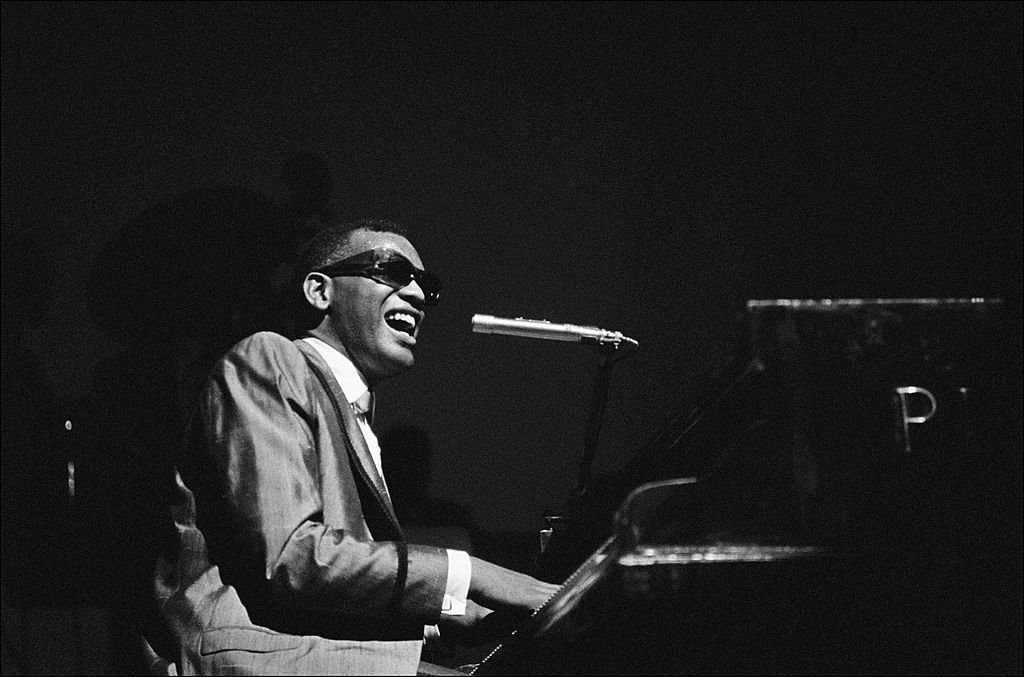 Ray Charles behind the scence at the Olympia in Paris, France on May 18, 1962. | Photo: Getty Images
Ray Jr. shared that very often; he marveled at his father's resolve and talent. The man had to overcome a traumatic childhood and kick a drug addiction, yet, he went on to have the marvelous career that he did. Ray Jr. said:
"I think that was a driving force in his life. It had to be, because of his discipline and what he was able to do."
Robinson was sure that the passion and resilience with which his father took charge of his life were significantly driven by the things that he went through.
At a tender age of 5, Ray Charles' younger brother, George, drowned. Around this time, the singer began to lose his eyesight. Jr. recalled his late father narrating how his own mother, Aretha, encouraged him to live the best life he could even when he completely went blind.
The singer shared a love so profound for his family, but sadly, he was away most of the time.
By the age of seven, Charles was officially blind, and his mother, Aretha, sent him to Florida School for the Deaf and Blind. In this state-sponsored school, he learned to use braille music and play piano, saxophone, clarinet, organ, and trumpet.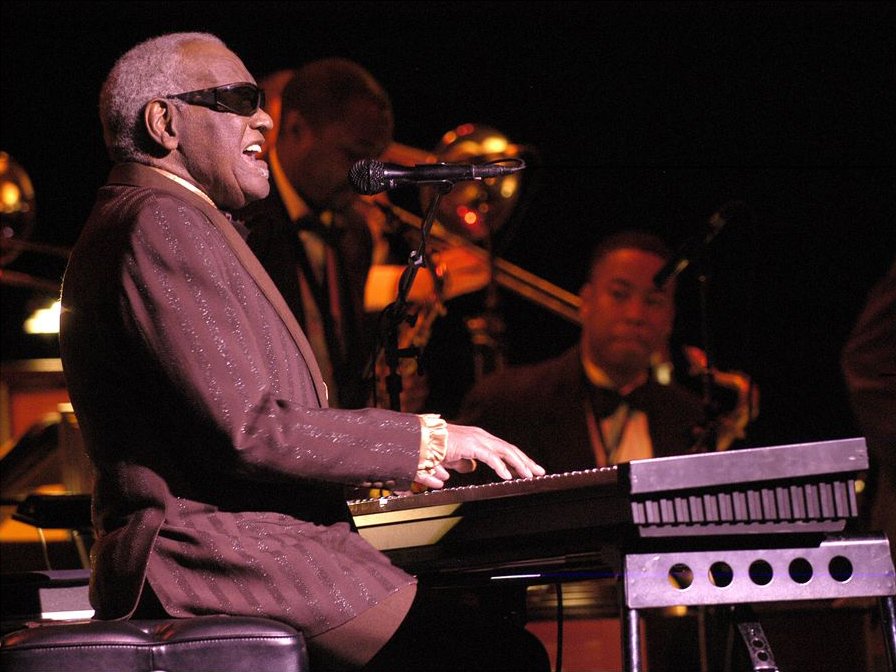 Ray Charles at the 2003 Montreal International Jazz Festival | Photo By Victor Diaz Lamich, CC BY 3.0, Wikimedia Commons Images
Sadly, Aretha died when her precious boy was just 15. After his mother's death, young Ray toured on the Chitlin Circuit, picking up an affection for heroin.
Still a teenager, Ray's career as a musician began, and he started to gain the love of his ever-growing fanbase. He landed a deal with Atlantic Records in 1953 and started churning out chart-climbing hits.
In 1951, he married Eileen Williams, but the marriage did not last, and they were divorced by 1952. Two years later, in 1954, he married Robinson's mother, Della Bea, with whom he had three children, including Robinson.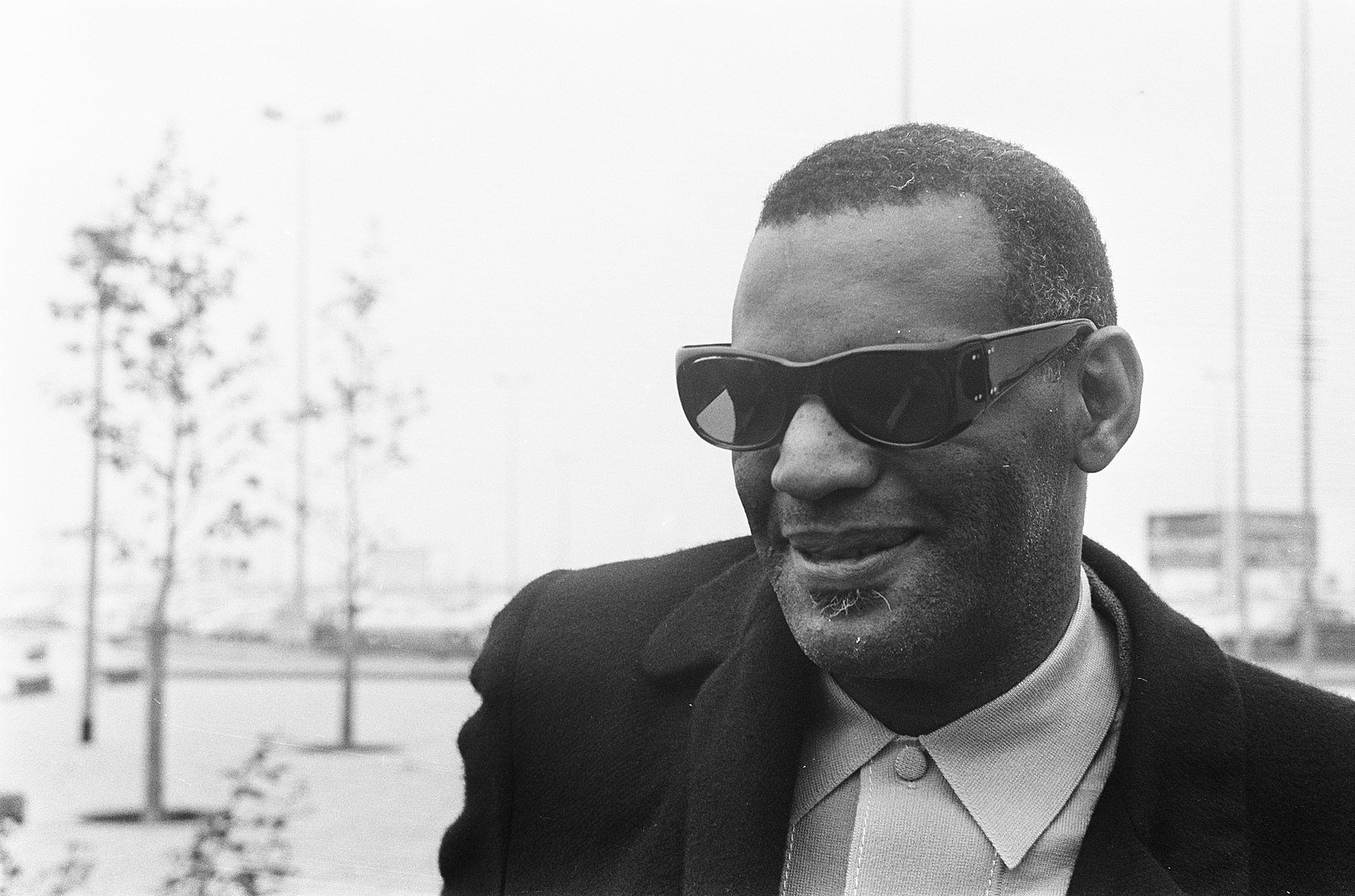 Photography of Ray Charles in 1968 | Photo By Eric Koch / Anefo - CC0, Wikimedia Commons Images
The singer shared a love so profound for his family, but sadly, he was away most of the time. With his frequent absence came tales of infidelity and extramarital affairs, some of which resulted in children.
The drug addiction Ray picked all those years ago finally caught up to him in 1965. Young Robinson found the singer bleeding out after he cut himself severely while he was high. That was the turning point for the musician, and he finally checked himself into rehab and never looked back.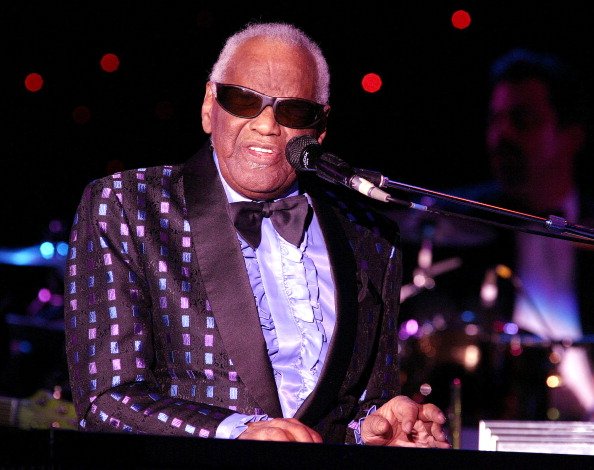 Ray Charles during Ray Charles in Concert at Resorts Atlantic City in Atlantic City, New Jersey, United States. | Photo: Getty Images
The addiction and the extramarital affairs eventually drove a wedge between Ray and Della Bea. The husband and wife divorced after more than two decades in 1977.
The musician moved on with his career in music, also transitioning into television. At the age of 73, on June 10, 2004, Ray Charles died in his Beverly Hills home from complications due to liver failure.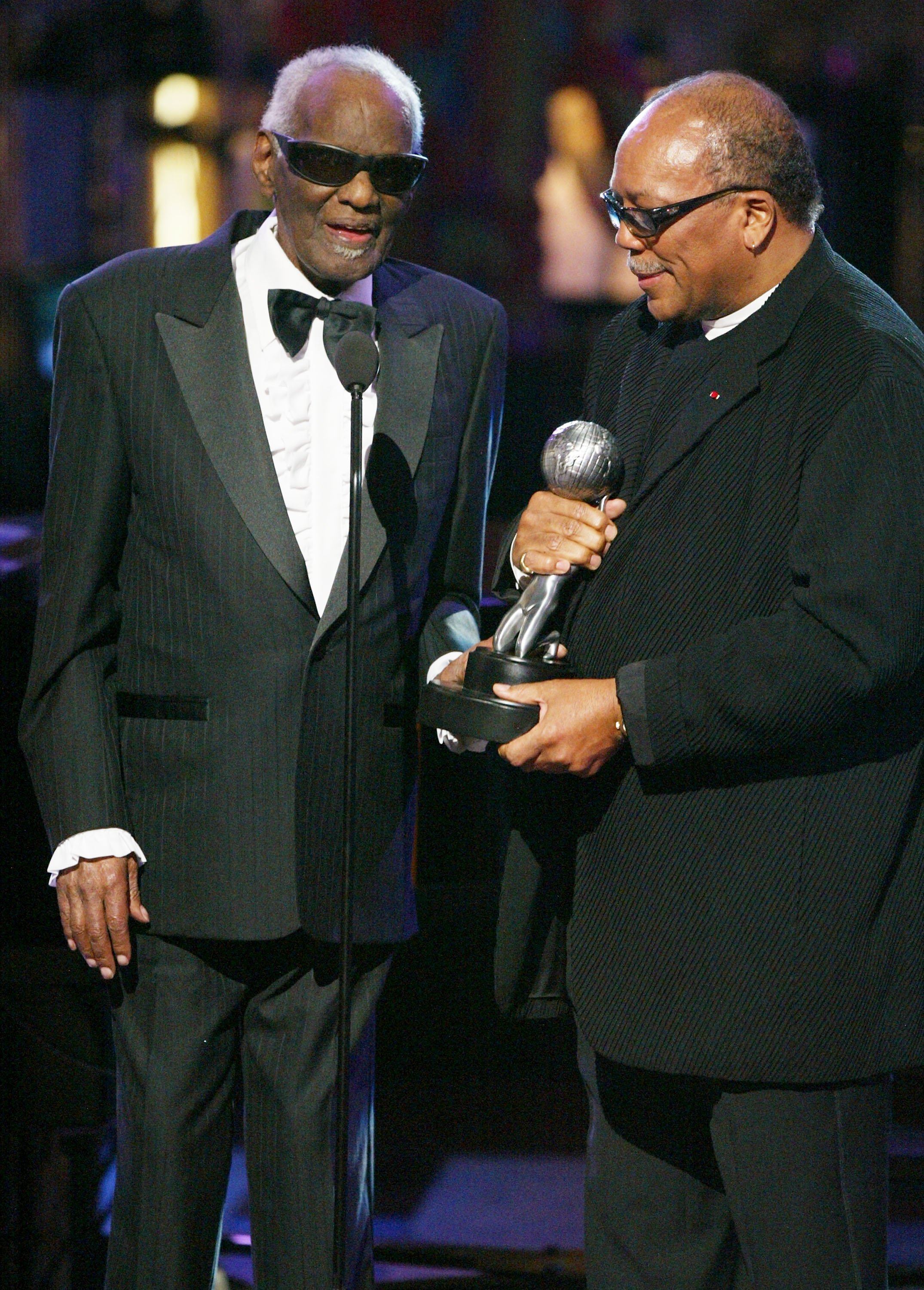 Ray Charles and Producer Quincy Jones on stage at the 35th Annual NAACP Image Awards at the Universal Amphitheatre, March 6, 2004 | Photo: Getty Images
Sadly, what followed his death were a series of legal battles between his twelve children with ten different women. All twelve of his children squabbled over his legacy and who would get what in the inheritance to come.
Despite the unbecoming ending of Ray Charles' life, his legacy could not be sent into disarray. The man would always remain the iconic musician who transcended the perceived walls of musical genres.
Please fill in your e-mail so we can share with you our top stories!