Getty Images
TMZ: Tekashi 6ix9ine Is Heading to Court to Gain Custody of His Young Daughter Saraiyah
Tekashi 6ix9ine is set to fight for the custody of his young daughter Saraiyah and plans to win the custody battle despite disagreement from his ex-partner Sara Molina.
Custody battles are messy and can sometimes drag on for such a long time that both parties are drained of their resources and energy.
Tekashi 6ix9ine is not backing down from fighting for the custody of his young daughter Saraiyah, whom he had with ex-partner Sara Molina.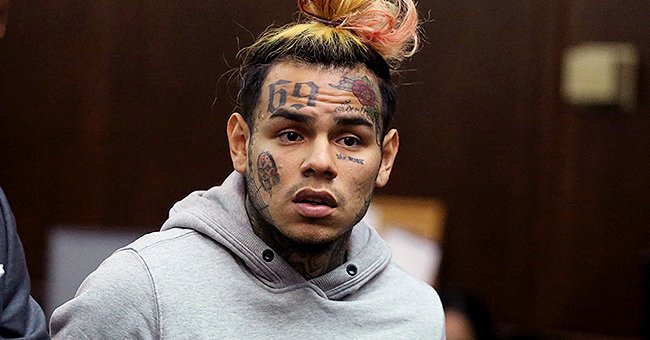 Daniel Hernandez, aka, Tekashi 69, aka 6ix9ine, appears at his arraignment in Manhattan Criminal Court on Wednesday, July 11, 2018 | Photo: Getty Images
According to what his lawyer Lance Lazzaro told TMZ, Tekashi is keen on being a part of his four-year-old daughter Saraiyah's life one way or another in a couple of weeks when he is released from home confinement.
Lazzaro added that Tekashi is doing all to ensure that a judge hammers out a court-ordered custody arrangement that would allow him to have access to his daughter despite the protests from his ex.
Lazzaro also intimated that Tekashi wants to be there for his daughter and the only reason he has not been to see Saraiyah is for her own benefit.
While Tekashi is making all the effort to see his daughter, his ex-partner Molina and mother of Saraiyah is adamant that if he really wanted to see her, there was a way it could be arranged, but Tekashi has not made a move.
Molina revealed that for him to see their daughter, he must play by her rules and ease back into their lives gradually without forcing his timetable on her and Saraiyah.
Tekashi claims Molina has been begging for them to get back together.
Molina once told TMZ that Tekashi was a neglectful father who did not care about his daughter's safety. She added that she did not expect him to change but that the total silence on his part was disappointing.
Although Tekashi claimed that he had not seen his daughter because of the Covid-19 pandemic, Molina counteracted it, saying that his mother had come to see their daughter a couple of times.
Another interesting twist to the story is that Tekashi claims Molina has been begging for them to get back together, and he feels she is using their daughter as a ploy to reunite.
Sometime in May, Molinia lashed out at Tekashi on Instagram, stating that he cared about his cars, wads of cash, and fans more than he cared about their daughter.
All these discords stem from Tekashi's release from prison confinement for his gang-related activities and crimes. He was sentenced to two years imprisonment after snitching on his gang.
Tekashi, whose real name is Daniel Hernandez, had been arrested for multiple felonies that were related to his gang Nine Trey.
He initially faced up to 41 years of imprisonment but got a lighter sentence after giving valuable information to the authorities on the gang's inner workings.
In all, while Tekashi and Molina are keen on keeping their daughter safe, one can only hope they do the right thing to ensure that Saraiyah has all the love she deserves from both parents.
Please fill in your e-mail so we can share with you our top stories!