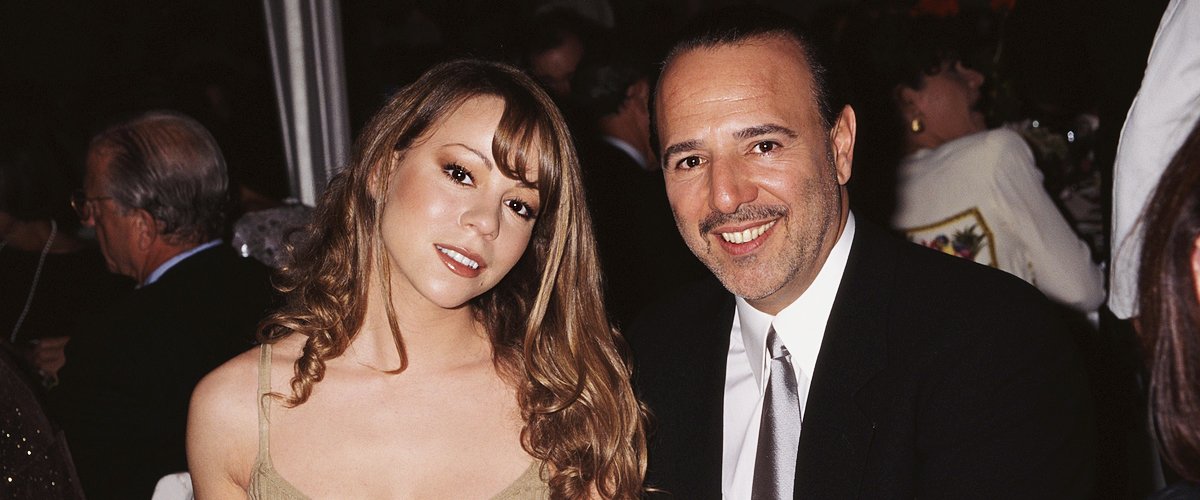 Getty Images
Tommy Mottola Met Mariah Carey When She Was a Restaurant Hostess — Look Back at Their Marriage
Tommy Mottola, who is currently married to Mexican singer Thalia, was previously married to the "All I Want for Christmas Is You" singer, Mariah Carey.
When Carey and Mottola met for the first time in 1988, she was an 18-year-old restaurant hostess who lived in a poor neighborhood in Long Island, New York, and wanted to become a singer.
[Mottola's] relationship with Mariah Carey was "absolutely wrong and inappropriate."
Mariah Carey and Tommy Mottola attend the 'Salute to American Heroes Gala', 1995 | Photo: Getty Images
TOMMY MOTTOLA AND MARIAH CAREY'S RELATIONSHIP
She went to a Manhattan industry party for a backup singer gig where Mottola happened to be. Since he was already in the music industry, he noticed Carey's talent and immediately accepted her demo tape.
After that, she was signed to Sony Music, where Mottola served as the chairman and CEO. With her eponymous album released in 1990, Mariah Carey's career skyrocketed. From that point on, she has never ceased to amaze.
At the time, Tommy Mottola was married to his first wife, Lisa Clark. However, after they parted ways, he and Carey started dating. In June 1993, when she was 24 years old, and he was about to turn 44, they tied the knot.
Shortly after their wedding, she described her and Mottola's relationship as a fairy tale. Unfortunately, they announced that their love story ended in 1997. A year later, they got divorced.
MOTTOLA WAS CONTROLLING, SAID CAREY
Both moved on and married again, but Carey made sure to describe her former husband as a controlling person who would try to keep her in their mansion despite the fact that she was already a pop icon. She said:
"You might want to picture a child bride […] It was very controlled. There was no freedom for me as a human being. It was almost like being a prisoner."
In 2013, Mottola made headlines after he published a book titled "Hitmaker: The Man and His Music," in which he wrote everything from anecdotes to music industry tidbits during his time as CEO of Sony Music.
After revealing that it was Carey who asked him to marry her, he apologized for the pain that he made her go through as a result of his actions that, according to him, came from nothing but good intentions.
Mariah Carey's ex-husband added that he felt sorry for the scars that their relationship left on his two oldest kids, Michael and Sarah, from his marriage to Lisa Clark.
As per Carey's claims of him being restrictive and controlling, Mottola pointed out that it was a lie. The former CEO of Sony Music felt it was important to set the record straight following the "harsh" way in which his second wife described him.
Shortly after his book hit the shelves, Tommy Mottola was interviewed by The Hollywood Reporter and revealed that he and Carey gave the marriage the best they could.
MARIAH CAREY AND TONY MOTTOLA'S CURRENT PARTNERS
He also revealed that, fortunately, both of them went on to have impressive careers and that he continued to be Carey's biggest fan.
Ten years after Mottola and Carey's failed marriage, she married actor, comedian, rapper and TV personality, Nick Cannon. Together, they have fraternal twins Moroccan and Monroe.
Sadly, they parted ways in 2014 and ended up getting divorced in 2016. After that, Carey dated and was engaged to Australian billionaire James Packer and, at the moment, is dating her backup dancer Bryan Tanaka.
Tommy Mottola, on the other hand, has been married to Mexican singer and actress Thalia since 2000. The couple has two children, daughter Sabrina, and son Matthew.
Please fill in your e-mail so we can share with you our top stories!