Getty Images
LL Cool J's Wife Simone Smith Flaunts Her Denim and White Outfit While Walking on a Street

The rapper's wife of 25 years was fortunate to overcome cancer several years ago, but not a day goes by since she was declared cancer-free that she doesn't thank God for giving her a second chance.
In the many years Simone Smith has been together with iconic rapper LL Cool J (they first met in 1987 as teenagers), the designer has become known for her good taste in fashion and there is always a sense of empowerment in her style.
As a cancer survivor, Smith knows how important it is to feel empowered in one's own skin and clothes are just another way to project how we see ourselves, allowing us to face the unknown with more confidence.
Taking to her Instagram feed, Smith modeled a denim ensemble as she walked on a sidewalk, and besides inspiring her fans with her urban look, she took a moment to remind everyone of the power of faith, writing in the post's caption:
"I'm walking proof of the POWER of PRAYER."
PAYING IT FORWARD
After winning her battle with stage three Chondrosarcoma, a rare form of bone cancer that she was diagnosed with back in 2004, Smith became committed to supporting cancer patients less privileged than she was.
Both she and her husband have since worked as allies and ambassadors of the American Cancer Society, and today, Smith is credited with helping raise around $250,000 for the charity organization.
Being a successful fashion entrepreneur and influencer, Smith has donated part of the profit from her clothing collection Sister Love, shared with singer Mary J. Blige, to the American Cancer Society.
Along with LL, Smith starred in the campaign "Beat Cancer Like A Boss" which includes Smith also donating part of the proceeds from her jewelry line to the American Cancer Society.
THE COUPLE
LL and Smith's romance goes way back to their teenage years when the two first met and they have remained inseparable through all the decades that have passed.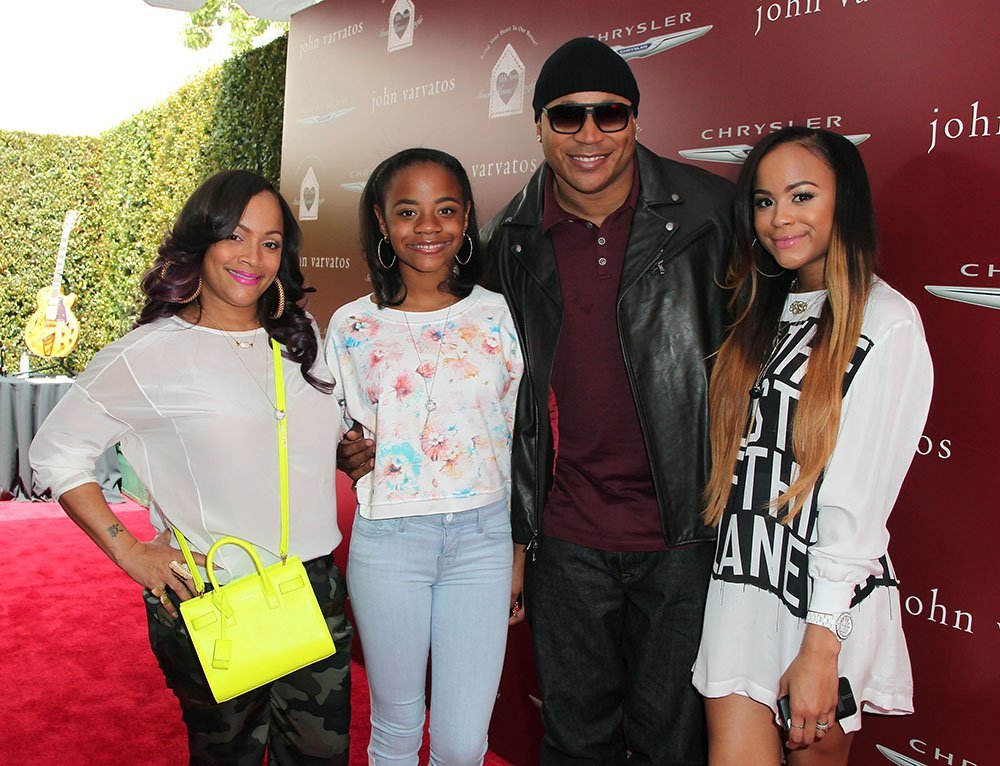 Simone Johnson, Nina Simone Smith, LL Cool J, and Samaria Leah Wisdom Smith attend the 11th Annual John Varvatos Stuart House Benefit on April 13, 2014 in Los Angeles, California. I Image: Getty Images.
Nearly ten years into their marriage, which started in 1995, Smith faced her cancer ordeal which was followed by a two-and-a-half-year recovery on which she needed much rehabilitation to be able to walk again.
Going through this together only made the bond between the husband and wife stronger and they have created a strong family unit with her four grown children which they remain very close to.
Please fill in your e-mail so we can share with you our top stories!