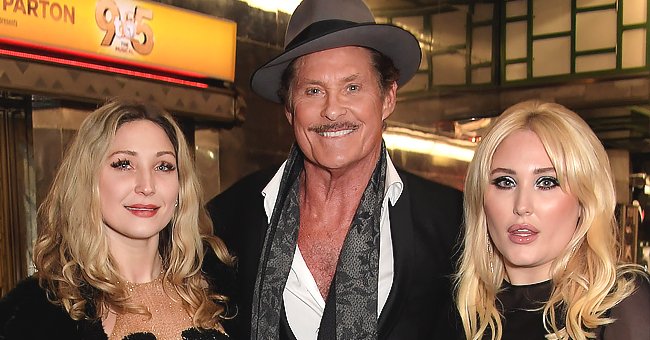 Getty Images
David Hasselhoff Has Two Beautiful Grown Daughters – Meet Hayley and Taylor Ann
David Hasselhoff is the proud dad of his two grownup daughters, Taylor and Haley, who both followed in their father's footsteps. They have pursued other careers as well.
David Hasselhoff is the doting father of two adult children who entered his world during his second marriage to Pamela Bach. His first marriage was to Catherine Hickland from 1984 to 1989.
David, 68, is now married to Welsh woman Hayley Roberts. The 40-year-old coincidentally has the same name as David's youngest daughter, Hayley.
TAYLOR ANN HASSELHOFF
Eldest daughter Taylor Hasselhoff was born a year after her father tied the knot with Bach in 1989. In 1990, the pair welcomed Taylor-Ann Janice on May 5 in Los Angeles, California.
As a child, Taylor would regularly accompany her dad at red carpet events. She later attended the University of Arizona in Tucson, graduating in September 2008.
TELEVISION APPEARANCES
Taylor's first run on television was in the reality series, "Meet the Hasselhoffs." She played herself in several tv shows, including on "Rachel Ray" in 2010, "Daybreak" in 2011, and the "Rich Kids of Beverly Hills" in 2015.
From 1999 to 2000, she played Betsy in the "Baywatch" series. She's also appeared in "More Than Puppy Love," "The Young and the Restless," "Sunken City," and "Sharknado 4: The 4th Awakens."
OTHER PURSUITS
In addition to acting, Taylor is a successful luxury real estate agent who often appears on CNBC's "Listing Impossible." She reveals she's a Lagree private trainer, an artist, and an animal activist on Instagram.
HAYLEY HASSELHOFF
Hayley Amber Hasselhoff was born on August 26, 1992. She attended several Hollywood premieres as a young girl alongside her sister. She also has acting credits to boast of.
She starred in 2010's "Huge" series and guest-starred on an episode of "Pair of Kings" in 2012. She was with her sister in "Baywatch," "More Than Puppy Love," and "Sharknado 4."
In 2016, she played Rebecca in the movie, "Fearless," and in 2019, Hayley appeared in an episode of "Why Women Kill." Her latest film, "Killing Games," is in pre-production.
FASHION ENDEAVORS
Hayley also has a strong portfolio in the area of fashion. As a plus-size model, she shifted boundaries by headlining the Paris Pulp Fashion Week, where she was named ambassador.
She walked the runway at 2019's S by Serena Williams, New York Fashion Week, Sheego show at Berlin Fashion Week, the Eder + Berk show at New York Fashion Week, and the UK Plus Size Fashion Week.
The blonde beauty has appeared on magazine covers like Bellow, SLiNK, and Very UK. She's written for magazines, too. Hayley has released two fashion collections of her own and is the stylist contributor for the "Good Morning America" third-hour cast.
DAVID'S CURRENT WIFE
David managed to keep his two girls hidden from the extent of his stardom for years. When they were teenagers, Hayley and Taylor finally realized just how legendary their dad is.
As for the "Baywatch" icon, he ruffled feathers when he married his last wife, Roberts, who is 28 years his junior. David once admitted that he himself had some reservations about their age difference.
He explained that he did not want to marry her at first because he felt he would be depriving her of the fun that comes with having kids and growing old together with someone.
For her part, Roberts' said she is not bothered by the large age gap, and that it is worth it because of their love. She reportedly gets along very well with her stepdaughters.
Please fill in your e-mail so we can share with you our top stories!