Getty Images
What Regis Philbin's Family Asked Fans to Do Following His Death

Legendary television host Regis Philbin's family, asked that his memory live on in the generosity from those who also mourn his passing in a touching new statement.
On Friday, July 24, Regis Philbin sadly left this world when he passed from natural causes aged 88, but he also left a legacy his family intends on keeping strong.
HIS FAMILY SHARED THE NEWS
The "deeply saddened" family shared news of Philbin's death in a statement to PEOPLE on Saturday - his 89th birthday just a month away. They reached out to the publication again after the outpour of love they received since then left them nothing short of "overwhelmed."
THE FAMILY'S UPDATE
Making a touching request to anyone willing to honor the memory of the beloved and original host of "Who Wants To Be A Millionaire" in that way, Philbin's family asked:
"If you'd like to honor Regis' memory, we kindly ask that you make a donation to http://foodbanknyc.org/, to help people in his beloved New York."
THE FAMILY HE LEFT BEHIND
The beloved television show host is survived by an ex-wife, Catherine Faylen, and their daughter, Amy, and his wife of the last five decades, Joy, and their two daughters Joanna and J.J.
For fifteen years, Philbin also became a staple on television alongside Kathie Lee Gifford as they co-hosted "Live! with Regis and Kathie Lee" from 1985 since it had the original title of "The Morning Show."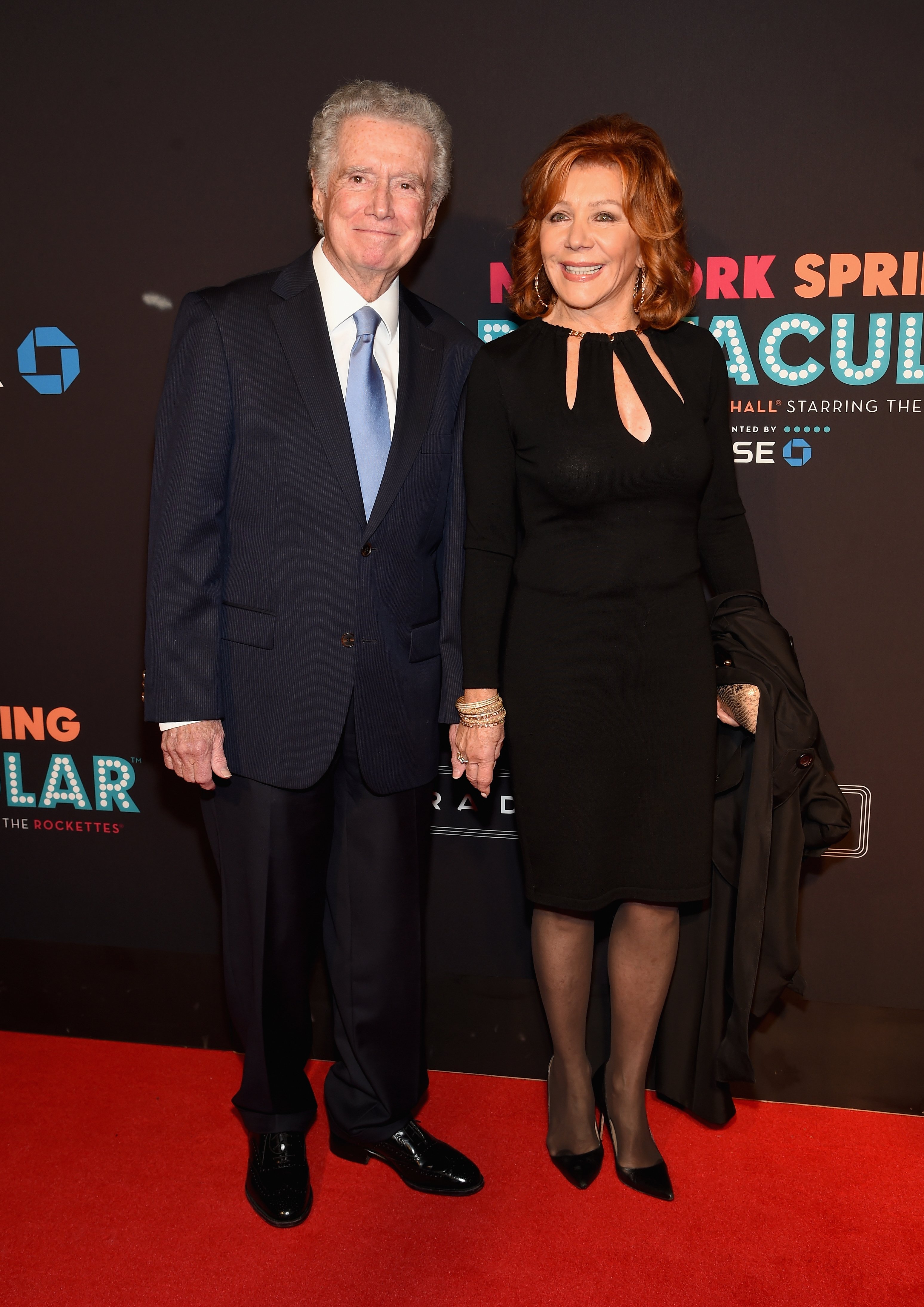 Regis Philbin and Joy Philbin attend the 2015 New York Spring Spectacular on March 26, 2015, in New York City. | Source: Getty Images.
TRIBUTE FROM A CLOSE FRIEND
When Gifford left the show in 2000, she and Philbin remained close friends. On Saturday, she took to social media to share her grief with followers. Alongside a snap of them together, Gifford wrote:
"I simply adored him and every day with him was a gift. I smile knowing somewhere in Heaven, at this very moment, he's making someone laugh."
The pair spent the better half of two decades "bantering and laughing [themselves] silly," and their bond translated well in front of the cameras as well. For eight consecutive years from 1993, Philbin and Gifford received Daytime Emmy Award nominations for Outstanding Talk Show Host.
TRIBUTES FROM OTHER CELEBRITIES
Philbin spent decades on television, and he made a difference in the lives of so many, including other celebrities like Reese Witherspoon and Marie Osmond, who also paid tribute to the late show host.
The "Karate Kid" star, Ralph Macchio, also recalled fond memories with the legendary host, and one thing everyone agreed upon - is that there will never be another Regis Philbin.
Please fill in your e-mail so we can share with you our top stories!