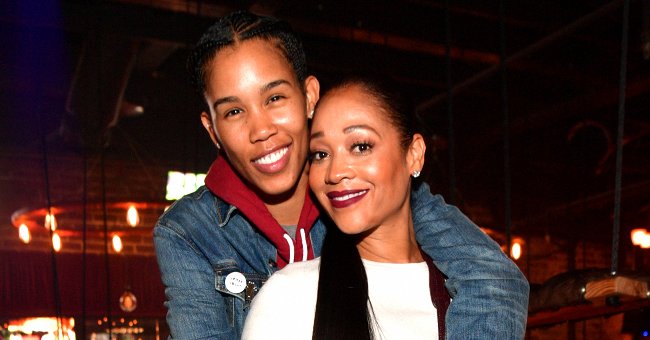 Getty Images
Mimi Faust Glows in a Red and White Swimsuit after Getting Engaged to Longtime Girlfriend Tamera Young
'Love & Hip Hop' star Mimi Faust flaunted her slim figure in a red cut-out bikini as she posed on a balcony just days after announcing her engagement to Tamera Young.
On Saturday, Mimi Faust from 'Love & Hip Hop' announced her engagement to her partner and WNBA star Tamera Young.
In a heartwarming post, Young revealed, "timing is everything. I've been trying to surprise her since August 2019. From ring complications with the first designer and more; we're finally HERE!"
Faust and Young have been dating since 2016. While Young has only made a few appearances on "Love & Hip Hop," the couple regularly post about each other on social media. In 2017, Young gushed about Faust in an interview with Rolling out. She said:
"She has the biggest heart. She's a great woman and sometimes I feel like she's maybe too nice."
Only a day after her engagement, Faust posed on a balcony in a gorgeous cut-out red snakeskin bikini. The reality star flaunted her slim figure while promoting the look from the swimsuit brand, Body Fab.
The reality star accessorized her trendy look with a patterned headband, tinted sunglasses, and silver hoop earrings with matching layered bracelets.
Many of her fans gushed over the look. One person commented, "never an off day, you look absolutely perfect." Other fans congratulated Faust on her engagement.
A fan wrote, "always classy....you look beautiful. Congratulations on your Engagement, I'm happy for you!" Another person added, "Mimi you doing tha dang thing Girlllllllll stay Strong and positive." A fan jokingly tried their luck at an impromptu proposal.

A fan commented on a photo of Mimi Faust posing in a red bikini while standing on a balcony | Source: Instagram.com/mimifaust
Fans might be hoping to see more of Faust and Young on "Love & Hip Hop" now that they are engaged. However, in 2017 Faust shared her hope to keep the public exposure of their relationship limited. She explained:
"Every time someone gets on television with their relationship, it gets messed up. We're trying to manage what we have."
The couple had been living together for several years. Faust has a daughter named Ava Giselle Jordan from her relationship with Stevie J.
When Faust made her relationship public, Stevie and Young had gotten into a few disagreements on social media over her role in Eva's life. However, the two seemed to have made peace with their blended family.
Please fill in your e-mail so we can share with you our top stories!