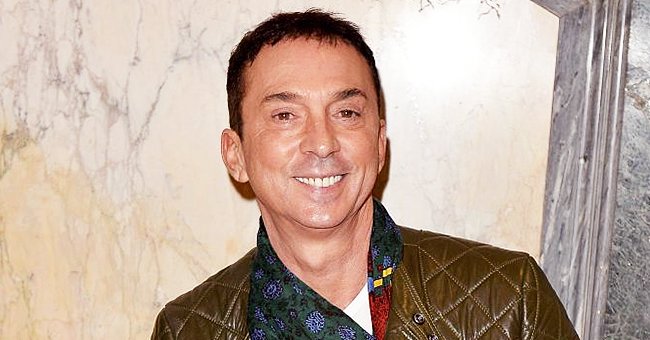 Getty Images
Check Out DWTS Star Bruno Tonioli's Natural Gray Hair –– What Do You Think of It?
Bruno Tonioli debuted a new look as he accepted a BAFTA award alongside fellow "Strictly Dancing" stars. The host is embracing his advanced age, and all it comes with.
On Friday, the BAFTA Television Awards unveiled their winners in a virtual version of the annual event. The popular competitive reality show, "Strictly Dancing" won the Entertainment Programme award.
The hosts and judges expressed their thanks by each sending in clips from their respective homes due to the coronavirus pandemic. Toniolo's message to fans was not the only thing that touched hearts.
BRUNO TONIOLI DEBUTS SILVER LOCKS FOR BAFTAS
Following Claudia Winkleman's words to the show's executive producers, Toniolo came on saying, "But the biggest thank you goes to all of you, our viewers."
Donned in a navy blue suit that featured a flower design, Toniolo sported short, gray locks for the first time. It contrasted his usual black hair, some of which peeked through near his scalp.
TONIOLI PHOTOGRAPHED WITH HIS NEW HAIR COLOR
Tonioli was also photographed with the new look while walking through West Hollywood on Saturday. The "Dancing With the Stars" (DWTS) judge looked comfortable in a light blue t-shirt and white pants.
The 64-year-old appeared to be smoking a cigarette and did not seem to mind the cameras as he joked around with photographers. According to Mirror, he was meeting with a friend when the photos were taken.
Before the crisis, Toniolo would split his time between the US and the UK to star both in DWTS and "Strictly Dancing." The choreographer and dancer is originally from northeastern Italy.
THE CHALLENGES HE FACED AS A CHILD
Toniolo once opened up about the struggles he faced as a child being gay. He recalled knowing he was different from the age of 10 when he would pick arts and musicals over sports.
Because of his differences, Tonioli was bullied and called names. By the age of 18, he decided to leave Italy. Two years later, he settled in London and began performing.
Tonioli's portfolio includes collaborations with the likes of Freddie Mercury, Michael Jackson, and Elton John. Although he has homes in different countries, his main residence is in West London.
PERSONAL LIFE OVER THE YEARS
Over the years, Toniolo has dated a few men, including Matt Law, Paul, and Jason Schanne. However, he once explained that he prefers to sleep in a separate room from his partner.
Toniolo's new look comes follows in line with many other celebrities who are unable to stick to their usual hair coloring, cutting, or styling routine. What do you think of his silver fox hair?
Please fill in your e-mail so we can share with you our top stories!