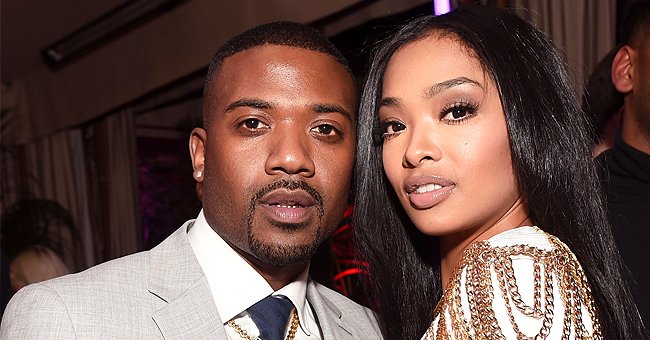 Getty Images
Princess Love's Interesting Story on How Her Baby Son Epik Ended up Eating Her Chicken Sandwich
The "Love & Hip Hop: Hollywood" star's little bundle of joy appears to be ready for a change of diet and his proud mother found out about it in a hilarious way that she had to share with fans.
35-year-old reality-TV star Princess Love's younger child Epik is already 7 months old and it seems that he is way past the baby bottle, considering a recent social media post by Love featuring her funny little guy caught in an act of naughtiness.
On August 3, 2020, Love took to her Instagram feed to post a series of images of the son she shares with her husband of four years, 39-year-old singer Ray J, lying on a carpet in her home next to a chicken sandwich.
In the slideshow's caption, the proud mother-of-two explained to her fans and followers how the aforementioned scene came to be and how she came to the conclusion that "it's time to start feeding [Epik] real food," writing:
"Wrapped my chic fil a sandwich up and went to the kitchen for 2 min and came back to him helping himself."
FANS REACT
Love's fans couldn't agree with her more and they also enjoyed a good laugh on Epik's expense, taking to the comments section to share their impressions on the episode."He said: 'good, she's gone!! Time to grab me some of that,'" a user imagined Epik thinking.
"He said that Puree is tasty & all, but he needs the real thing," wrote another person. "He looks very ready for real food," a third commenter simply added.
BACK TOGETHER
Married since 2016, Love and Ray J are also parents of 2-year-old daughter Melody. Recently, the couple entered into the process of divorce, with the mother seeking full custody of the two children.
However, barely two months after Love filed for divorce in May, the husband and wife have ended a year of problems, mutual accusations, and estrangement, having reportedly reconciled in mid-June and giving their marriage a second chance.
The news was confirmed by a source close to the celebrity couple in an exclusive interview with Page Six on July 14, with the person revealing that Love and Ray J were living together once again.
THEIR CHILDREN BROUGHT THEM CLOSER
Back in May, merely days after Love had filed for divorce, it surfaced that even though their relationship was in a pause, Love and Ray J had been spending more time together in their effort to continue co-parenting their children.
"While we're figuring everything out, we've just got to be the best parents in the world and just make sure we're there for the kids," a hopeful Ray J told Us Weekly back then.
At the time of the Us Weekly interview, Ray J and Love were focused on planning Melody's second birthday, and apparently the husband and wife only got better at communicating with each other since then, to the point of deciding to get back together.
Please fill in your e-mail so we can share with you our top stories!