Sharon Osbourne's Granddaughter Is a Brave Girl with Fiery Red Hair – See Her Holding a Snake
TV icon Sharon Osbourne warmed up her social media timeline with a lovely post as she showed off her adorable granddaughter presenting a sweet smile.
It is no doubt that Sharon Osbourne is a doting grandma, and she made this known in her recent Instagram post, where she showed off her gorgeous granddaughter.
In the snapshot, Osbourne's little tot showed a fearless demeanor as she brandished a million-dollar smile and her pet snake. Fans could not get enough of the lovely girl.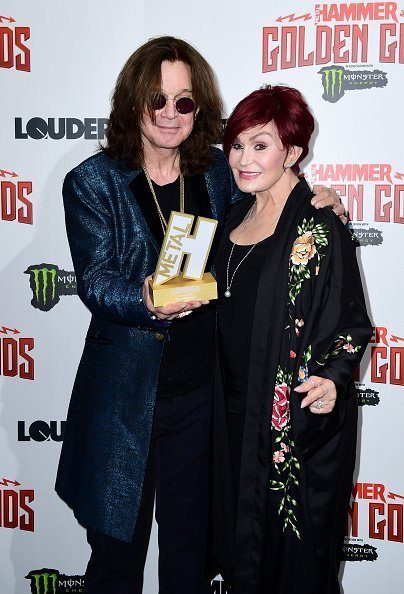 OSBOURNE'S GRANDDAUGHTER IS A CUTE TOT
The one-photo post showed the little girl indoors and barefooted as she donned a white tulle dress while she rocked her red hair in bangs. Her smile and her pet snake were the highlight and Osbourne did not hesitate to gush over her loved one:
"LOOK AT THAT FACE and then look at the [snake emoji] @jackosbourne gave me the cutest grandbabies!!"
Many followers were as enthralled as "The Talk" host, Sharon Osbourne was as they trooped to the comments with their lovely thoughts.
A follower mentioned: "Definitely the cutest grandbabies in the entire world." another chimed: "She's like a mini version of you." more followers shared similar sentiments as they all agreed that Osbourne did have the cutest grandbabies.
UPDATES ON OSBOURNE'S COMING BIOPIC
Currently, plans are underway for the making of the biopic based on Sharon Osbourne's life. The movie will center on the life she lived after meeting and marrying heavy metal icon, Ozzy Osbourne. Ozzy, in an interview, mentioned that their love life inspired the film.
Sharon shared that the biopic would not be "squeaky clean." She pointed out that the movie was not made for kids. Sharon, who was a judge on "The X Factor," made it known that the movie would be based on real-life events with no filters.
A NEW ADDITION
In 2018, the Osbourne's dynasty expanded after Jack Osbourne welcomed his third child. Jack and his then partner Lisa, welcomed a baby girl named Minnie Theodora Osbourne. The new dad debuted his infant in a pleasant Instagram post.
Osbourne and Stelly had had issues for some years before Stelly finally opted for separation.
A few months after Jack and Lisa had their daughter, they decided to go their separate ways. Speaking to PEOPLE about the development, Sharon shared that the news upset her spouse. Jack and his ex-spouse finalized their divorce in March 2019.
THEIR LOVE TIMELINE
Most fans would reckon that Jack Osbourne was known for his troubled childhood televised on his family's show. With time, he was able to overcome the past troubles and settle down for love.
Osbourne and Lisa Stelly got married four months after they met. The duo has three children together. Fans were shocked after they jointly announced their divorce.
An insider disclosed that, despite their seemingly amicable divorce, Osbourne and Stelly had had issues for some years before Stelly finally opted for separation.