Sharon Osbourne Shares Photo with Husband Ozzy and Their 8 Dogs on Mother's Day
Sharon and Ozzy Osbourne commemorated Mother's Day in style as they gave fans a sneak peek at their pack of dogs.
"The Talk" co-host Sharon Osbourne and her superstar hubby, Ozzy Osbourne, joined in the Mother's Day Celebration as she shared a pleasing photo to the delight of her Instagram fans.
While the Osbournes enjoyed a warming moment in the comfort of their luxury bedroom, their cute pack of dogs sweetly featured.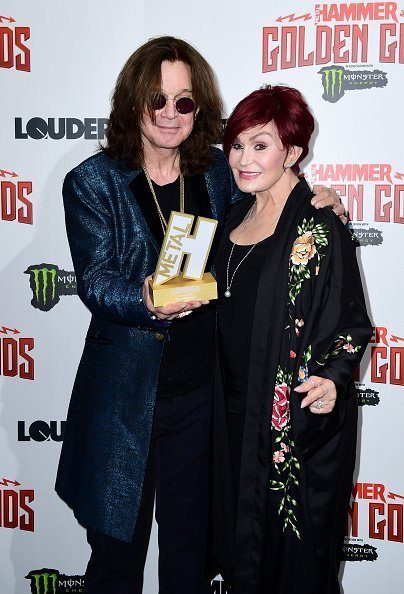 MOTHER'S DAY WITH THE PACK 
The "Prince of Darkness" star and his wife cozied up in their large bed while their gorgeous pets took up positions. The star anchor captioned:
"From my pack to yours, HAPPY MOTHER'S DAY…"
The Osbournes and their large brood stole the hearts of fans as many Instagram users couldn't get over the dose of cuteness in the snapshot. Someone uncontrollably gushed: " I love all your dogs!!" Other fans took turns in counting the adorable dogs, which according to them, numbered up to 8!
UPDATES ON OZZY'S HEALTH
From the enchanting photo, the 67-year-old TV personality shared, fans would reckon that Ozzy seems to be on the positive side of good health. Sharon confirmed this in a recent chat with ET Canada, where she talked about taking care of her star spouse amid the pandemic.
...the former "X-Factor" judge couldn't be more grateful for being able to work remotely.
Before the novel Coronavirus pandemic, the heavy metal star was diagnosed with Parkinson's disease, which has mostly affected his locomotion. However, Sharon assured fans that the "Black Sabbath" crooner was doing fine and in "good spirits."
QUARANTINE FEELINGS 
She went on to talk about her family as a whole and made it known that they were all doing fine. She, however, mentioned that the lockdown was gradually getting to "everyone," as they have become "a little edgy with each other."
About her job, the former "X-Factor" judge couldn't be more grateful for being able to work remotely. She said:
"To be able to come to work with my pajama bottoms on and just a top. That is very enjoyable!"
OZZY ON PARKINSON'S DISEASE 
In a revealing interview with GMA, the Rock and Roll Hall of Famer opened up on his excruciating experience that led up to Parkinson's disease.
Describing 2019 as "the most painful and miserable year," Ozzy talked about his fall, which affected his spine and neck. 
He told Robin Roberts: "...I had to have surgery on my neck, which screwed all my nerves, and I found out that I have a mild form." The music icon went on to describe the pains he had to endure after surgery. 
He also confirmed to Roberts that he still felt some numbness in some parts of his body. His wife, however, thinks that Parkinson's is not a death sentence.