Sharon Osbourne Opens up on 'The Talk' after Her Husband Ozzy's Parkinson's Reveal
Sharon Osbourne got candid with her "The Talk" co-hosts on how she's doing following her husband, Ozzy Osbourne's Parkinson's reveal.
Having a sick loved one is never an easy thing. But Sharon Osbourne seems to be handling the news of her husband, Ozzy Osbourne, Parkinson's disease, well.
On Tuesday's episode of her CBS show, "The Talk," she got candid about how she's handling everything with her co-hosts. She started by reassuring them that she felt fine and very strong.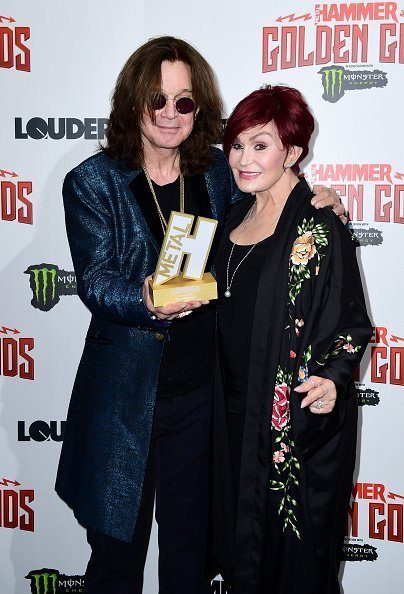 PEOPLE ARE AMAZING
Then the TV personality, who wore a pink suit, and sat surrounded by her her co-hosts said:
"I'm good. I feel very good… people have been amazing with their outpouring of love for my husband, and I thank you."
The TV personality pointed out that friends they haven't had interactions with, in years have reached out to them. Her husband has gotten a tremendous amount of support.
TRUCKLOAD OF POSITIVITY
Sharon added that being with her co-hosts while the rest of the world found out about Ozzy's illness helped her. She considers them her family, and being with family was what she needed at the time. 
This means that Ozzy will have both good and bad days, depending on how the illness affects his nerves.
The CBS host has gotten a lot of positive responses from viewers of "The Talk." She noted that it's surprising and heartwarming how much people care about her husband, and she's convinced he's shocked at how fast people rallied around him. 
.@MrsSOsbourne says she's "feeling good" after announcing @OzzyOsbourne's Parkinson's diagnosis. pic.twitter.com/xImzL7PyyG

— The Talk (@TheTalkCBS) January 21, 2020
THEY WILL FIGHT UNTIL THEY WIN
Sharon also made it clear that she and Ozzy will fight the illness until they come out on top. She emphasized that:
"We are not going to stop until Ozzy is back out there, on that stage, where he belongs. It's what he was born to do."
The rock star and his wife announced his illness while appearing together on "Good Morning America." The "Crazy Train" singer has stage 2 Parkinson's disease; that is, it is still in its mild form.
.@ABC NEWS EXCLUSIVE: Rock legend @OzzyOsbourne sits down with @RobinRoberts and breaks his silence about his private health battle with Parkinson's disease. https://t.co/tYd0K3rQet pic.twitter.com/ANaS82xakY

— Good Morning America (@GMA) January 21, 2020
IT IS NOT A DEATH SENTENCE
Ozzy was diagnosed last February, after experiencing a bad fall at home. He had to undergo surgery on his neck, and it ended up affecting his nerves also.
The fall revealed his Parkinson's condition, and he has been managing it since then. While the illness is not a death sentence as Sharon pointed out, it has no cure.
Parkinson's disease generally progresses slowly and can be managed with medication. This means that Ozzy will have both good and bad days, depending on how the illness affects his nerves.
Sharon and her husband were on GMA with their children, and they couldn't ask for a better support system. The Osbournes' will nurse their patriarch back to health while keeping their fingers crossed that he will perform again.