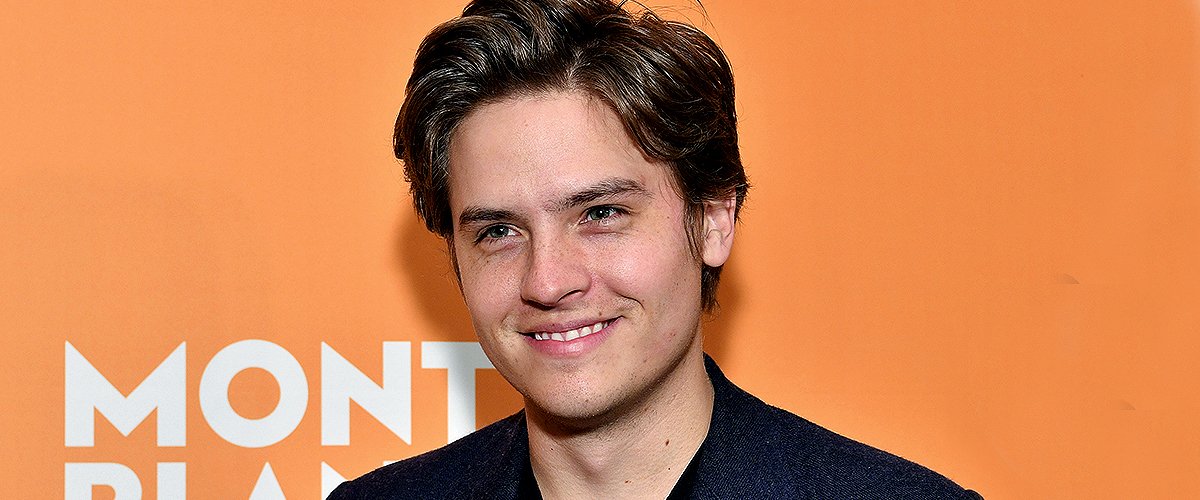 Getty Images
Dylan Sprouse's Girlfriend Is a World-Famous Model — What Else to Know about Barbara Palvin
Former child actor Dylan Sprouse is all grown up, and he is now dating Victoria's Secret Angel and model Barbara Palvin.
Dylan Sprouse, best known for his role as Zack Martin in the comedy series "The Suite Life of Zack & Cody," is now dating the striking Hungarian fashion model Barbara Palvin.
Dylan and Palvin have become the focus of interest for social media fans, who are eager to see the older of the Sprouse brothers settle down, and think that Palvin might be "The One."
Palvin, 26, was discovered at 13 on the streets of Budapest and launched into an international modeling carer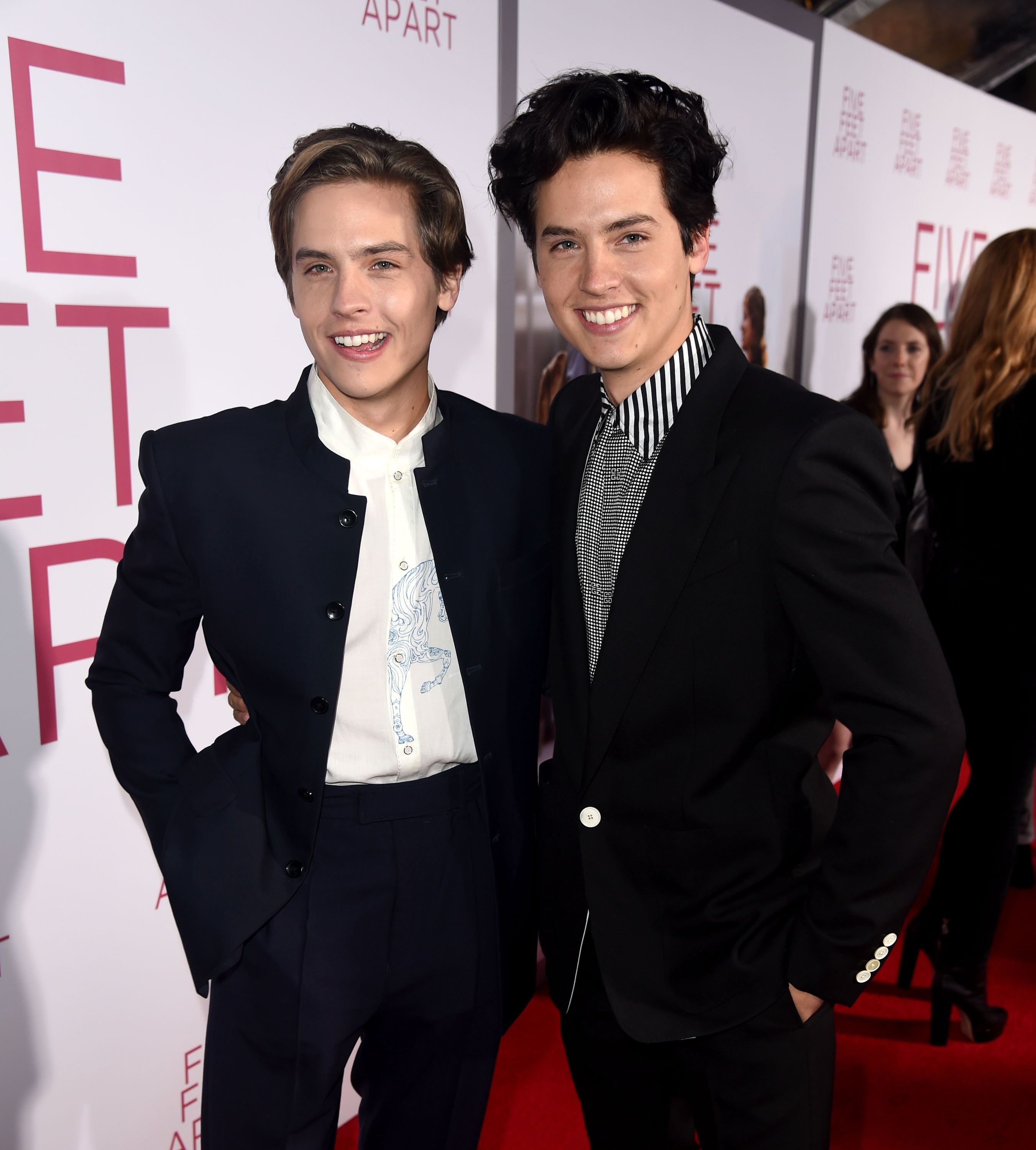 Dylan Sprouse and Cole Sprouse at the premiere of "Five Feet Apart" in March 2019 in Los Angeles | Source: Getty Images
ZACK IN LOVE
The kid we watched grow up is now 28 years old, and he's handsome, poised, and mature. He's also in love with one of the most beautiful women in the World.
Dylan and Palvin are thought to have met sometime in early 2018 because, by the summer, the model was visiting him on set in China, where he was filming his new movie, "Turandot."
CHATTING ON INSTAGRAM
After their first meeting, Palvin started following Dylan on Instagram, and the actor sent her a DM. But the model didn't answer, and Dylan lost hope she'd respond. Six months later, Palvin finally answered, and they started chatting, and before long, they were dating.
VISIT TO HUNGARY
Things must have become serious very quickly, because they were spotted at the Russia World Cup in July, and in August they visited Palvin's native Hungary, where we must presume that she introduced her family to Dylan.
Palvin, 26, was discovered at 13 on the streets of Budapest and launched into an international modeling carer. The stunning model has been on the cover of "Vogue," "Marie Claire," "Elle," "Allure," and "Sports Illustrated Swimsuit," among others.
The gorgeous Palvin is the face of Armani's signature scent "Acqua di Gioia" and participated in several high-profile ad campaigns for H&M, Victoria's Secret, and Pull & Bear. The model has walked the runways for haute couture brands in Milan, Paris, and London, and is a Victoria's Secret regular.
SPECIAL DELIVERY
Fans fell madly in love with Dylan and Palvin's romance when the actor showed up backstage after the November Victoria's Secret fashion show to take his beloved a bag of take-out from Shake Shack containing lots of burgers. Yes, Palvin eats burgers, and she still has that figure.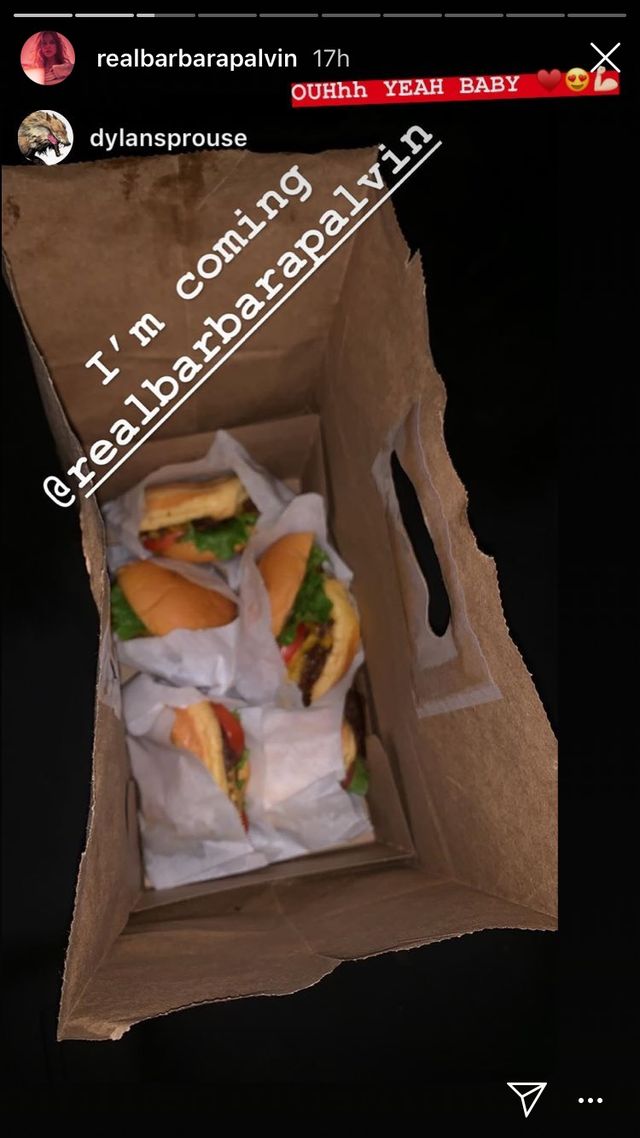 Image from Barbara Palvin's Intagram Stories | Source: Barbara Palvin/ Instagram
LIVING TOGETHER
By January 2019, it seemed that Palvin and Dylan had moved in together in New York, and in February, the model was finally introduced to his identical twin, Cole Sprouse.
The couple is spending quarantine together, and Dylan has posted a video on Instagram that indicated something more serious is developing.
BREAKING GROUND WITH DYLAN AND BARBARA
The video gives us a sweet glimpse into the dynamics of the relationship between Palvin and Dylan as they sit chatting in the car, eating ice cream, and complaining about the heat. Then the couple takes to the countryside, and that is where things become interesting.
Dylan and Palvin hike until they come to a small lake and go for a dip, and that is when the actor suggests they could buy the land together "cheap" and build a home. They make a deal to buy the land cheap, and as Palvin suggests, "build the most beautiful cabin ever."
Dylan, who has deleted his previous Instagram posts, shared the clip with a cartoon frontispiece that depicts him and Palvin plus a dog sitting in front of a cabin in the woods. The image is emblazoned with the title "Breaking Ground with Dylan & Barbara."
WHAT'S NEXT
The "Breaking Ground" clip is Dylan's only post, which makes us wonder if he is preparing the fans for something even bigger, a proposal, maybe? Getting introduced to Cole is certainly indicating a serious commitment, as is the trip to Hungary, and building a home together is huge.
Dylan was previously in a long relationship with Dayna Frazer, and the two split in 2017, amid claims that the actor had cheated on her. Dylan has always denied cheating and said that there are always two sides to every story.
COLE SPROUSE BREAK UP
But Dylan isn't the only one who is in love. His twin has been in a relationship with Lili Reinhart, his co-star in the series "Riverdale," for two years.
The couple had split in January 2020, got back together, then announced a definitive breakup in March. However, the two have been caught flirting online, so how real the split really is is anybody's guess.
The twin brothers started working in their cradles in the sitcom "Grace Under Fire," and from then on worked as a team, sharing the same roles. In 2005, the brothers co-starred as Zack and Cody in the 2005 Disney series, "The Suite Life of Zack and Cody."
While they have both transitioned successfully into adult careers, Cole has also expanded his interests and is a highly respected fashion photographer who has shot spreads for Teen Vogue and L'Uomo Vogue. The Sprouse brothers have come a long way.
Please fill in your e-mail so we can share with you our top stories!