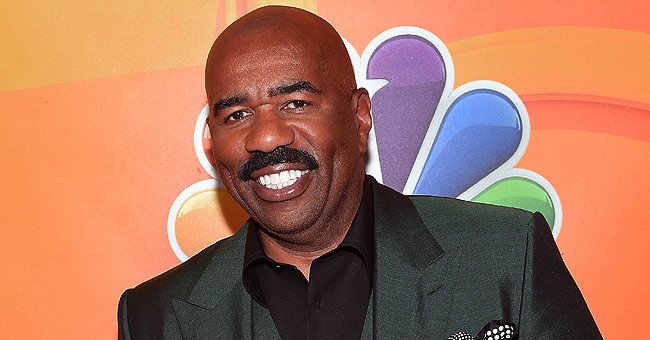 Getty Images
See How Steve Harvey Paid Tribute to His Son Jason on His 29th Birthday
Steve Harvey just celebrated his son Jason Harvey's 29th birthday with the sweetest Instagram tribute. The love between the father and son duo is so precious!
It has been 29 years since the wife of the famed comedian Steve Harvey welcomed her son, Jason, into the world. Harvey celebrated the special milestone with a loving Instagram post dedicated to him.
Harvey wished the handsome young man a happy 29th birthday in the caption. He also shared that he is proud of the man Jason has become.
HAPPY 29TH BIRTHDAY, JASON!
In the photo, Jason was a sight for sore eyes in a navy blue hat and a printed white tee. His greenish-yellow eyes stood out and looked simply breathtaking.
Jason was born in 1991 to Harvey's wife, Marjorie. He is one of her three children who were born to her from a previous marriage. Lori and Morgan Harvey are her two other children.
At 29, Jason is a proud dad of four children, Noah, Rose, Ezra, and Joey Iris, who he welcomed with his model wife, Amanda. He announced the news of his youngest child Joey's birth in July on Instagram.
Harvey became a father for the first time when he welcomed his twin daughters, Karli and Brandi, in 1982.
STEVE AND MARJORIE'S BIG BROOD
The father-of-four is a luxury women's footwear designer who founded his own company "Yevrah" in 2015. The company outsources all the products and materials from Brazil.
Besides Jason, Harvey is a proud father of four biological children from his marriage to his first wife, Marcia. He adopted his current wife's three children when he married her.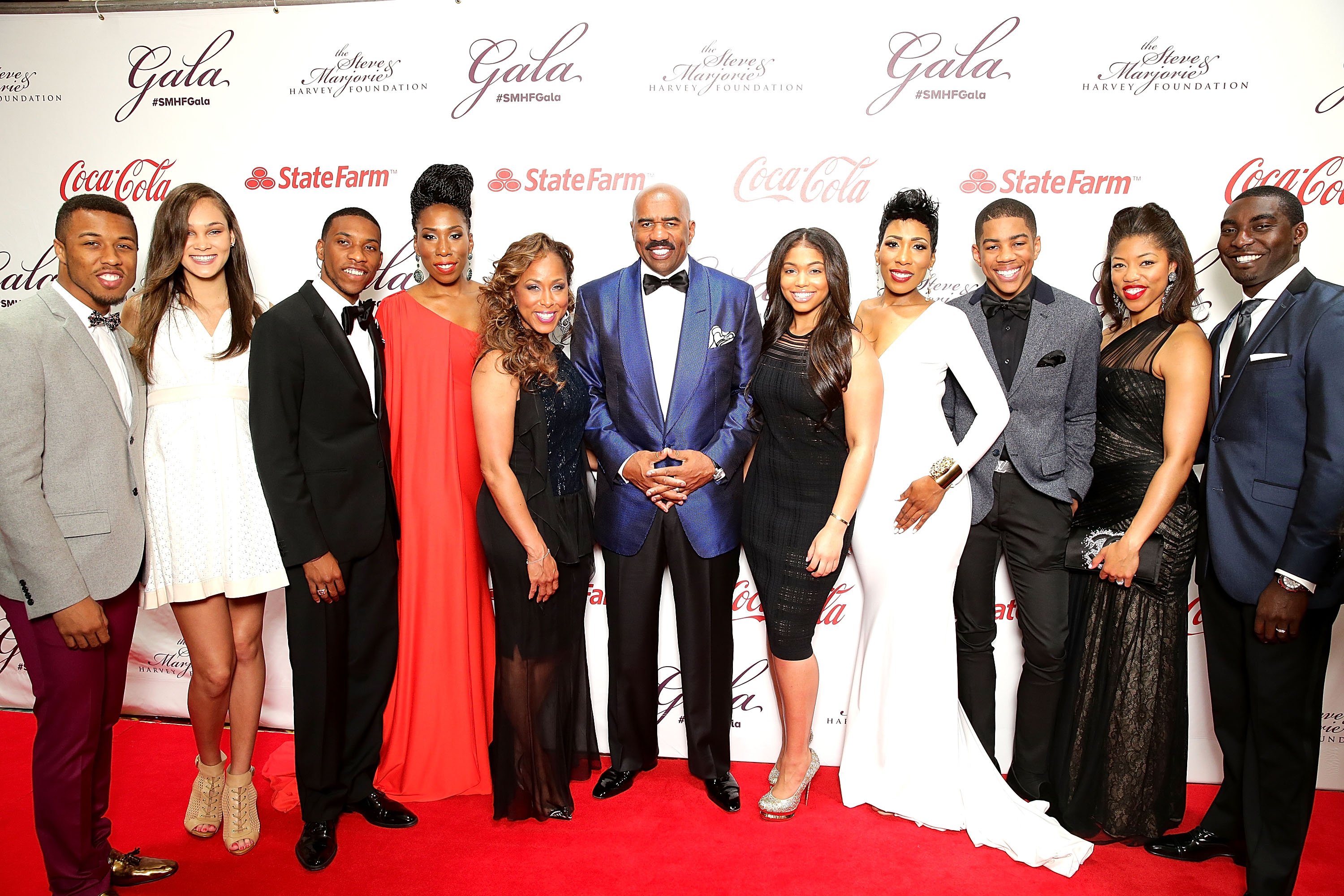 Marjorie and Steve Harvey attend the 2014 Steve & Marjorie Harvey Foundation Gala with their big brood on May 3, 2014 in Chicago, Illinois. | Source: Getty Images
The comedian became a father for the first time when he welcomed his twin daughters, Karli and Brandi, in 1982. Karli works as a fitness instructor and has made several appearances in her father's talk show.
As for Brandi, she runs "YOUNG, FIT, and FLY," an organization that empowers young women to take charge of their career, bodies, money and create a better life for themselves.
AN ENDURING UNION AT LAST
Harvey has a son, Broderick, who was born in the same year as Jason. Broderick is also in the shoe business, but compared to his other siblings, he stays out of the spotlight for the most part.
In 1997, Harvey welcomed a son with his second wife, Mary Lee Harvey. He is mostly involved in photography and modeling and has made special appearances in his father's talk show.
Jason's siblings, Morgan and Lori, are both busy following their passions. While Morgan is a mother-of-one and runs a food blog called "Give Me Some Mo," Lori is pursuing a career in modeling.
Harvey's marriages might not have worked out in the past, but he has been able to keep the spark alive with his current wife for over a decade now.
Please fill in your e-mail so we can share with you our top stories!