Inside Marie Osmond & Steve Craig's Remarriage — 5 Facts about Their Extraordinary Love Story
Marie Osmond, a country singer and co-host of "The Talk," has one of Hollywood's most interesting marriages. Here is a look into her marriage with Steve Craig.
Osmond's union with former basketball player Steve Craig shows that nothing can stop two people who are meant to be. 
Osmond and Craig have been married to each other since 2011. While their nine-year marriage might seem pretty long for a Hollywood marriage, the love story between them stretches even further.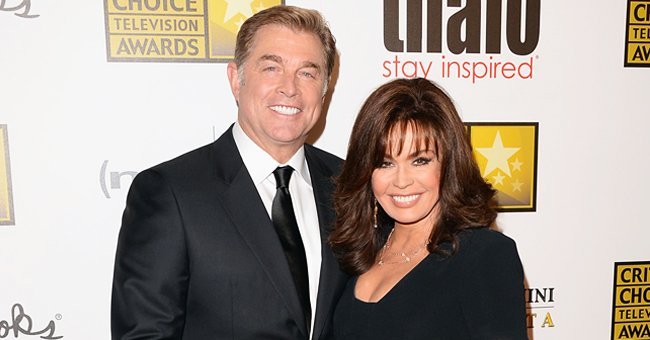 MEETING IN THE 80'S
The couple actually first got together in the 1980s. They walked down the aisle in 1982, and by the following year, they had their son, Stephen. 
The couple reportedly had a lavish event with over four thousand guests. Per reports, they tied the knot at the Mormon temple - the same place where her parents and brother got married.  
However, the union didn't last, and the couple divorced in 1985. The divorce was particularly tough on Osmond, as she believed that her career was over. 
Now that she was a single mother again, Osmond decided to revitalize her acting and singing career. Thankfully, it worked. She was atop the country music charts, and things started to look up. 
LOVE WITH OTHER PEOPLE
Osmond also found love again — this time, with actor Brian Blosil. The pair got married in 1986, and they had seven children. 
Almost two decades later, the marriage between Osmond and Blosil was over. The pair called it quits, with Osmond reflecting on how much she regretted jumping into the relationship. 
OSMOND GAVE UP ON LOVE
At that point, Osmond believed it was over for her concerning marriage. She had been through two failed marriages and didn't want to experience another one. 
Craig reminded Osmond of that undying love, as well as the significance of loyalty.
However, fate appeared not to have been done with her. Osmond eventually connected with Craig once more, through their son Stephen. 
THEY REIGNITED THIER LOVE
The exes soon ignited an old flame and were in love again. Since their son was getting married soon, they decided to do so as well — for the second time. On the difference between the two marriages, Osmond said:
"The thing about a second marriage is that you realize things you thought were so important, aren't. I love being with my husband. He is the sweetest man I know."
The actress also credited her father for her second marriage to Craig. Per reports, she explained that she always saw how her father loved her mother.
HOPEFUL ABOUT THE FUTURE
Craig reminded Osmond of that undying love, as well as the significance of loyalty. Going by her parents' example, she felt encouraged to give him another chance. 
So far, it appears that things are going fine. The couple has been together for nine years already, and there doesn't seem to be any friction signs. 
Sometimes, fate has a funny way of bringing you back to the right person for you. This couple shows that.