Teyana Taylor's Husband Iman Responds to Criticism on a Comment He Made about Stretch Marks
Teyana Taylor's husband has come out to clear the air after making some comments about his wife not having stretch marks. Although this was a harmless statement, many fans seemed to have been offended by it.
Iman Shumpert came under attack after making a "stretch mark" comment about his wife, Teyana Taylor, who recently welcomed their second child. Now, he's trying to clear the air.
Taking to his Instagram story, Shumpert released a statement saying he never implied there was anything wrong with women who have stretch marks.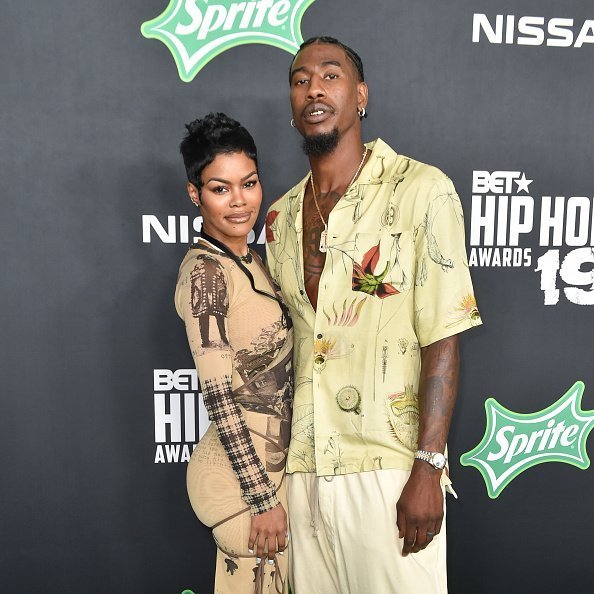 Shumpert added that he understands what having a baby does to a woman's body and would never talk down on those who got stretch marks from pregnancy.
He ended his statement by noting that he hopes women who have stretch marks are appreciated and loved just as they are. He wrote:
"....I hope ur man kisses every one of them to thank you for the children you brought into this world. Love is love."
Shumpert and Taylor welcomed their second child, daughter Rue Rose, on September 6, just a day after the couple hosted a lavish baby shower. 
Taylor delivered her baby in the bathroom of their Los Angeles home without the help of doctors. The couple is already parents to a four-year-old daughter, Junie, who was also delivered at home.
Taylor made headlines after sporting toned abs only six days after she welcomed her first child.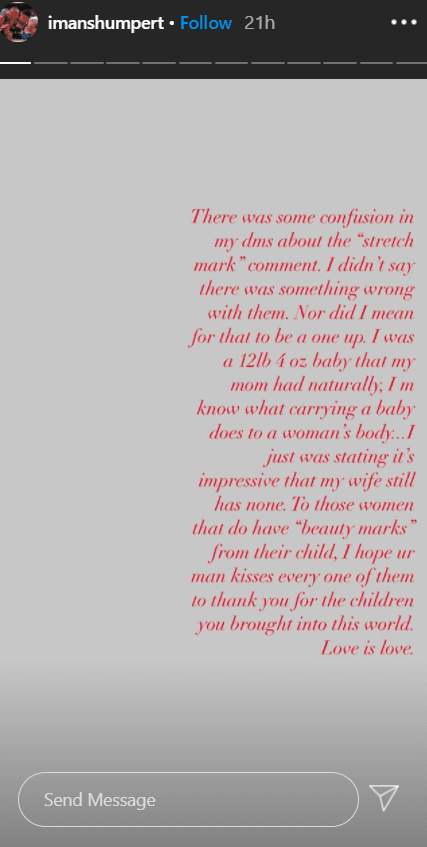 Taking to Instagram, Shumpert broke the exciting news in a post that featured a video of their newborn alongside a sweet caption where he revealed their daughter's name.
While appreciating his wife's strength later, Shumpert reportedly lauded Taylor for going through two pregnancies without stretch marks. 
However, his comments were not welcomed as it ended up upsetting some social media fans who were quick to call him out. After getting a lot of personal messages, Shumpert then decided to clear the air, hence, his recent statement.
While some may have been mad about Shumpert's comments, some saw nothing wrong with what he said and could not understand why he was called out. One Twitter user wrote:
"Y'all got mad at Iman Shumpert for saying his wife Teyana Taylor didn't have stretch marks after giving birth? Are y'all really that insecure?"
In 2015, Taylor made headlines after sporting toned abs only six days after she welcomed her first child. This left many fans in awe as many wondered what her secret was.
Shumpert's recent appraisal of his wife is undoubtedly well deserved. Whether on the stage or in the delivery room, Taylor has repeatedly proved how strong she is.