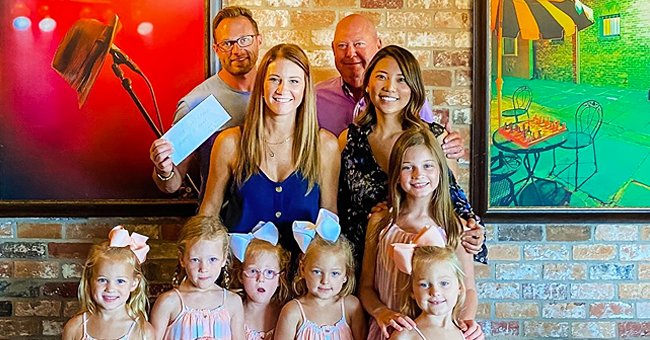 instagram.com/itsabuzzworld
Busby Family Pose for Sweet Pic While Thanking Friends for Donations to Hurricane Laura Victims
The Busby family showed their appreciation to friends who helped out after Hurricane Laura touched down in Louisiana. The family remained in their home throughout the event.
Over the weekend, the Busby clan shared their gratitude towards the Roux Pour, who sent in donations for needy persons following the tragedy that was Hurricane Laura.
For their parts, Adam and Danielle rode out the storm at their Houston home in late August. While they came out of it somewhat lucky, others were not as fortunate. Their post is found below.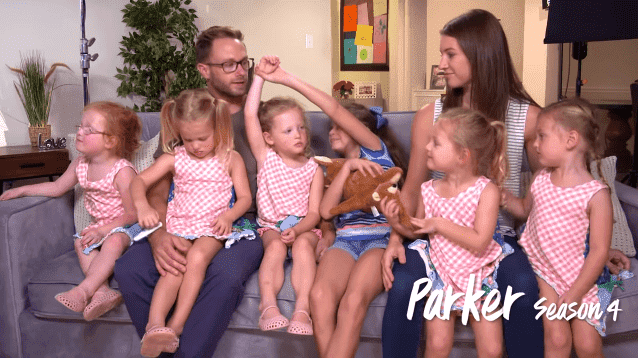 The Busby family during an episode of "OutDaughtered" | Photo: YouTube/TLC UK
BUSBYS THANK LOCAL RESTAURANT
In the post, the Busby couple stood with daughter Blayke and their five quintuplet girls, Olivia Marie, Ava Lane, Hazel Grace, Parker Kate, and Riley Paige. Two Roux Pour members joined them. The caption read:
"Thank you to our Louisiana Family at @therouxpour for their generous donation to go towards buying key supplies for families affected by Hurricane Laura."
They included hashtags, "Louisiana Strong," "Lake Charles Strong," "HurricanLaura" [sic], and "Life After Laura." The post received over 80k likes from fans and followers.
PREPARING FOR THE STORM
In August, the Busbys updated fans about their plans to deal with Hurricane Laura. The family boarded up their home in preparation for the storm. They would not be hunkering down alone.
Adam's parents, grandmother, and sister joined them because the storm was set to hit their area straight on. The gang stocked up with food, water, gas, and a generator.
MAKING IT OUT ALIVE
Danielle wrote a prayer for safety on her Instagram stories. The following day, she confirmed that her prayers had gone through by informing fans that everyone was safe. Luckily, they only had mild winds in the area.
The 150 mph-winds Laura brought devastated Lake Charles, however. The category four hurricane led to one person's death and left thousands without electricity in Louisiana and Texas.
The devastation reportedly affected Adam's parents' house. The situation comes on top of having to deal with the coronavirus pandemic. With six kids in tow, the Busbys have their fair challenge.
DANIELLE TALKS LIFE IN QUARANTINE
In June, the reality stars opened up about life in quarantine during a Q&A Instagram live session. Danielle is struggling to keep fit while raising all her kids, but she is finding a way.
She admitted she sometimes calls her girls by the wrong name but explained that it mostly happens because "that's what comes out first." The kids stay at home for the most part, but they did have one controversial beach outing.
EXPLAINING COVID-19 TO THE QUINTS
Fans further witnessed the moment when Adam had to explain to the girls what coronavirus is, and why it means they can't visit friends, family, or go to school.
The girls also learned how to wash their hands properly. Another challenge is that the quarantine has made it difficult for the Busbys to continue renovations on their new home.
Danielle gave her followers a peek into her kitchen in late June. There were white sheets everywhere and what appeared to be a fridge on the side. The view was from outside, which showed a gorgeous patio.
THE GIRLS' SMALL BIRTHDAYS
A few days later, in an episode of their show "Outdaughtered," we saw the Busby kids celebrating their birthdays. The family made do with cupcakes and ice cream for the time.
In a confessional, Danielle expressed her disappointment about the situation, explaining that several items she had ordered did not reach in time to create the party she really wanted for her girls.
Please fill in your e-mail so we can share with you our top stories!