YouTube's Interabled Newlyweds, Shane Burcaw & Hannah Aylward Respond to Negative Commenters
YouTubers Shane Burcaw and Hannah Aylward, who recently tied the knot, addressed hateful comments about their interabled relationship, in an Instagram post.
More popularly known by their Youtube channel name, "Squirmy and Grubs," Shane Burcaw and Hannah Aylward's love story has rocked the internet for quite a bit with their interabled relationship.
Following their recent marriage and the insensitive comments from social media users, Aylward wrote on Instagram: "...you're never going to be able to educate everyone."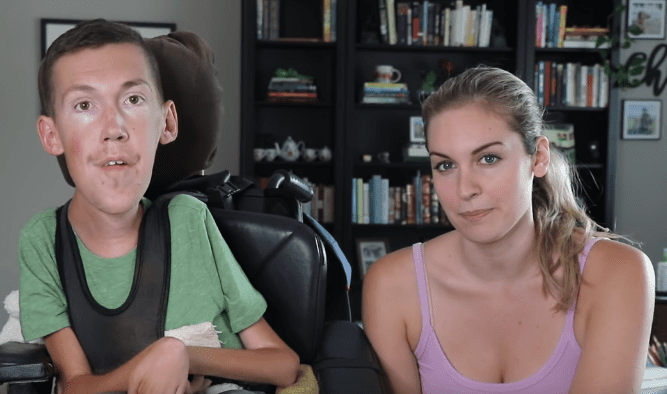 Continuing her message alongside screengrabs of several unkind comments, Aylward wrote that some people would never come around to accept certain things no matter what they did. Therefore, it would be a waste of their time if they worried about those kinds of people.
She revealed that over time, it had become increasingly easier to ignore the hateful comments that littered the internet concerning her relationship with Burcaw. 
In the beginning, they thought the hate would dissipate once they got married and established their love. It did not, but they did not care anymore.
Aylward also wrote that she and her husband were determined to continue creating their content and sharing their spectacular story.
Burcaw himself opened up about his spectacular relationship with Aylward. 
They hoped that it would help the world, or some people at least, to understand that disabled people made worthy partners. Such hateful comments only worked to fuel their fire and ignite their desire to keep pushing their message to the world.
She concluded by thanking those that continued to be kind to them. Announcing their early September wedding on Instagram, the newly-turned wife wrote:
"On Friday, September 4th, I married the love of my life. It wasn't the big gathering we had always planned on having, but it was perfect."
The beaming husband and wife looked beyond happy as they shared photos from their special day. Aylward revealed that she and Burcaw tied the knot in a Zoom ceremony, but they could not wait until they officially celebrated with their friends and family.
Burcaw also shared a sweet photo from the special day, accompanied by a heartfelt caption about how he married his best friend. Both hubby and wife were beyond thrilled to have finally exchanged vows.
In a 2019 exclusive self-written tell-all essay with TODAY, Burcaw himself opened up about his spectacular relationship with Aylward. 
Burcaw, who was born with a genetic disorder called spinal muscular atrophy, wrote that although intriguing, their story was not unique as they had come across several couples just like them, along their rise to YouTube fame.
He also debunked any rumors concerning their intimate life and the ability to have children in the future. In fact, they could have kids, and according to him, they had a satisfying intimate life. 
Like every other couple, they argued and had their rough times, but in the end, their love kept them happy. There is no doubt that Aylward and Bucaw share something truly amazing.