Check Out 41-Year-Old Busy Philipps as She Brings Back Her Septum Piercing from 1997
Body piercing seems to be having a moment among Hollywood stars and big names from the music industry, and the "Vice Principals" actress couldn't resist from bringing a classic from her youth back.
41-year-old actress Busy Philipps just brought back part of her rebellious look from the late nineties, appearing in social media wearing a septum piercing more than 20 years after she first got it and at least 16 since she last wore it.
On September 14, 2020, Philipps took to her Instagram feed to share two pictures of herself side to side, one taken in 1998, when she was 18, and one from the present day, as a way to tell her fans that she was bringing her septum piercing back.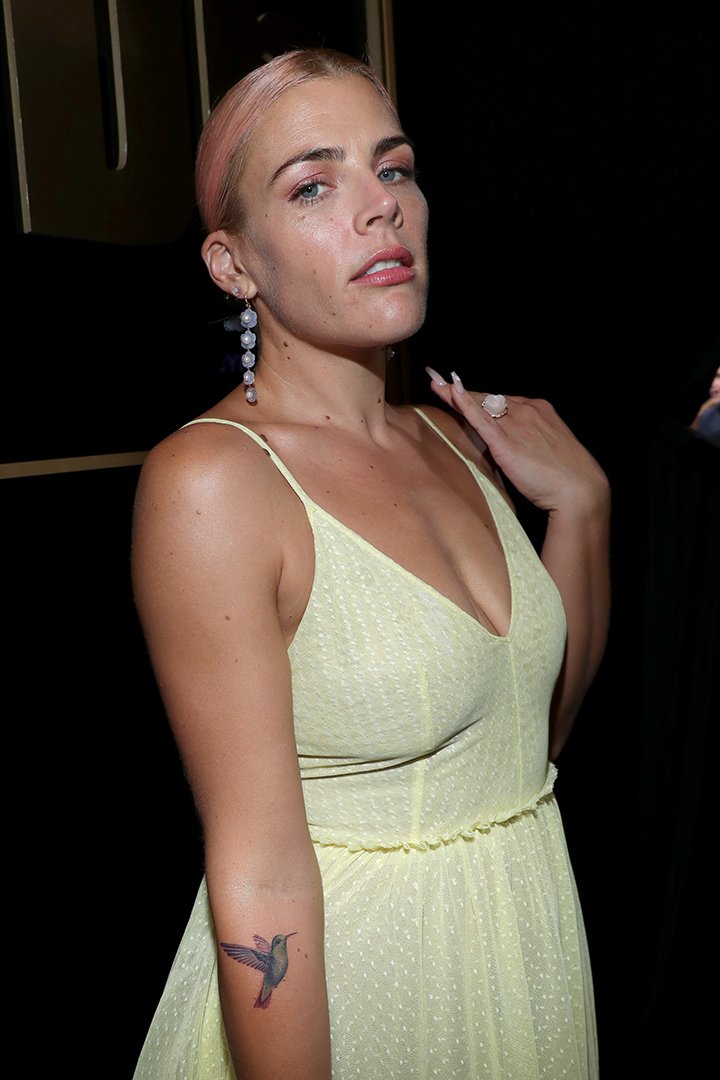 In the first picture, on the left, Philipps looks like the average alternative teenager from the last years of the 20th century, complete with mini buns in her hair, a choker chain necklace, and a big captive bead septum ring.
Philipps' idiosyncratic look is all gone in the second picture, on the right, except for the septum piercing, although she has updated the piece of jewelry, donning a thinner and smaller horseshoe septum ring.
As the actress explained in the post's caption, she had her septum pierced in 1997, sharing that it actually hurt, and she kept wearing jewelry on it until 2004, when she thought she was taking it out for good.
Nevertheless, she recently tried to put a piece in her pierced septum and found out that the hole was still open. Not only that, but she also found that she still liked how it looked on her face, maybe even more than it did two decades ago.
"MY WOUNDS DON'T HEAL," Philipps wrote next to the images, joking about her piercing remaining open after all this time, adding:
"I weirdly feel like it makes more sense on my face now than it did then."
"I can still put my nose and lip piercings in 15 years later. The scars that don't heal are there to remind us of what we have fought through," a reflective fan wrote in response in the comments section of the post.
"The dainty hardware they have for them now are just way more aesthetic than the ones from the 90s. Looks good!" wrote another user.
"I did mine in 2000, took it out in 2007 for a 'grown-up job' and just tried to work it back through thanks to pandemic boredom," a third person added.
HER FIRST TATTOO
While Philipps was barely of legal age when she got her septum pierced, it was only in 2018, aged 39 and already the mother of two children, when she went on to have her first tattoo done.
Philipps documented the entire process and shared it with her fans on Instagram, choosing the written phrase "aced out in her nudes" as her first tattoo design, promising her fans that the phrase's meaning was going to be understood when her memoir "It Only Hurts a Little" was published.
In a reference to the title of her book, Philipps assured her fans that getting tattooed didn't hurt her that much, especially considering that she delivered her two children without recurring to pain drugs.
PIERCING BOOM
Philipps is not the only celebrity to fancy body piercing recently, and everybody from Olympic medalist Simone Biles to pop singer Justin Bieber have also taken to social media to flaunt their sometimes extravagant piercings.
Biles, who already had her nose and belly pierced, took to Instagram in February 2020 to reveal her newest chest piercing.
A few months earlier, Bieber also took to his Instagram feed to surprise his fans with a picture of himself wearing a new eyebrow piercing.