Kenya Moore's Daughter Shows Natural Curls Wearing a Tiara, Doctor's Robe & Glasses in New Pics
Kenya Moore's adorable daughter Brooklyn Daly was all shades beautiful in new pictures posted on her Instagram page which showed her in a doctor's robe, tiara, and blue glasses. 
"Real Housewives of Atlanta" star Kenya Moore's adorable daughter Brooklyn Doris Daly melted hearts in newly posted pictures on her Instagram page. 
In one post, the adorable little tot whose Instagram account is managed by her mother shared a picture that showed her in a doctor's robe.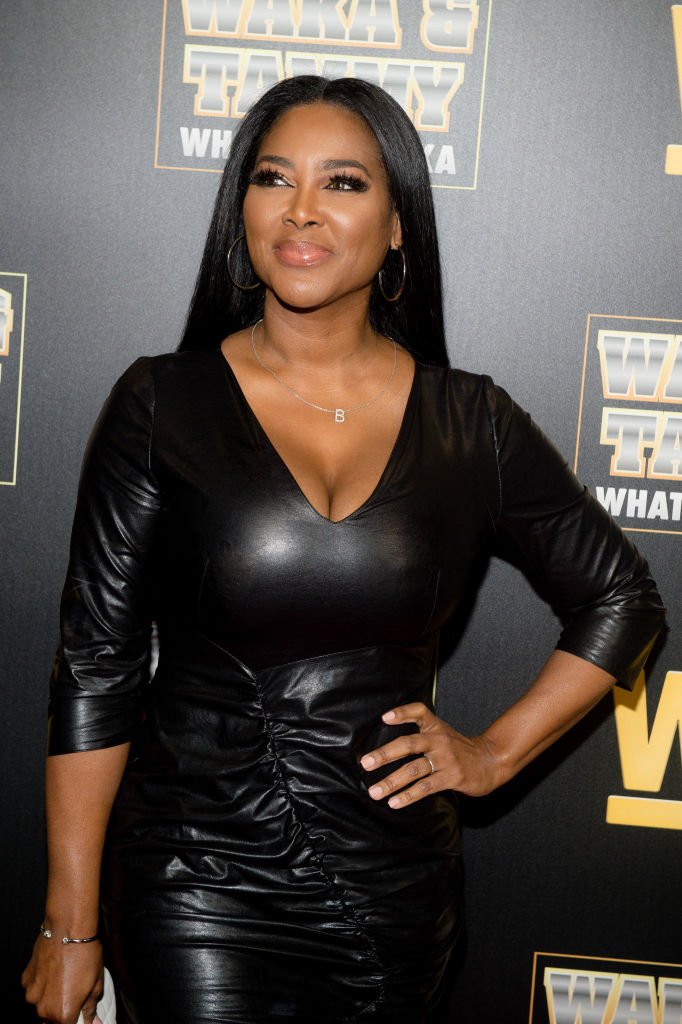 Brooklyn wore a red inner dress along with the robe. The little tot completed her look with a tiara and accessorized with small earrings. She posed looking down and enjoying the spotlight. 
In the caption to the post, Brooklyn reminded her fans that she could be anything she wanted to be. She wrote: 
"Who says I can't be a doctor and a princess at the same time? #beautyandbdains."
In a second post, the cute Brooklyn was topless and smiled excitedly. She wore blue glasses that had no frame and flaunted her curly hair. 
In the caption to the post, Brooklyn wrote, "Shade without shade." Both posts generated dozens of reactions from the little tot's fans who were awed by her gorgeous look and infectious smile in the pictures. 
Moore said she was reconsidering having fulltime childcare for her daughter when things return to normal.
Brooklyn is Moore's miracle baby after the reality television star conceived her when she was 47. Giving birth to a child at that age was most pleasing for Moore who had wanted a baby for so long. 
The actress waited most of her life for it to happen. In an exclusive chat with People, Moore narrated how she overcame various hurdles before she conceived. She said:
"...I knew all the anguish that someone feels, especially a woman feels, to think that I may not be able to have a dream of having a child."
To that end, Moore has sponsored a grant via the "BabyQuest Foundation." The grant will provide financial support to families in the actress's hometown of Detroit, who need help to pay for aided conception like surrogacy or in-vitro fertilization. 
Moore employed a full-time maid to help take care of her daughter since she is a working mom. However, the COVID-19 pandemic provided her with more time to spend with Brooklyn, which she enjoyed. 
In another chat with People, Moore said she was reconsidering having fulltime childcare for her daughter when things return to normal.
The doting mom explained that she cherished her bond with Brooklyn so much that she thought she might not need a fulltime nanny any longer. 
Brooklyn's growth since her birth has been phenomenal with the soon-to-be 2-year-old baby showing how special she is. For one, she speaks multiple languages, as evidenced by a video her mom shared on social media showing the little tot counting to 10 in French. 
Brooklyn is also friends with the son of Moore's friend and RHOA co-star Eva Marcille. A recent post on Kenya's Instagram page showed her daughter and Marcille's son holding hands. 
The caption to the post showed the adorable kids were taking the friendship between their moms to the next generation as it read, "That forever kind of [love] Friends for life." 
Many fans were pleased with the post and hailed the remarkable friendship Moore and Marcille have. They also praised both kids for being cute and adorable.