Offset Posts Photo in Colorful Outfit with a Cryptic Caption Amid Divorce — See Fan Reactions
While he may be facing a divorce from his wife Cardi B, for Offset, it is business as usual. Check out the latest post shared by the rapper and what fans have to say. 
Recently, Cardi B announced that she was filing for divorce from her husband Offset with whom she shares her 2-year-old daughter, Kulture. 
While she has not given an official reason for the split, court documents filed by Cardi have made it clear that there are no prospects for reconciliation. 
Now Offset is making sure his fans know that he is doing ok and has posted a series of photos of himself rocking bright red leather trousers with his caption saying, "grind don't stop."
However, his fans had some cheeky comments to make about his recent breakup, with some making fun of him for posting photos after a breakup. One fan said:
"Man, you lost the realest girl. And you acting so unbothered. What a damn shame. Cardi deserves better."
Another fan joked that everyone posts photos of themselves "flexing" after a breakup, while another added that he was probably going to cry in the car. 
Cardi and Offset were married in 2017 and this is not the first time that the couple has broken up after rumors that Offset was cheating surfaced in 2018.
She got support from her friend Lizzo who reached out to check on her through Instagram.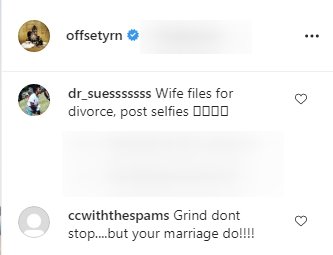 At the time, the "WAP" star announced their split on Instagram, revealing that she had been trying to work things out with her husband. However, it wasn't working. 
In her post, Cardi said that they were still good friends and had a lot of love for each other, adding that she loved him as the father of her daughter. She said:
"And it's nobody's fault. It's just like, I guess we just grew out of love, but we're not together anymore."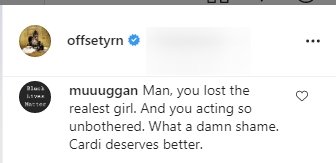 After it was revealed this month that Cardi was divorcing Offset again, she got support from her friend Lizzo who checked on her through Instagram.
The rapper revealed that she had received a bouquet of flowers from the singer and she shared that touching gesture with her fans on her Instagram story. 
The divorce filing came just five days before the couple's third wedding anniversary. Offset had proposed to her onstage in Philadelphia. 
Unlike their last split where they were able to reconcile, it seems that this is the last time Cardi will take back her daughter's father as she has also filed for full custody of their child.