Fans Praise Steve Harvey's Twin Daughters for Their Beauty in Classy Matching Black Outfits
Steve Harvey's grown twin daughters arrested fans' attention in their new media update as the duo basked in sinking love while rocking similar glams.
Steve Harvey's twin daughters, Brandi and Karli Harvey were the perfect duo as they showed off their styling prowess in a recent picture shared on Brandi's Instagram page. 
In the post, Brandi and Karli brandished sultry looks as they posed for the camera rocking similar outfits but giving some room for uniqueness.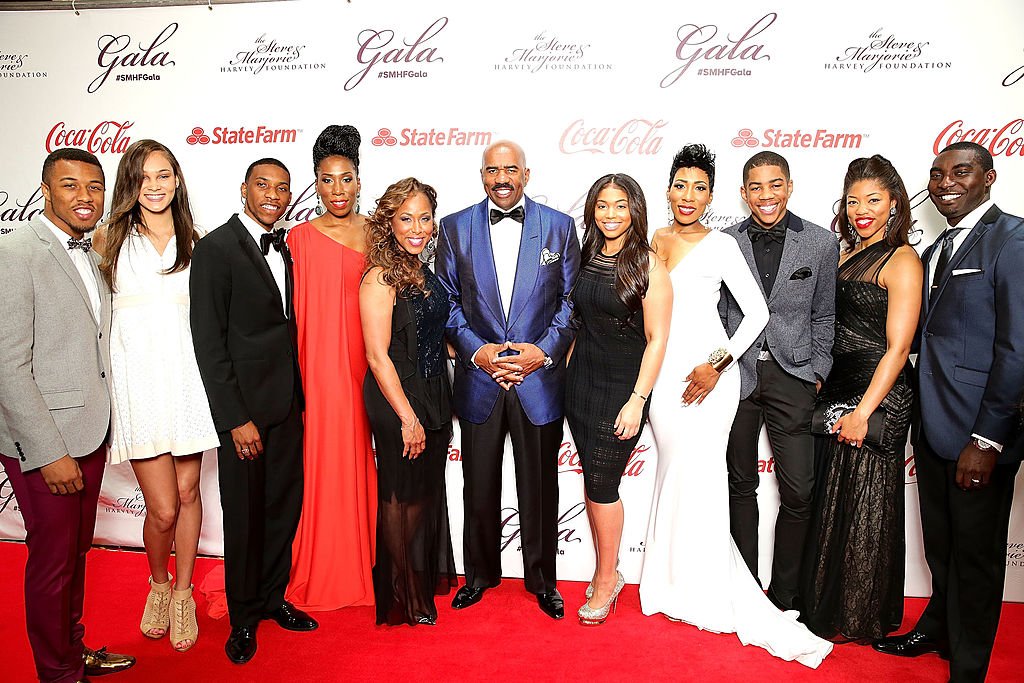 The girls' exquisite turtle neck attires almost made them hard to tell apart, save for their creative hairstyles and a little disparity in their make up. Brandi, on one end, wore her braided hair in a high bun while she accessorized with droop earrings with blue gems.
Karli's sweet look included her side-swept cropped hair which fanned one part of her face. Her earrings were gold plated and shaped in the letter "S." While Karli opted for a fiery red lipstick, Brandi settled for a lighter shade. Her caption read:
"We still on. We still riding in chrome, and yes, we're dressed alike. It wasn't planned…"
Many of their admirers were in awe of their beauty and poise as they made it known in the comments. While one Instagrammer opined they were classy, another fan gushed over their twinning goals.
Besides being twin daughters of a legendary showman, Brandi and Karli have good heads on their shoulders as they joined efforts in forming a wellness organization and helping women live healthier lives. 
Targeted at young Black women, Brandi and Karli saw their franchise as a platform for women to learn wellness.

Once in an interview, the ladies opened up on how they grew up and the different phases of fashion they plied before owning their unique styles and gaining self-esteem. 
Brandi noted that she and her twin sister used to dress alike until they were fifteen. At the time, they would rock baggy clothes and carry off the tomboy aura until they turned sixteen. Brandi shared:
"...We started just to become our own person. Karli cut her hair at 16, and then I started to wear the long, micro braids…"

While Karli is an Atlanta A-list hairstylist, her sister is the director of their dad's nonprofit, Steve and Marjorie Harvey Foundation. However, they are fitness enthusiasts and this led them to create the Young Fit and Fly organization.
Targeted at young Black women, Brandi and Karli saw their franchise as a platform for women to learn wellness and fitness while not neglecting a holistic way of life.
Brandi and Karli are Steve's oldest children from his first marriage. Their younger brother is Broderick. Their dad runs a blended family with his long time wife, Marjorie.