Snoop Dogg's Daughter Cori Sings in Spongebob Printed T-Shirt & Jokes about Being at Coachella
Rapper Snoop Dogg's only daughter Cori cracks fans up as she shows a video of her playing make-believe by acting like she is performing in front of an audience at Coachella.
Rapper Snoop Dogg's daughter, Cori, recently took to Instagram to show her playful side to her almost five hundred thousand followers on the platform. Captioning a video of her pretending to be on stage singing, Cori wrote:
 "Wait, it's me thinking I'm at Coachella last night ??? would y'all come see me perform??."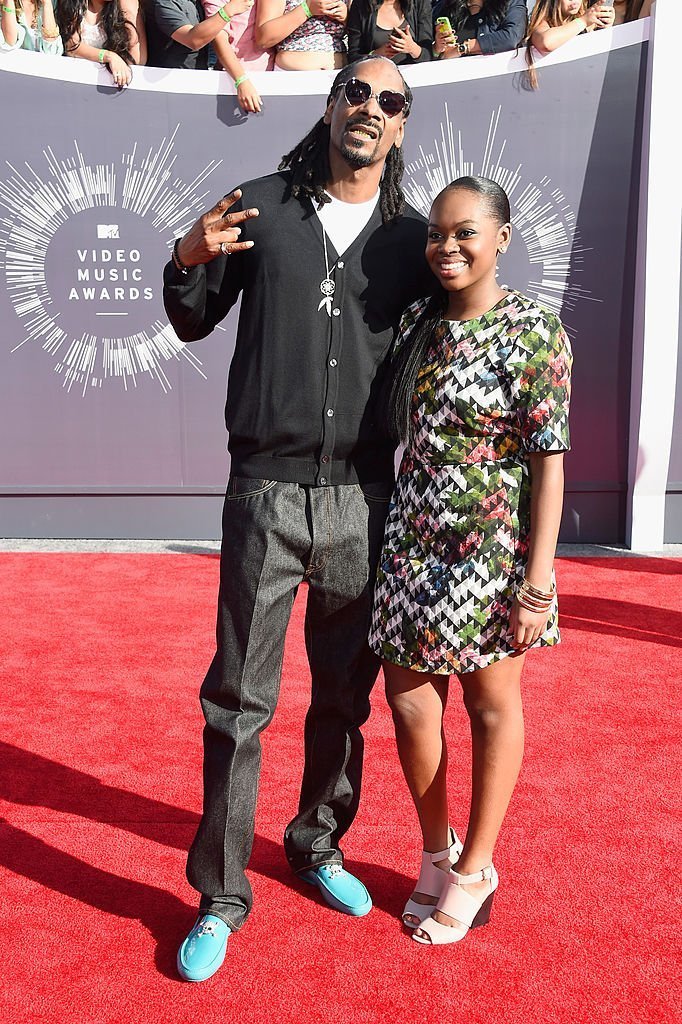 In her video, Cori was dressed in a baggy t-shirt that had the cartoon characters Spongebob and Patrick printed on it.  Cori paired her t-shirt with a pair of loose-fitting green pants that had cute cartoon characters drawn on them, a look that she fully showed off in another post. 
With a microphone in her hands, the rapper's daughter went ahead to play make-believe. She started belting out tunes to one of her songs as though she was truly performing on stage to a crowd of excited fans.
 Cori's video made her followers laugh, with many of them responding to her caption, assuring that they would definitely show up if she had a performance.
The young budding star teamed up with her friend, Gabi Wilson, and released her cover of Taylor Swift's hit, "I Knew You Were Trouble."
Although she was playfully showing off her performance skills in her video, Cori's love for music is no secret to the many who follow her on social media.
In fact, the young stunner is a budding singer who recently just came out with her own album among the many songs that started out her career. 
Her journey to musical stardom began when she was still very young when 2012 saw the beautiful starlet release a single, "Daddy's Girl," with her famous dad, Snoop.
The rapper featured on the adorable single with a verse, and at the time, she was about eleven years old and won hearts over with her young cute-as-a-button charm.
In 2013, she showed off her vocals again to let fans know that her dad was not the only one with a knack for the arts. The young budding star teamed up with her friend, Gabi Wilson, and released her cover of Taylor Swift's hit, "I Knew You Were Trouble."
Now much older, the aspiring star had made herself a beacon of not just talent but also confidence and self-love. In 2016, she opened up about her struggle with her image and how she overcame many dark periods before evolving into acceptance of her identity.
Cori, who might very well be considered hip hop royalty, had also been a beacon of enlightenment for her dad, Snoop, who was somewhat notorious for his controversial view of women as a rapper. Cori sings, makes people laugh, and shares knowledge. What a special young lady.