See Striking Resemblance between Magic Johnson & His Firstborn Son Andre in New Photos Together
Basketball superstar Magic Johnson, one of NBA's legendary ballers, shares a striking resemblance with his eldest son, Andre, as seen in a new picture the doting father shared on social media.
Magic Johnson may have retired from playing basketball, but his iconic moments on the court have forever cemented his place in NBA history. Aside from being a basketball pro, he is also a dedicated father to his three children.
On Instagram, 61-year-old Magic shared a picture of himself with Andre, his eldest son whom he shares with his ex-girlfriend, Melissa Mitchell.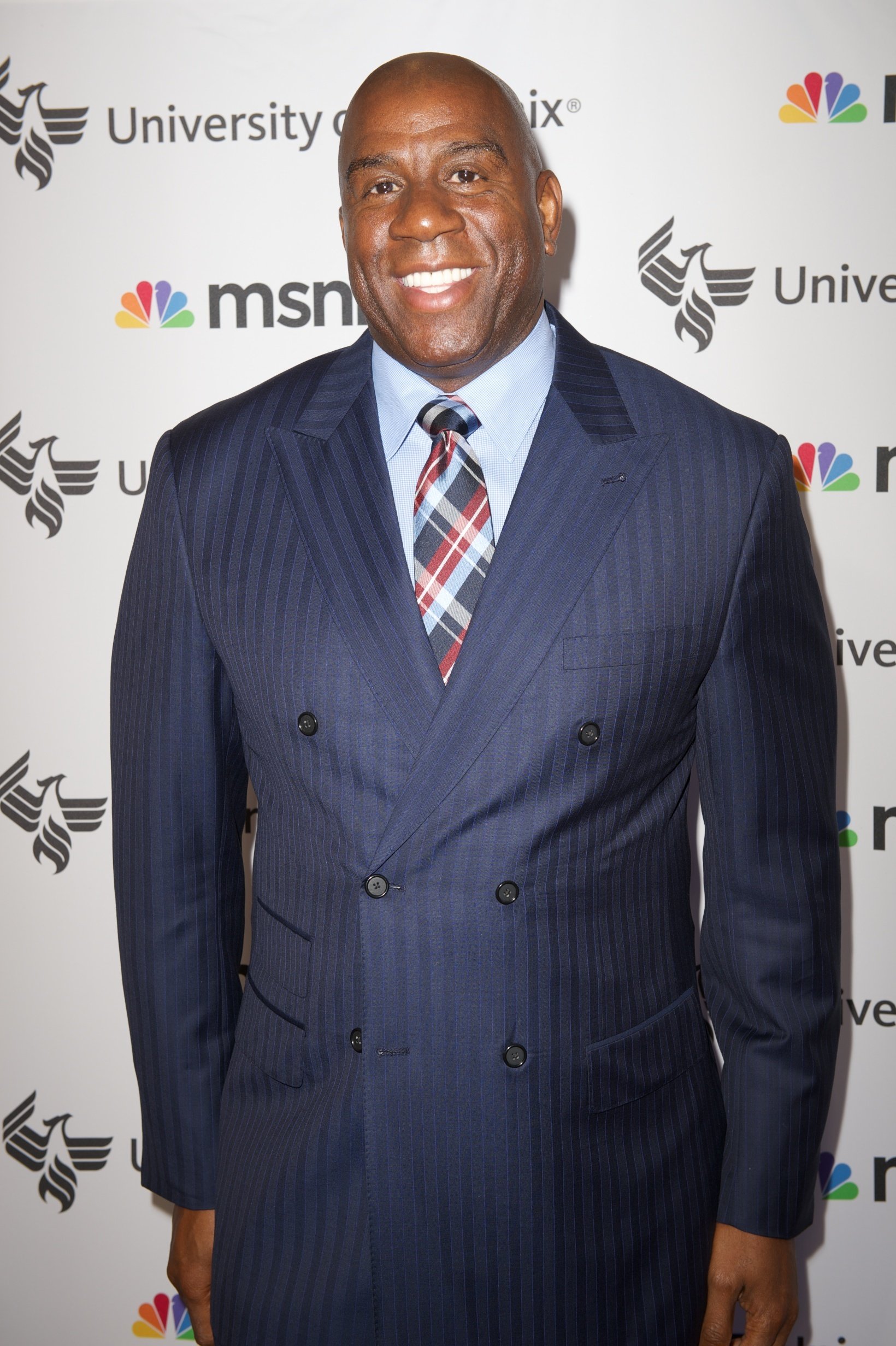 FATHER-SON MOMENT
In the picture, Magic, in a white printed shirt and light grey pants, was standing beside Andre who sported a pair of eyeglasses, a black shirt, and relaxed shorts. 
The father-and-son duo has collaborated on a special podcast with music producer Mike Dupree, the man behind the "Please Elaborate Podcast."
Magic did not only smile with his lips as his eyes beamed with happiness as well, considering that the podcast was an unforgettable moment he shared with Andre.
A PROUD FATHER
Many fans quickly flocked to Magic's comment section where a majority of them left heart emojis and praying emojis. One of the fans wrote that Magic and Andre were looking great together in the snap.
One fan noted that Magic's son is all grown up now and that Magic seems to be very proud of Andre's accomplishments. Andre has been living most of his life away from the limelight. One fan noted:
"You are a Proud Father."
A SUPPORTIVE BROTHER
Andre is different from his other siblings, EJ and Elisa Johnson. While EJ and Elisa enjoy the spotlight, he is content watching and supporting his popular siblings from the sidelines.
Behind his low-key profile, Andre's presence is big in the business world. He worked in A&R at Elektra Entertainment since 1999, and in 2004, he joined his father's company, Magic Johnson Enterprises.
With his son's thriving business, Magic is proud that Andre is making a name for himself in his own way.
LIKE FATHER, LIKE SON
Though Andre forged a different path far from Magic's basketball ground, the duo shares an interest in business and traveling. Andre became the vice president of his father's company but he left his position later on to start his own company.
In 2016, he founded Love + Light Ventures, LLC. With his son's thriving business, Magic is proud that Andre is making a name for himself in his own way. He is also equally proud of EJ and Elisa for their accomplishments in their chosen field. 
Magic is one cool father who continues to support his children's latest achievements. Earlier, EJ, his second child, strutted his stuff while enjoying a friends' birthday party. 
EJ, who revealed to his father in 2013 that he was gay, reposted his friend's Instagram Story, showing off his amazing runway walk to his almost one million Instagram followers.