Todd Chrisley & Other Family Members Appear in a Teaser for the Shows Upcoming Episodes
A new teaser for upcoming episodes of "Chrisley Knows Best" show patriarch Todd Chrisley and other family members get into it as they excite fans about what to expect.
Season of 8 of "Chrisley Knows Best" is getting ready to return with a bang with all-new episodes set to air in November, and a new exciting teaser video released yesterday shows fans what they are in for.
The clip starts with a scene of patriarch Todd Chrisley holding two tuxedos in his hands and shoes, bragging about how good he would look for the event. The scene then switches to son Chase Chrisley having an intense discussion about how he only has room for one Todd— referring to his father— in his life.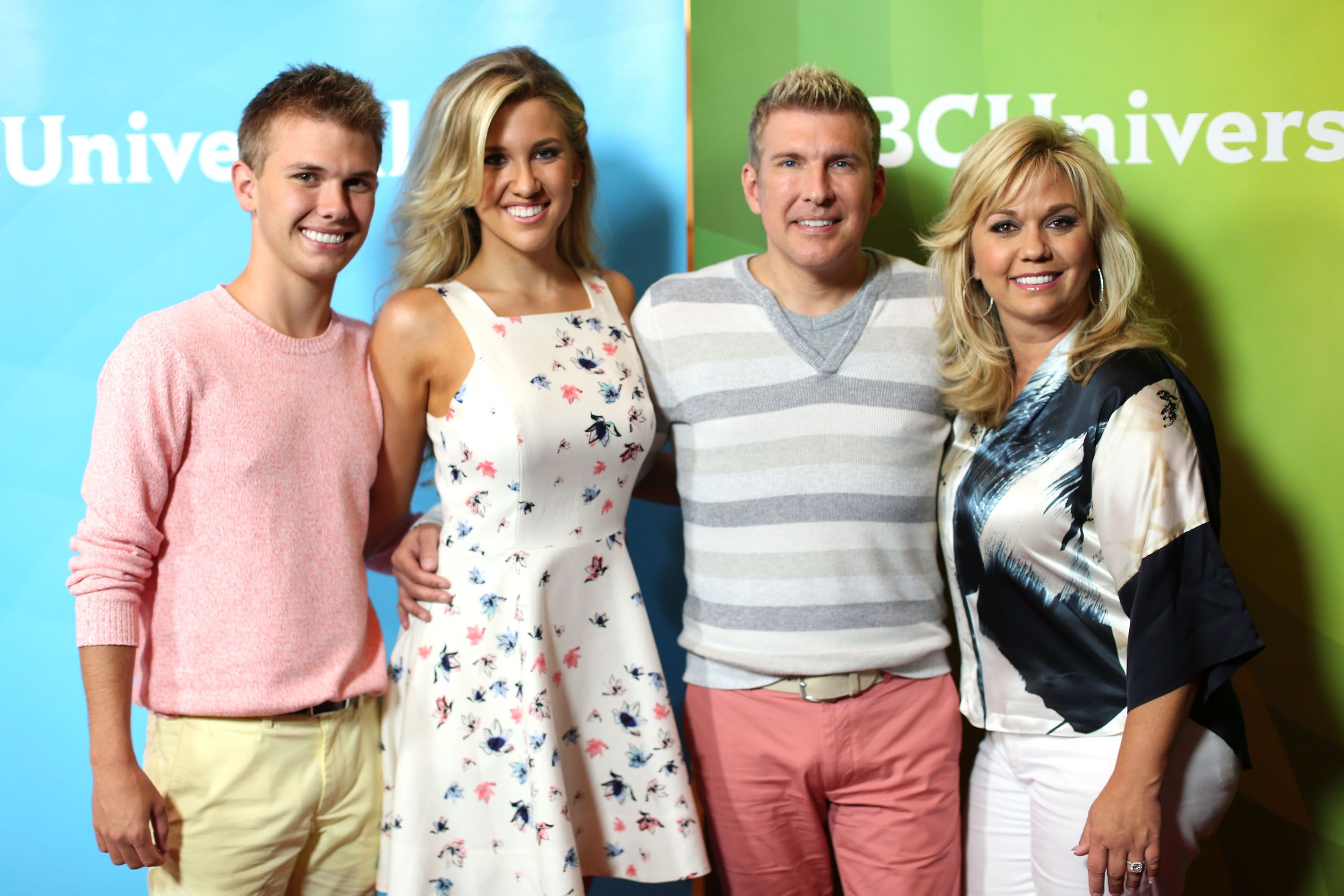 Grandmother Nanny Faye makes a grand entrance as she walks into the room and accuses someone of not having a clue. Daughter Savannah Chrisley's scene seems to the emotional as she was heard saying: 
"Some of us have thrived, others not so much."
A fun frame showed Nanny Faye in what looked like Halloween attire. The doting grandmother was seen in a sparkly costume that consisted of a purple and green dramatic eye mask with a matching hat and bead necklace. When asked who she was dressed as, she said, Miss Patsy.
While it is still uncertain the episode order of season 8, the Chrisleys have already found a way to make the holidays worth it for their viewers.
The dramatic clip ended with Todd and Julie having a heated conversation about sharing the spotlight. After episode 10, which aired on September 3, fans would have to wait for more than two months before seeing episode 11.
Amid the long wait, the USA Network show has had to whet their appetites with tantalizing teasers of what is to come. Earlier this month, a promo video hinted at a controversial drug deal and other fun highlights, including a scene of Nanny Faye's hair dyeing process gone wrong.
While it is still uncertain the episode order of season 8, the Chrisleys have already found a way to make the holidays worth it for their viewers. Last week, Savannah announced that her family was launching the A Very Chrisley Christmas box.
In the Instagram post, when she shared the news, the 23-year-old revealed that each clan member would have a section in the box that contained hand-picked products they sources from do-good companies.
Savannah gave fans details about applying for the package and signing the waitlist on the website and promised a golden ticket surprise for a lucky follower. According to reports, the box would have sixteen items from companies like Kind Lips and Rugged Road Outdoors.
The family made headlines back in September when doting father Todd clapped back at a troll who came after Savannah's failed relationship with ex-fiance Nick Kerdilles, saying it was Kerdilles who dumped her and not the other way around.
The user, who has since deleted the account, accused Savannah of having low self-esteem issues and undergoing botox before shaming Todd for being gay and lying about it to the world.
Todd publicly responded to the troll via his Instagram with a nasty message telling the user off and clearing the air about how Kerdilles is still on good terms with his daughter.