Shantel Jackson Poses with Boyfriend Nelly in a Stunning Red Ensemble with Gold Fringe Handbag
Television personality Shantel Jackson and her longtime boyfriend, American rapper Nelly, were seen posing together in a recent photo on her Instagram feed. Jackson looked gorgeous in a stunning red ensemble with a gorgeous gold fringe handbag. 
American television star Shantel Jackson never fails to dazzle the world with her elite sense of style. In a new series of photos on her Instagram feed, she left her fans with much to talk about with her stunning outfit. 
She wore a gorgeous red long-sleeved body-hugging crop top that showed off her trim abdomen. She coupled the look with matching red flowing pants and a wide-brimmed fedora hat.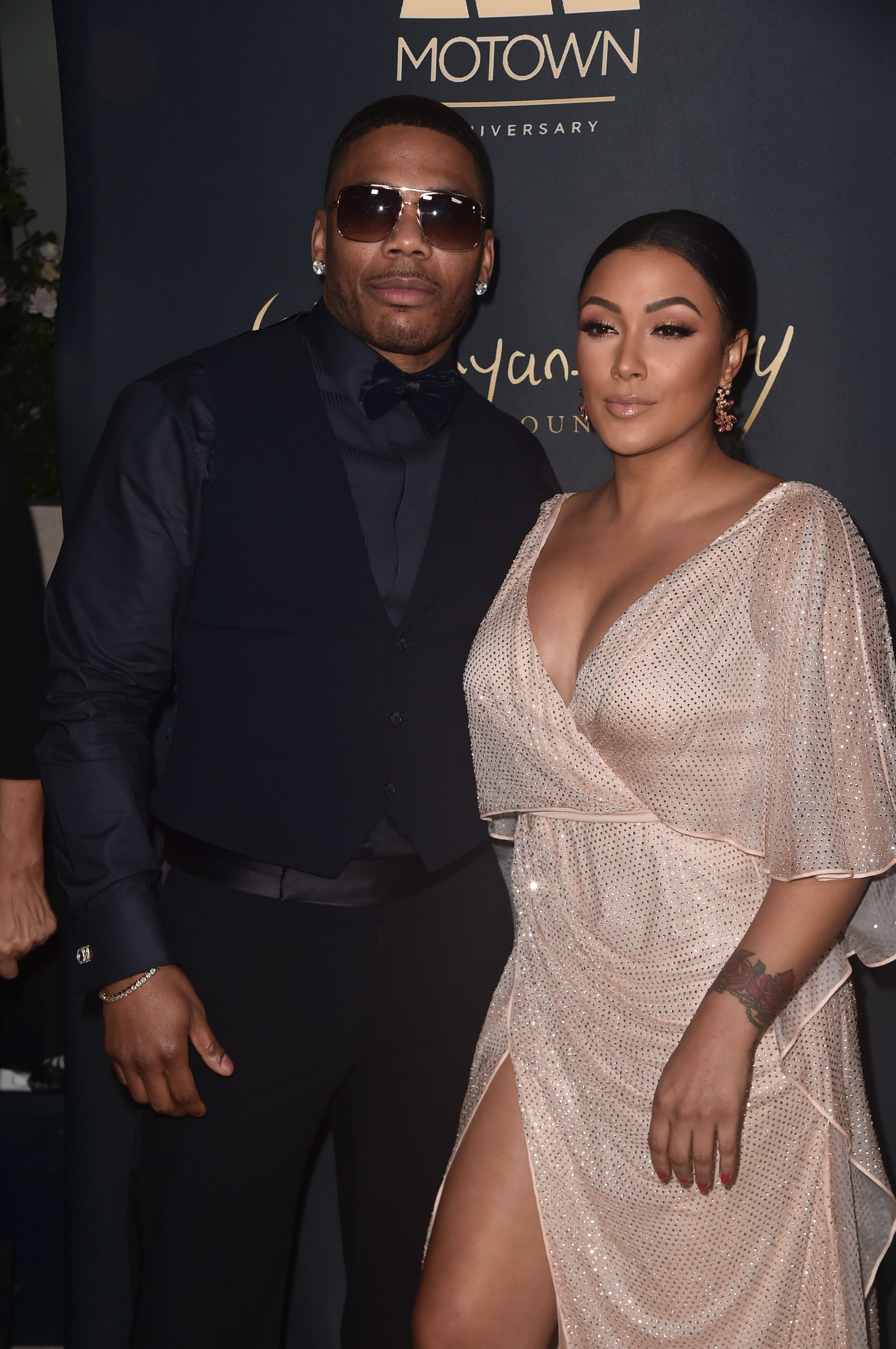 To complete the outfit, the 36-year-old exercised her fashion sense with dangling gold earrings, a matching bangle, and a lovely glittery heart-shaped fringe purse. She also wore a chic pair of pointy nude-colored heels and had on simple makeup. 
In one of the photos, her longtime celebrity boyfriend Nelly posed alongside her. He was dressed in a stylish multi-colored checked hoodie and a matching pair of knee-length shorts. 
The rapper combined the ensemble with white sneakers and a stone-studded earring. Posing in front of a hedge of greenery by the roadside at night, the adorable couple looked all shades of beautiful.
In the other photos, Jackson stood alone as she posed with her hand gripping the edge of her hat and her body slightly curved. The last picture was a close-up shot of the beauty looking away from the camera with her mouth slightly pouted. 
In 2017, Nelly got caught up in a nasty sexual assault scandal that made waves.
With her evident passion for fashion and beauty, the TV star launched the "Shoe Gummie" sole patch, a beauty brand aimed to help women comfortably wear heels for a longer period. She is also a model and actress who starred in Nelly's TV show, "Nellyville" in 2014. 
Nelly and Jackson met through a mutual friend and have been together for close to seven years. When opening up about their sweet relationship in an interview, the rapper spoke about the constant support he got from the actress. 
He explained that all that mattered to him was the reciprocated love and support he got from Jackson. He added that they both worked together so well because they really had a chance to be friends first.
In another interview, the rapper revealed that he would not want a life without Jackson, adding that their deep connection was certainly going to work out in the long run. When asked about their wedding plans, he cryptically disclosed that they were working on it. 
Though their relationship seems rosy, the pair have been through their fair share of ups and downs. In 2017, Nelly got caught up in a nasty sexual assault scandal that made waves. Jackson, however, remained supportive of him despite the heat. 
Three years later, they seem to be doing well for themselves. The rapper was recently cast in the 29th season of the hit dance competition "Dancing With The Stars." With his remarkable performances, it is safe to call him a multi-talented king.