Floyd Mayweather's Daughter Yaya Flaunts Big Baby Bump in a Tight White Jumpsuit at Baby Shower
Floyd Mayweather's daughter Yaya looked stunning in the tight all-white jumpsuit she wore for her baby shower and gender reveal party this month.
A child is one thing a lot of women look forward to, which is why there is a lot of celebration surrounding the impending birth of a child. Floyd Mayweather's daughter Yaya was in a celebratory mood as she stunned during her baby shower and gender-reveal party.
In a post made by The YBF_ Daily on Instagram, a picture of Yaya revealed her in a tight all-white jumpsuit that showed off her huge baby bump.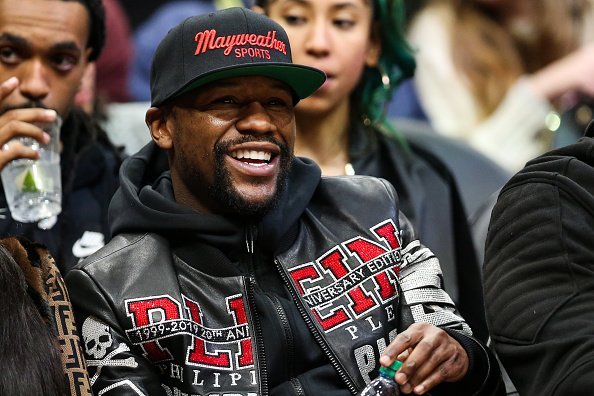 The picture featured Yaya standing in front of a blue backdrop that had a drawing of a huge teddy bear on it. The soon-to-be mother cradled her baby bump with one hand while the other fell to her side.
Yaya's face was heavily made up, and her hair was braided into two ponytails. The rest of the braid fell to the side of her body and reached below her waistline. The caption of the post explained:
"#YayaMayweather shows up to her baby shower/gender reveal showing off her baby bump. She and rapper #NBAYoungboy are having a boy. It's unclear if NBA Youngboy was actually there…"
While it might have been that Yaya's baby shower was a thing of joy, there was a lot of backlash in the comments section over the celebration and how Yaya looked.
Some of the comments expressed that they were not happy with the way Yaya looked, and someone went as far as saying, "This was the same girl talking about Birkins, but her baby shower looks like it was held at a community center .... hmm k."
 She allegedly stabbed a woman, Lapattra Lashai Jacobs, whom she caught in NBA Young Boy's house.
Aside from complaints about how Yaya looked and the baby shower setup, many people took a swipe at the soon-to-be father, NBA Young Boy. Some admitted that they were disappointed at the situation while another person said:
"I feel sorry for her... having a baby daddy like him ain't gone be easy."
Although there was a lot of back and forth in the comments section, with most trolling and taking jibes at Yaya and NBA Young Boy, someone stood up for her and commented: 
"Everybody in these comments meanwhile that baby richer than all of us and it ain't even pop out yet. She's fine y'all sad talking about a young girl like that like y'all don't be staying with them toxic [expletive]."
It might seem like many judgmental comments were being thrown at Yaya, but they appear to stem from the trouble she got herself into earlier in the year. She allegedly stabbed a woman, Lapattra Lashai Jacobs, whom she caught in NBA Young Boy's house.
Although she was released on bond for 30,000 dollars after her arrest, there is still a case in court as the woman she tried to stab is reportedly one of NBA Young Boy's baby mamas.
Yaya is the daughter of Mayweather and Melissa Brim. She also has other siblings from her father's side, namely: Karoun, Zion, and Jirah, whom the famous boxer had with Josie Harris.
While the entire situation concerning her baby's father is not clear, Yaya has the support of her father, who has revealed that he would always be there for her no matter what happened.