See Hilaria Baldwin's New Selfie as She Flaunts Incredibly Tiny Waist in a Chic Denim Jumpsuit
Mother-of-five, Hilaria Baldwin proudly flaunted her banging postpartum body in a chic denim jumpsuit. The fitness expert showed off her lithe waist in the figure-hugging ensemble.
Even after five kids, Hilaria Baldwin has a killer body and isn't afraid to show it off now and then. Despite having her hands full, Hilaria proved that she still knows how to switch up her look with a recent Instagram.
Hilaria showed off her lithe waist and impressive postpartum body in a plunging denim jumpsuit. The ensemble featured a cinched waist, rolled sleeves, and pockets at the breast area.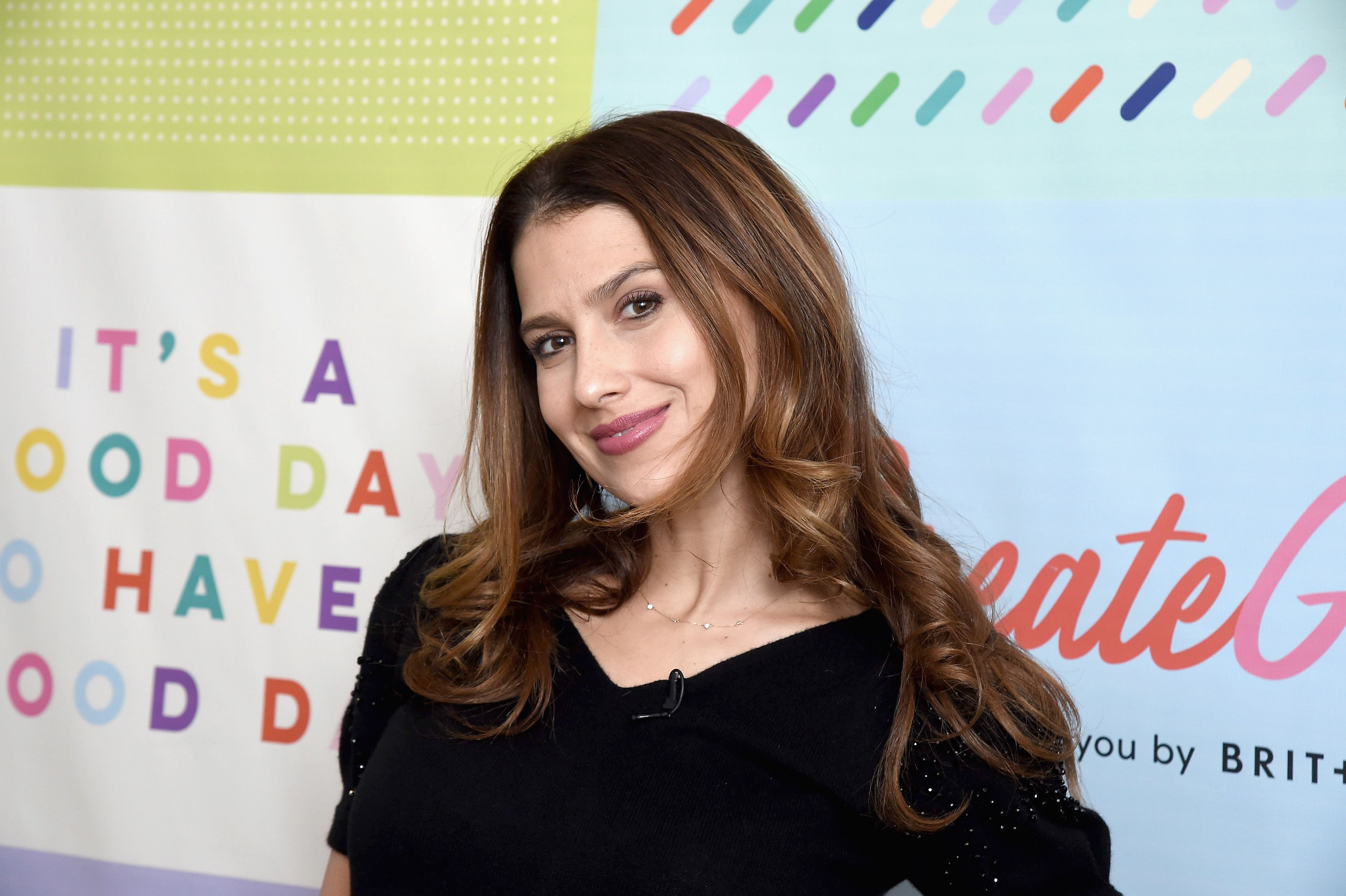 She paired the jumpsuit, which she got from the brand WeWoreWhat with a pair of stylish furry slippers and adorned her hand with a simple bracelet and rings. Her full, gorgeous brunette hair was ruffled and styled to flow down her shoulders and frame her face.
Last month, the yoga expert made headlines after she clapped back at a troll who shamed her for flaunting her post-pregnancy body.
Hilaria kept safe and wore a mask as she took a mirror selfie that showed her playful phone case as she stood in what looked like a hallway. In another snapshot, the "Mom Brain" podcast host was joined by her husband, Alec Baldwin, and they had a fun moment as they posed for an elevator selfie.
The comedian looked casual in a black denim pair with a t-shirt underneath a black jacket, and also kept safe with a face mask. He had a cup of beverage in one hand and gave a peace sign with the other. The happy wife captioned the photo, "Look who visited us!"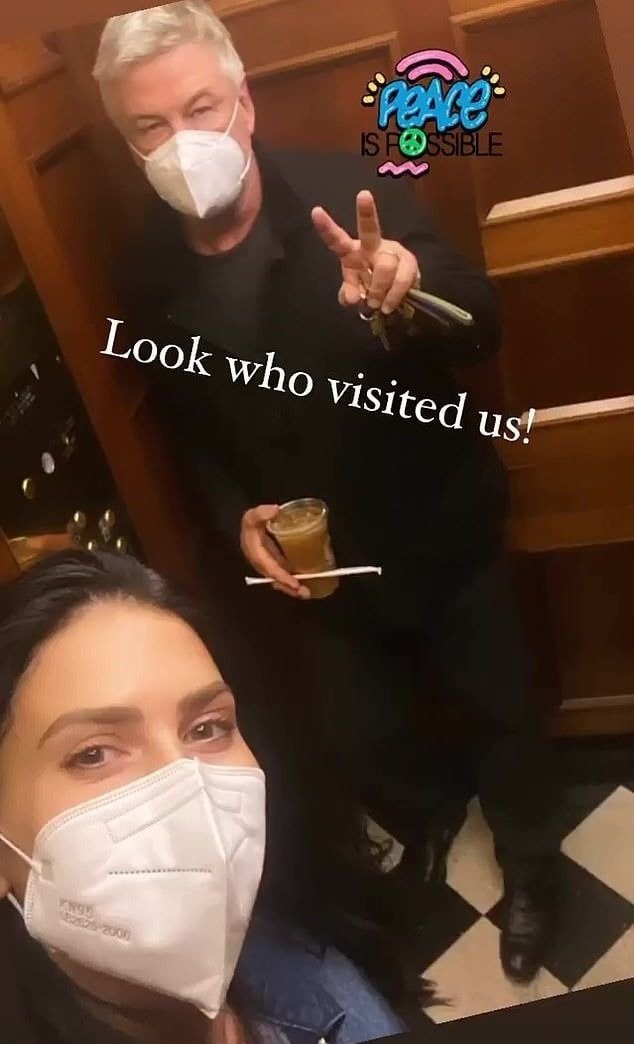 The "Saturday Night Live" host took a break from rehearsal ahead of tomorrow's episode to enjoy an intimate time with his wife of eight years, away from their large brood. 
Last month, the yoga expert made headlines after she clapped back at a troll who shamed her for flaunting her post-pregnancy body. On October 26, the 36-year-old shared a video of her in underwear in her bathroom as she gave fans a glimpse of her belly.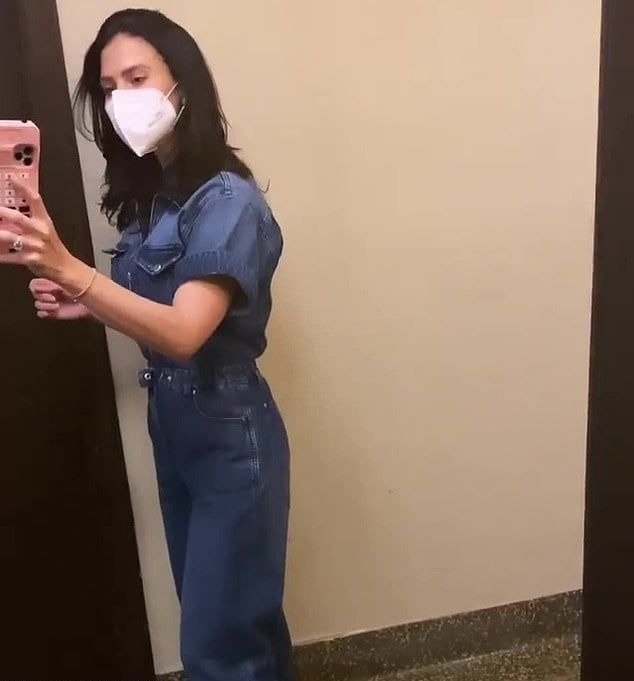 In the caption, she explained that the clip wasn't about how slim her body was or even her underwear. Instead, it was to tell the story of how her friends helped insert her belly piercing after the pregnancy.
Some followers didn't appreciate the post and attacked her for sharing such a revealing photo. One user attacked the mother-of-five for not being empathetic and showing off because she had a great body.
Hilaria, however, didn't take the remark lightly and responded to the fan, noting that she shouldn't have to hide her body. She explained that she is a big cheerleader for body positivity, and that applies to people of all body sizes, including hers.
Since welcoming her fifth child EduardoPau Lucas on September 8, the fitness instructor has been on the receiving end of cruel comments from haters who pick on her at every chance.
In September, she took to her Instagram story to slam fans who shamed her for breastfeeding after she uploaded a mirror selfie photo of her breastfeeding the toddler while she brushed.