Pink and Carey Hart's Stunning Home — Take a Peek Inside
Multi-awarded singer Pink and Carey Hart live in a colorful and unique mansion in Santa Barbara. See photos and videos inside the couple's lavish state.  
Pink is happier than ever in her fabulous mansion, which she and her husband, former professional motorcycle racer Carey Hart, bought in 2013, according to Closer Weekly.
The loved-up couple, who exchanged their wedding vows in 2006, reportedly wanted a quieter life out of the spotlight with their two adorable children — Willow and Jameson.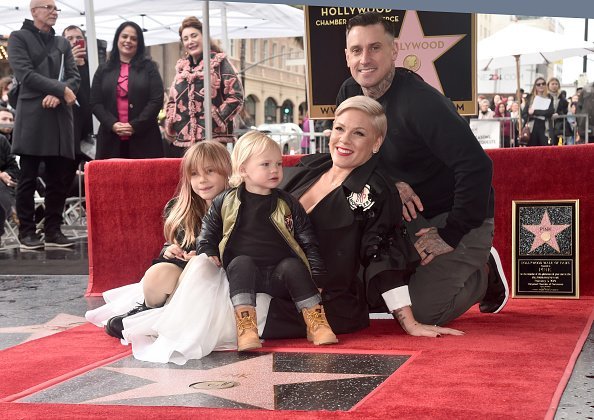 Pink's house boasts eye-catching blue walls on the exterior. A bright white porch wraps around the entirety of the home as well. The mansion is fitted with enough bedrooms for the family.
The beautiful abode additionally includes guest bedrooms, entertainment areas, various living rooms, an open-concept kitchen, and more. The couple's backyard is the perfect place for their children to make memories.
The outdoors has a pool, a spa, and endless grass to run around on. There's also a separate patio area. The gorgeous home includes over 18 acres of vineyards.
Pink was inspired to purchase the residence after she got into the business of wine-making years ago. The "Raise Your Glass" singer has since created a label, Two Wolves.
Pink said that she and Hart made the property even more special since they've moved in.
Pink loves spending time at home with her family when she is not working on her business or writing new songs. In an interview, Pink said that she and Hart made the property even more special since they've moved in. She explained:
"All in all, this is the best that this property has looked since we got here. We've put a lot of heart and soul into this place."
Meanwhile, if there's anything the singer loves the most in the world, it's Willow and Jameson. The three-time Grammy winner announced Willows's birth to the world in June 2011, Closer Weekly reported.
Five years later, on December 26, 2016, Pink and Hart welcomed their son Jameson.  The singer cannot imagine what her life would have been like if she never had a bundle of joys.
During an interview, Pink shared that she loves being a mother. "I made a choice a long time ago that I was going to have a successful family and that is my absolute No. 1 goal in life," she added.
Pink released her first solo album, "Can't Take Me Home," in 2000, and she has been in the public eye ever since. The singer has also made headlines for her candid takes on marriage and parenting besides her successful music career, according to Simple Most.