Chris Hemsworth Plays Golf with His Brother Liam and Young Son — See Hilarious Videos
Australian Actor Chris Hemsworth recently took to Instagram to share a hilarious moment while playing golf with his brother, Liam Hemsworth, and one of his six-year-old twin sons.
In one video, Chris encouraged his son to hit a blue golf ball in the air. The 37-year-old then spun the camera around to reveal that the ball had landed in his mouth.
"Nothing like father and son bonding time," Chris, who first rose to fame in Australia for his role in the 2004 television series "Home and Away," captioned the video that already garnered more than 9.3 million views on Instagram.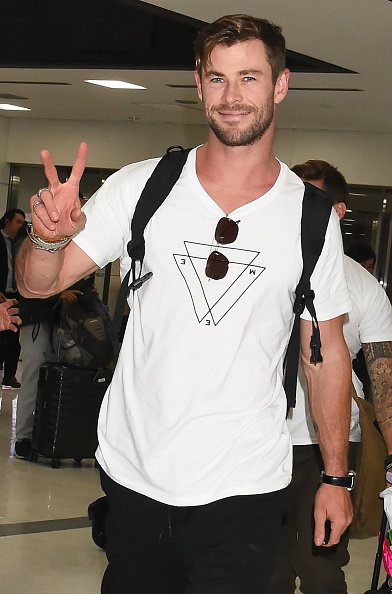 Meanwhile, in the clip, his younger brother, Liam, can be heard laughing in the background. In another clip, Chris asked Liam to hit another ball in his direction. When the camera panned back to the "Thor" actor, he had a large ball on top of his head this time.
Chris wore a tropical-themed shirt with neon colors and dark shorts in the video. Liam, on the other hand, sported a white tank top and pale yellow shorts. Both stars looked handsome in their outfit.
Over the weekend, Chris and Liam celebrated their mother Leonie's 60th birthday. Chris also uploaded photos with his beloved mom on his Instagram page, where he has 45 million followers.
Elsewhere during the birthday party, Chris posed with his wife, Spanish actress Elsa Pataky.
"Happy 60th to the greatest mum on earth," the actor captioned the photo, in which Leonie is seen donning a flower crown, standing with Chris. "Love ya mum," he added.
In the comments section of the post, numerous fans expressed disbelief at his mother's age. Fans pointed out that Leonie looked more like his sister. She looked very young for her age, they said.
Elsewhere during the birthday party, Chris posed with his wife, Spanish actress Elsa Pataky. The couple exchanged their wedding vows in December 2010.
They have three children, a daughter born in 2012 and twin sons born in 2014. Meanwhile, Chris's film debut came when he was picked to star as George Kirk in the 2009 science fiction action film "Star Trek."
Chris is most famous for portraying the role of Thor in eight Marvel Cinematic Universe films. The part established him as one of the highest-paid actors in the world.
His other notable projects include "Snow White and the Huntsman," " Blackhat," "Men in Black: International," "Ghostbusters," "The Cabin in the Woods," and "Rush."