Inside NBA Star Ray Allen's Relationship & Marriage to Beautiful Wife Shannon Walker Williams
Former NBA and Boston Celtics star Ray Allen has been married to his beautiful wife Shannon Walker Williams since 2008. Get inside their beautiful relationship. 
Former professional basketballer Ray Allen has so much to be grateful for. For starters, he enjoyed a successful playing career in the NBA and is perhaps the greatest 3-point shooter in the game.
However, besides his lofty career achievements, nothing compares to his beautiful family. Allen is married to the love of his life, Shannon Walker Williams, and shares four kids with her. Take a glimpse of their beautiful union.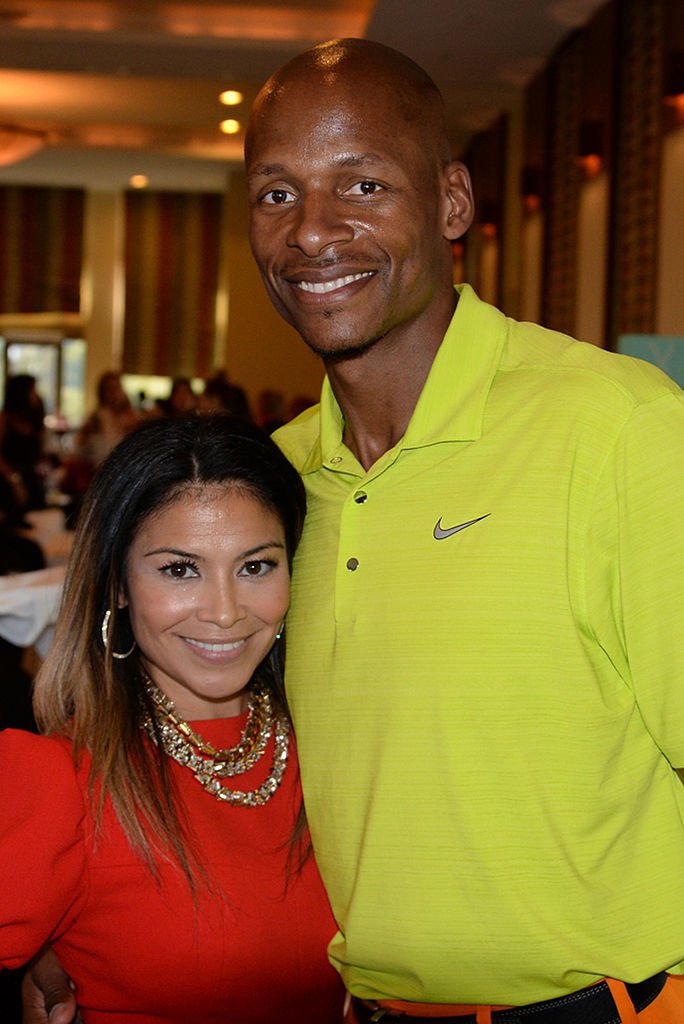 12 YEARS A COUPLE
Allen and Williams celebrated their 12th wedding anniversary on August 16, and the former basketballer took to his Instagram page to post a loving tribute to the love of his life. He shared several pictures, including one from their wedding day, captioning it: 
"They say that a man chases a woman until she catches him. Well, thank you for catching me @swalkerwil."
Allen also said in the time he and Williams had been together, he learned that one does not just find a great marriage, but makes it happen and continues to make it. He also celebrated his beloved wife for being an incredible woman, wife, and mother.
STILL GOING STRONG
Williams recalled her and Allen's journey by posting two pictures showing them when they first met and them at present. In the caption to the post, she noted the images depicted how their relationship started and how it is going. 
The couple survived a cat-fishing incident after Allen accused one Bryant Coleman of harassing his wife at her restaurant.
Love has been the watchword for the couple in their relationship, as Williams also noted in a picture she shared in December 2019. The photo showed her and her husband posing in front of a lake, hands held together, with "love" written between them. 
PERFECT KIDS FOR A PERFECT COUPLE
Allen and Williams are parents to four sons, Walter, Walker, Wynn, and Wynstan. Allen also has a daughter, Tierra, with his ex, Rosalind Ramsey. The beautiful family of seven posed for a portrait, which Williams shared with fans.
Besides posing for snaps, they also do things together, as observed when Allen shared a picture of himself, Williams, and their younger sons, Walker, Wynn, and Wynstan doing family exercise in March. 
The family also enjoys going on vacations together. Allen shared a picture he and Williams took from one such vacation last year. Behind them was a beautiful rainbow, which added more color to the colorful couple. 
A COUPLE THAT COOKS TOGETHER
Williams is famous for being a former member of Motown Records' female group, Shades. The Northeastern University graduate is now better known as a chef. She and her husband plan to reinvent America's fast food industry. 
The couple does mean business in that regard. They have shown in the past that they can cook as fans got to see, 12 years ago, when Allen and Williams appeared on the television show, "My Pregame Meal," to prepare a dish. 
Allen recalled that moment in a picture he posted on September 11 that showed him cooking while his wife watched him from behind. 
THE CAT-FISHING INCIDENT
Allen and Williams' journey as a couple has been with its numerous challenges. The couple survived a cat-fishing incident after Allen accused one Bryant Coleman of harassing his wife at her restaurant. 
Allen filed a suit against Coleman, claiming the latter tried to extort him and get personal information about his family. Allen and Williams were able to go through that phase and come out even stronger. 
The couple first met in 1996 and dated for four years before tying the knot. Twelve years after getting married, they remain a united couple, blessed with wonderful kids, and ready to take over the world.