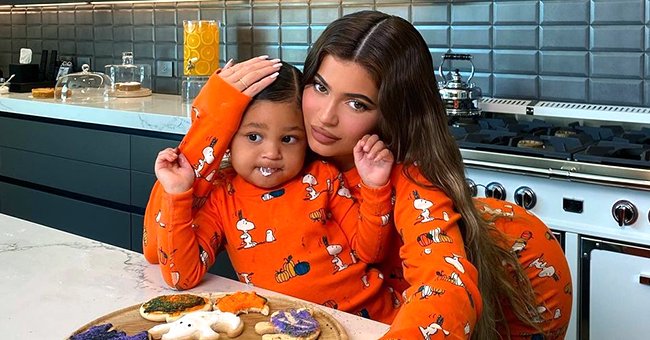 Instagram/kyliejenner
Kylie Jenner & Stormi Wear Matching Outfits as They Hug in Pics Celebrating Her New Collection
In new Instagram photos, American TV personality Kylie Jenner and her daughter Stormi Webster looked adorable as they hugged in matching outfits. The pictures were in celebration of Kylie's new collection.
Socialite Kylie Jenner has all the love in the world to give her little daughter Stormi Webster. With several posts of them sharing sweet moments on Instagram, the 23-year-old has made it clear that a mother's love knows no bounds.
In her most recent wholesome post, the adorable mother and daughter duo were seen sharing a hug wearing cute matching outfits. They were both clad in green striped sweatshirts and pants as they posed in the kitchen.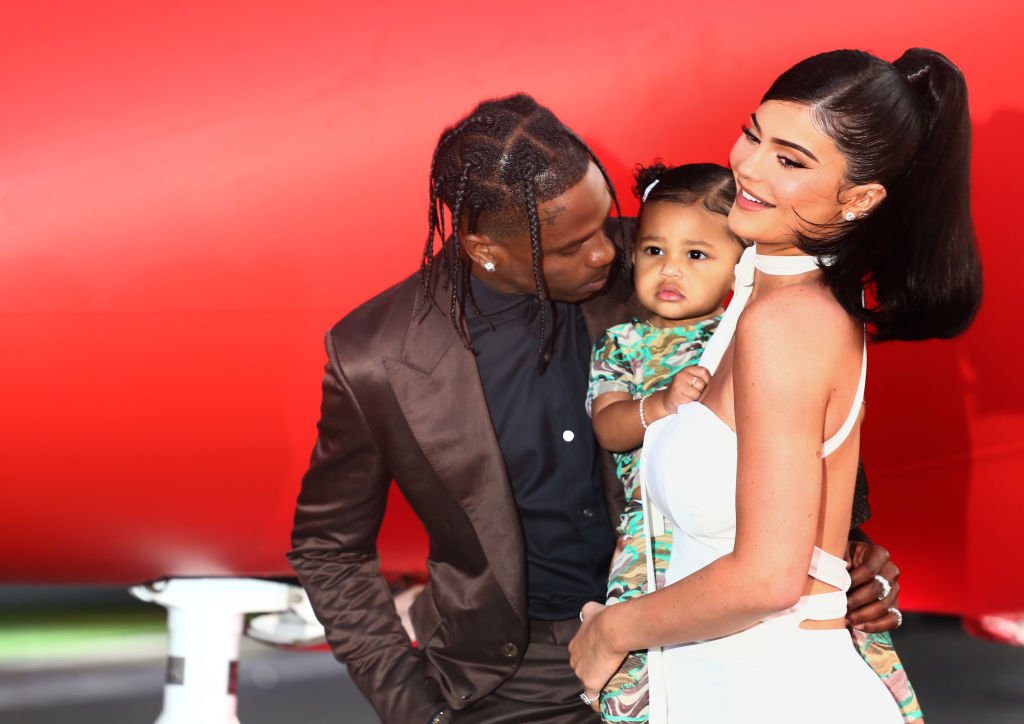 Travis Scott, Kylie Jenner and daughter Stormi attend the "Travis Scott: Look Mom I Can Fly" Los Angeles premiere on August 27, 2019 | Photo: Getty Images
The TV star leaned against the kitchen counter while Stormi was perched comfortably on top of it. She had her hands around the little girl who laughed adorably as her mother teased her.
It looked like they were in the middle of a fun baking activity. There was a wooden slab on the counter, and on top of it were several green "Grinch-shaped" cupcakes and other savory treats in small platters. Jenner captioned:
"We're back making Grinch cupcakes in celebration of the Grinch X Kylie collection launching TODAY at 3 pm pst!"
The photos were to commemorate the launch of her new collection, which was a collaborative venture with Dr. Seuss' "The Grinch." She teased the new makeup line with the video of her and Stormi baking the animated cupcakes.
The adorable YouTube video was uploaded just yesterday, and it showed the mother and daughter having a sweet time as they busied themselves with the fun activity.
There have, however, been rumors that the pair are more than just best friends, as Jenner claimed.
Clearly, Jenner is riding the waves of motherhood and doing an excellent job. Over the past two years, she has been very vocal about her devotion to her little girl and her role as a parent.
The star once revealed that ever since she became a mother, she thought more about the future because of her child. She also disclosed that she thought a lot about raising Stormi in the spotlight, especially with all the negativity that comes with the internet.
The proud mother, however, gushed that motherhood had been amazing and fun so far. She explained that it was such a great experience because she was learning so much more about herself and life.
Jenner also opened up about co-parenting with her ex-boyfriend and father to her child, Travis Scott. She revealed that even though they were not together anymore, they kept their daughter's best interests at heart.
The reality star buttressed that she and Scott had such a great relationship and added that they were like best friends. She also explained that they were both staying connected and coordinated to remain the best parents for Stormi.
There have, however, been rumors that the pair are more than just best friends, as Jenner claimed. Speculations started after she posted several posts of her and the rapper over the months. As the stories continue to thrive, one can only wonder if their love truly stood the test of time.
Please fill in your e-mail so we can share with you our top stories!