Floyd Mayweather's Daughter Yaya Shows off Her Baby Bump in Christmas-Themed PJs
Former professional boxer Floyd Mayweather's daughter, Yaya, has another reason to be in a celebratory mood during the holidays. She recently shared a mirror selfie that showed her growing baby bump.
Iyanna "Yaya" Mayweather, daughter of iconic boxer Floyd Mayweather, is excited to meet her baby. Carrying a precious child in her womb feels surreal for her.
The 20-year-old's holiday will be extra special with a baby on the way. She recently shared with her 1.3 million Instagram followers a glimpse of her baby bump through her Instagram Story. 
ONE EXCITED MOTHER
In her snap, Yaya sits on the carpeted floor wearing coordinated Christmas-themed pajamas. Her cozy outfit has white, red, and brown stripes with prints on it.
Yaya's holiday-themed look highlighted her round belly. The bright and festive season did not stop her from wearing a dark-colored manicure on her nails. 
At the top of her snap, Yaya placed one of the Instagram sticker filters that coincides with her holiday spirit. The text read, "It's beginning to look a lot like Christmas."
OFFICIALLY BACK TOGETHER
Following her pregnancy, Yaya revealed in November that she and rapper NBA YoungBoy, whose real name is Kentrell DeSean Gaulden, are now a hundred percent together. 
NBA YoungBoy is the father of her child. Yaya announced it through a TikTok video with her 16-year-old sister Jirah, where they played the iconic "Tricky" song. 
Their announcement happened after Yaya and the 21-year-old rapper shared through an Instagram Live session the gender of their first child. The couple revealed that they're expecting a boy.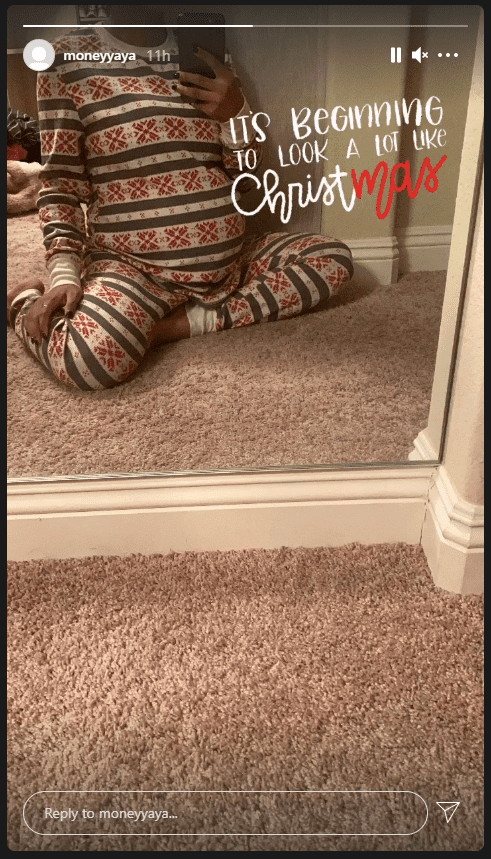 MEETING ANOTHER CHILD
This is not NBA YoungBoy's first time as a father, however. The Shade Room posted on its Instagram page last December 1 a photo of the young rapper welcoming Kodi Capri, his daughter with Drea Symone, during Thanksgiving.
With this news, many fans were left confused in the comment section, since NBA YoungBoy also got Yaya pregnant. One fan commented: 
"For real how many kids does this lil boy have now ????‍♀️??‍♀️"
WISHING THE BEST FOR YAYA
Netizens first learned that NBA YoungBoy and Yaya were expecting a baby after Yaya's father spilled the beans during a "Hollywood Unlocked: Uncensored" podcast last October 30.
The 43-year old boxing star, who has long teased his fans about his return to the boxing ring, shared that he was happy for Yaya and NBA YoungBoy, amid his past clash with the latter.
Mayweather added that Yaya's mother is also happy about their daughter's pregnancy. Since Yaya is no longer living with them, he does not want to get into the young couple's personal business.
Before her pregnancy, Yaya had a previous brush with the law. She was involved in a bloody squabble due to cheating allegations linked to NBA YoungBoy. 
Yaya was arrested after she reportedly stabbed a woman named Lappatra Lashai Jacobs who was about to meet the rapper. She was charged with a felony and aggravated assault.