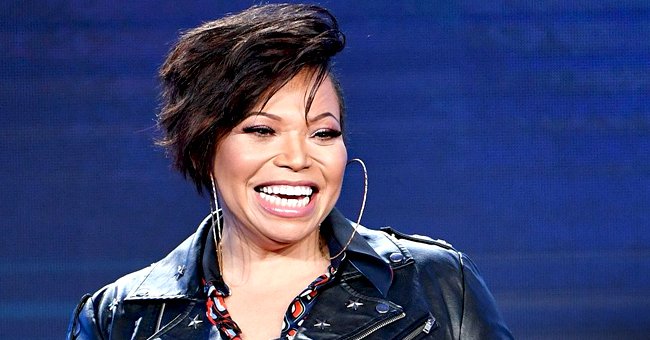 Getty Images
Fans React to Duane Martin's Ex Tisha Campbell Scolding Their Son for Wrapping Christmas Gifts

Fans reacted to a video Tisha Campbell posted of herself questioning her and Duane Martin's son about the gifts he had wrapped.
Tisha Campbell shared a video of herself scolding her and Duane Martin's son Xen about his Christmas gift wrapping skills which had fans reacting in the comments.
Xen is the ex-couple's first child. He has a younger brother named Ezekiel. Their parents filed for divorce in 2016 and it was finalized in 2018 after 20 years of marriage.
The mom of two shared a hilarious and relatable video of her son's wrapping skills. In the video, he was wearing blue pajama pants and a white vest top.
The video features Xen and then moves onto his gifts that he had badly wrapped while Campbell makes comments and questions him about the wrapping. She captioned it:
"Early in the damn morning... Xen calls himself wrapping Christmas gifts and that look as raggedy as his pajamas WTH?!!!"

A fan's reaction to Xen's attempt at wrapping Christmas gifts, December 2020. | Photo:Instagram/tishacampbellmartin
Campbell questioned whether the gifts had come in boxes, and when her son answered yes they had, she understandably asked him why he had taken them out of the boxes before wrapping.
Many of the family's fans commented on the hilarious video of Xen's wrapping skills and most were in support of his wrapping. One fan commented that you still could not tell what was inside the gift.
Another explained that it was better this way as now Campbell would not have to worry about recycling the boxes as he had actually made the process of cleaning up easier.
Many showed their support by stating that at least he had tried, adding heart and smiley face emojis, while another commented that after opening the gift, the wrapping would look messy anyway:
"Upon opening, they're going to end up looking like that way."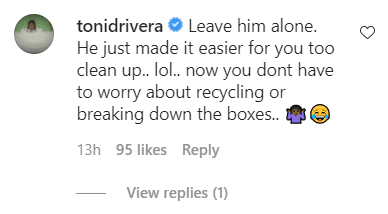 A fan commented that the cleaning process would be easier now, December 2020. |Photo: Instagram/tishacampbellmartin
Besides sharing her son's questionable wrapping skills, she revealed in an Instagram post that her son had been accepted to his dream college and after working 2 jobs, was financially independent of her.
Campbell has previously shared in an interview what it was like to raise Xen who was diagnosed with autism as a baby. In an interview, she said that he was non-verbal and would rock back and forth.
However, now she describes her son as a typical kid, and he has said he is not autistic anymore. She explains that he had never been in special classes and was always around neuro-typical children.
Campbell and her ex-husband agreed to share custody of their youngest child and agreed that each parent would have custody on Mother's Day for Campbell and Father's Day for Martin. Other holidays were decided on with odd and even years.
Please fill in your e-mail so we can share with you our top stories!