Taylor Goldsmith Is a Talented Singer — Get to Know Mandy Moore's Handsome Husband
Talented singer and actress Mandy Moore has the sweetest love story with her husband, Taylor Goldsmith, who is also a gifted singer and songwriter. Here is all you need to know about him.
Mandy Moore burst into fame with her debut single "Candy," released on August 17, 1999. Since then, Moore has released seven studio albums and also enjoyed a successful acting career.
Unfortunately, Moore has not boasted the same kind of success in her romantic life as she has enjoyed in her career. She was married to Whiskeytown frontman Ryan Adams for seven years, and in 2019, she claimed he was emotionally abusive.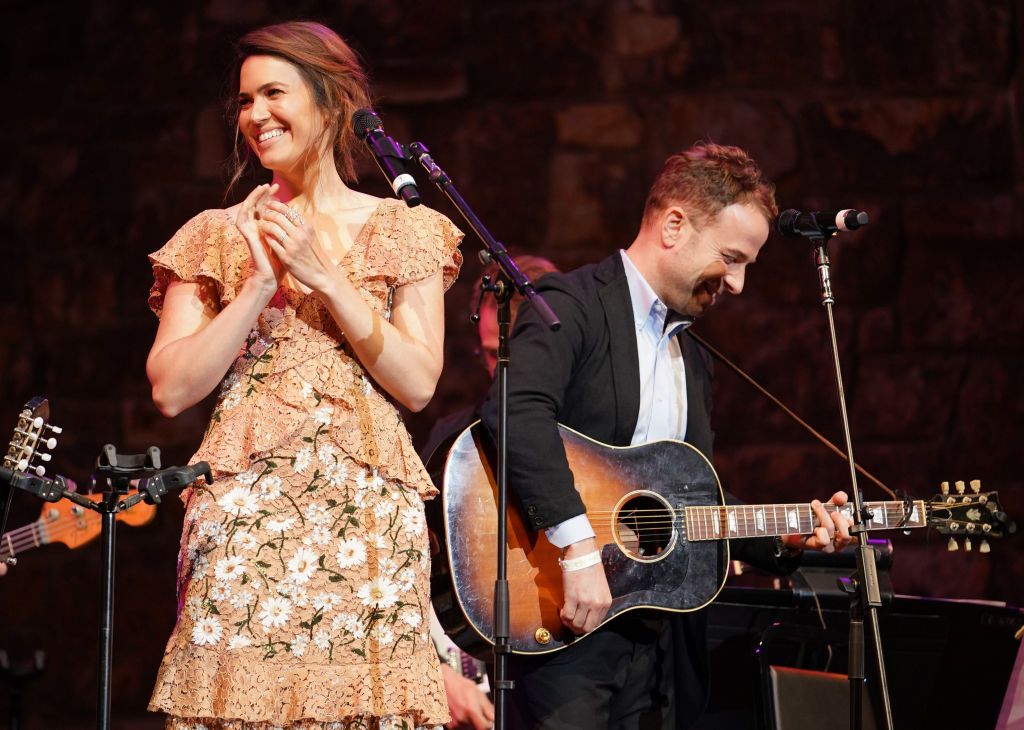 Thankfully, things are finally falling in place for the beautiful actress following her second marriage to Dawes frontman Taylor Goldsmith. The two are proving to be the perfect fit for each other, and Moore is completely smitten by her new beau.
WHO IS TAYLOR GOLDSMITH?
Taylor Goldsmith was born on August 16, 1985, in Los Angeles County, California. He is the lead singer, guitarist, and chief songwriter of the American folk-rock band Dawes. 
In 2009, Goldsmith formed the band alongside his younger brother Griffin Goldsmith (drums), his former bandmate Wylie Gelber (bass), and Lee Pardini (keyboards).
In a video shared on her Instagram story last week, the soon-to-be mom detailed how she felt nauseous and weepy in her third trimester. 
So far, the band has released seven studio albums, and in 2013, Dawes went on tour with Bob Dylan, which helped bring their music to a wider audience.
Their latest studio album, "Good Luck With Whatever," dropped in October, and Goldsmith has been very vocal about the amount of work that went into producing the album. The 35-year-old singer also opened up about how the band has been able to stay together for many years. In his words:
"The bands that are still together, still killing it, they prioritize the band over everything. Not their private lives."
Interestingly, the Dawes' music apparently brought Goldsmith and his wife, Mandy Moore, together through Instagram in 2015. 
INTERESTING LOVE STORY
In May, Moore and Goldsmith started talking on Instagram after the "This Is Us" star posted a photo of Dawes' album on her Instagram page.
The Dawes frontman responded to her post on Instagram, and the lovebirds began exchanging messages before they finally decided to go on a date. Apart from regularly trading emails, Goldsmith and Moore built their relationship through constant communication on FaceTime.
The duo frequently shows off their love on social media, making several public appearances together. After dating for two years, the couple finally got engaged in 2017. During a 2018 interview with PEOPLE, Moore opened up about her relationship with Goldsmith. In her words:
"I feel incredibly understood and supported. I feel incredibly lucky to have somebody who is like, 'I got your back.' I found the right person..."
On November 18, 2018, Moore and Goldsmith exchanged marital vows in a very private wedding ceremony that took place in the backyard of Mandy's home.
MOORE AND GOLDSMITH'S MARRIAGE
Mandy Moore and Taylor Goldsmith have only been married for a little over two years, but they already seem inseparable and look like they are completely in love with each other.
Last year, the couple celebrated their first wedding anniversary. Moore commemorated the day by sharing some rare photos of her wedding day alongside a sweet tribute in honor of her husband.
Their marriage has not only made the two very happy, but it has also helped to resurrect Moore's music career that took a big hit during her first marriage to Ryan Adams.
Earlier in the year, during an interview with USA TODAY, Moore opened up about how her husband was instrumental in rediscovering her passion for music. In her words:
"Music is inescapable in our house, so we were always discussing things, and I was constantly inspired. I very much felt like I had the ultimate partner..."
Mandy Moore's husband, Taylor Goldsmith, also co-wrote and helped record Moore's song "Invisible Ink," featured in one of the episodes of the popular show "This Is Us."
MANDY MOORE'S PREGNANCY JOURNEY
Apart from working together on new music, Moore and Goldsmith have also been quite open about their desire to expand their family. While talking to CNN in 2018, Moore revealed she has always looked forward to becoming a mom.
Two years after getting married, the 36-year-old actress and singer took to her Instagram page to share the news of her pregnancy with some cute photos of herself and her husband.
In the cute black-and-white snaps, Moore and Goldsmith can be seen smiling while he rests his hands on her growing baby bump. She captioned the photo writing:
"Baby Boy Goldsmith coming early 2021."
Mandy Moore is undoubtedly thrilled about becoming a first-time mom. More importantly, the "Candy" hitmaker has been very candid about her pregnancy journey so far.
Moore recently revealed she lost a lot of weight during the early stages of her pregnancy because she was always feeling sick. Things became a lot smoother during the second trimester, but the last months of her pregnancy are presenting new challenges.
In a video shared on her Instagram story last week, the soon-to-be mom detailed how she felt nauseous and weepy in her third trimester. 
Moore received an outpouring of love and support from her fans, and the next day, she again took to her Instagram story to thank fans for their support throughout her pregnancy.
The talented actress has taken her fans through her pregnancy journey, and there is already so much excitement surrounding the arrival of the couple's baby boy. Everyone would only have to wait a few more weeks!