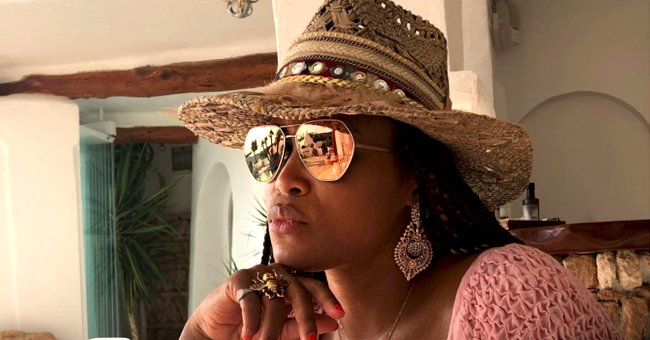 Instagram.com/mrgumball3000/
Eve's Millionaire Husband Shares Stunning Photo of Her Rocking a Pink Hippie Styled Dress & Hat
On Christmas Eve, Maximillion Cooper, longtime husband of American rapper and actress Eve, shared a gorgeous photo of her stunning in a pink hippie styled dress and hat.
Maxmillion Cooper has all the love to give his wife, Eve Cooper, during this festive season. The 48-year-old took to his Instagram feed on Christmas Eve to share a stunning photo of her, followed by a greeting.
In the shot, the rapper was seen rocking a pink hippie styled outfit. She was clad in a lovely dress with huge sleeves and an open neckline. It was combined with a raffia hat and huge gold sunglasses.
Eve and Maximillion Cooper at the official launch party for the Gumball 3000 Rally at Proud Embankment on August 4, 2018 | Photo: Getty Images
She finished the look with a three-piece necklace, intricately designed dangling gold earrings, and a bee-shaped ring. Her lips were painted a light shade of pink, and her nails a bright red hue.
The 42-year-old struck up a regal pose for the camera. She had her elbow leaning against a wooden table and her hand stylishly resting under her chin as she stared ahead. Beneath the post was the caption:
"Merry Christmas EVE! ?? ? ? ?"
The post comes a few weeks after Eve revealed that the quarantine made her and Maximillion closer. During a candid interview, she gushed about how the extra alone time brought them together.
She also opened up about how lucky she felt to be a part of the couples who made it out of the quarantine with a bond still intact. She added that it solidified why she fell in love with him and how happy she was to have made such a great choice.
Eve revealed that her husband joked about his father being racist while getting ready to meet his parents.
The love birds have known each other for a long time as they met at a Gumball 3000 rally in 2010. They eventually tied the knot in a grand ceremony at Ibiza in 2014 and have never been happier.
The rapper once revealed that being married changed her for the better as it taught her how to love and trust her husband without wanting to always be in charge of everything like she was used to.
The pair have also shown that they are more than ready to keep their biracial marriage progressive. During the Black Lives Matter movement in June, the rapper disclosed that she was having difficult conversations about racism with Maximillion.
However, she received heavy backlash from people who questioned whether that was her first time talking to him about a matter so important. Later, she explained that it was not, as both had done so on several occasions.
With this, one can also remember when Eve revealed that her husband joked about his father being racist while getting ready to meet his parents. She added that Maximilion had a unique sense of humor, so she was able to laugh it off.
The rapper later said that, on the contrary, his parents were amazing and beautiful people. Now, years later, she has formed a beautiful bond with them and Maximillion's kids from a previous marriage. No doubt, she has all the love to give and take.
Please fill in your e-mail so we can share with you our top stories!