Ayesha & Steph Curry's Kids Warm Hearts in Precious Snaps Wearing Matching All-Black Outfits
Ayesha and Stephen Curry's kids Ryan, Riley, and Canon, looked adorable beyond words as they posed together in fuzzy black outfits. Check out the snaps!
The Curry kids are their parents' mini-mes! NBA star Stephen Curry and his wife Ayesha are proud parents to their three children, Riley, Ryan, and Canon, and they all look so alike. 
Ayesha recently shared a cute twinning moment of the three munchkins on her Instagram. In a snap, the little ones were all cozied up in matching black outfits.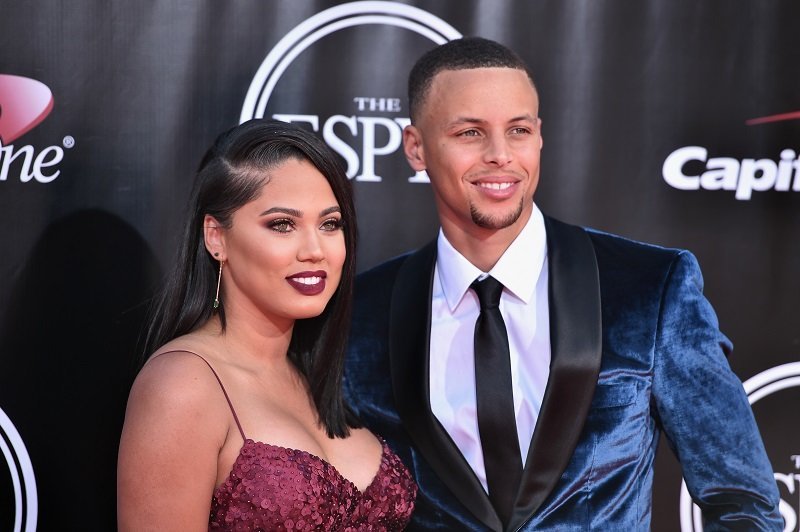 Riley and Ryan wore a fuzzy black top with matching trousers and also threw a matching outer. Their light curly hair was neatly braided into multiple rows and tied at the back. 
The youngest of them all, Canon, coyly put a finger in his mouth as he sat beside his sisters. He, too, was dressed in black, but unlike his siblings, he had let his beautiful hair loose. 
In the caption, Ayesha could not help but gush about her children. Listing out their ages, the proud mama called them her favorite people in the world and wrote:
"Time is moving so fast! [Stephen] and I look at each other every day and can't believe we get to be their parents. Such a blessing."
One of the fans took to the comment section and aptly opined how Riley and Canon are Stephen's twins while Ryan looks like her mother. Some other fans said it is now time to plan another Curry baby. 
She was grateful that he took the responsibility of homeschooling while they adapted to remote learning. 
Ayesha shared another snap of her girls posing on the floor. Just like she and Stephen, their fans cannot believe how fast they are growing up. Time sure flies! 
Stephen has been away from his little tribe for the NBA season. But throughout the pandemic, he spent much-needed quality time with them. Ayesha was happy that her husband took on the role of a teacher! 
According to her, the NBA star helped out when it came to teaching the kids. She was grateful that he took the responsibility of homeschooling while they adapted to remote learning. 
The cookbook author also shared that her husband would be asleep through all the diaper changes when their kids were babies, so it was only fair he took it upon himself to nurture their education.