Stevie J Shows off Flawless Abs in a Pink Outfit While Posing with His Look-Alike Kids (Photo)
Stevie J is in great shape, and he ain't afraid to show it! The 49-year old recently showed off his washboard abs while posing with his children in a photo. 
Stevie J has still got it after all these years. Like a fine wine, the record producer and reality star is aging well. Apparently, he has maintained a great physique, too! 
Stevie recently delighted his fans on Instagram after sharing a brand new snapshot of himself and his children. In the caption, he expressed his excitement over the fact that his son Dorian was coming home soon. 
It was a wholesome content, no doubt, but what made it all the more special was Stevie himself, and how could he not. After all, he was giving the netizens a peek at his amazing abs. 
Dressed in a bright pink jacket with red and blue patches, the "Love & Hip Hop: Atlanta" star displayed his washboard abs in their full glory. He might be inching closer to 50, but Stevie shows no signs of slowing down! 
The post was followed by a selfie that featured the reality star's better half, Faith Evans, who looked stunning in a fur coat. Fans loved the picture and took to the comments to shower the couple with compliments. 
Stevie and Faith got married in July 2018 in their Las Vegas hotel room...
Stevie and Faith seem to be perfectly happy now, but things were not the same nearly a year ago. In May 2020, Faith was arrested after allegedly getting violent during a heated argument with her husband. 
Stevie called the cops to get her out of the house, but he did not want her to get arrested. Meanwhile, they had no choice but to arrest her because it was apparent that she had physically assaulted her husband.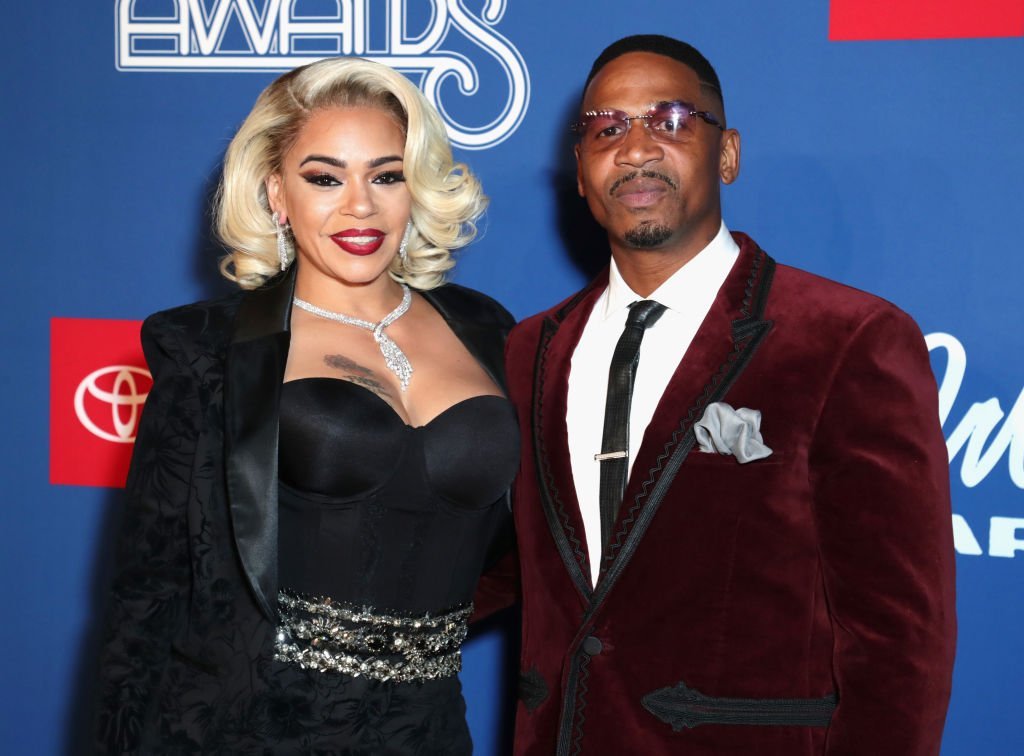 After the incident, Stevie refused to testify against his wife. Ultimately, the case was dropped. Luckily, the couple did not go their separate ways and seems to be in a good place now. 
Stevie and Faith got married in July 2018 in their Las Vegas hotel room in the presence of their family and friends. The ceremony came after they applied for a marriage license in Clark County.
Before marrying Stevie, Faith was married to the late rapper, Notorious B.I.G. She was also married to Todd Russaw, a music executive. The duo got divorced in 2011. 
Stevie was said to have been married to his "Love & Hip Hop: Atlanta" co-star and baby mama, Joseline Hernandez, but he later claimed that it was merely a publicity stunt.