Chris Lane Proposed to Lauren Bushnell in Her Parents' Backyard — Relive Their Love Story
"Bachelor Nation" star Lauren Bushnell married country star Chris Lane in 2019 after a whirlwind courtship and a romantic proposal at her parents' home.
Reality star Lauren Bushnell looked for love on the reality show "The Bachelor" and thought she'd found it with Ben Higgins, but their romance fell apart, and they called off their engagement in 2017.
Then in August 2018, Lauren ran into an old acquaintance, country singer Chris Pine. The two started dating, and by March 2019, they'd moved in together. By October, they were married.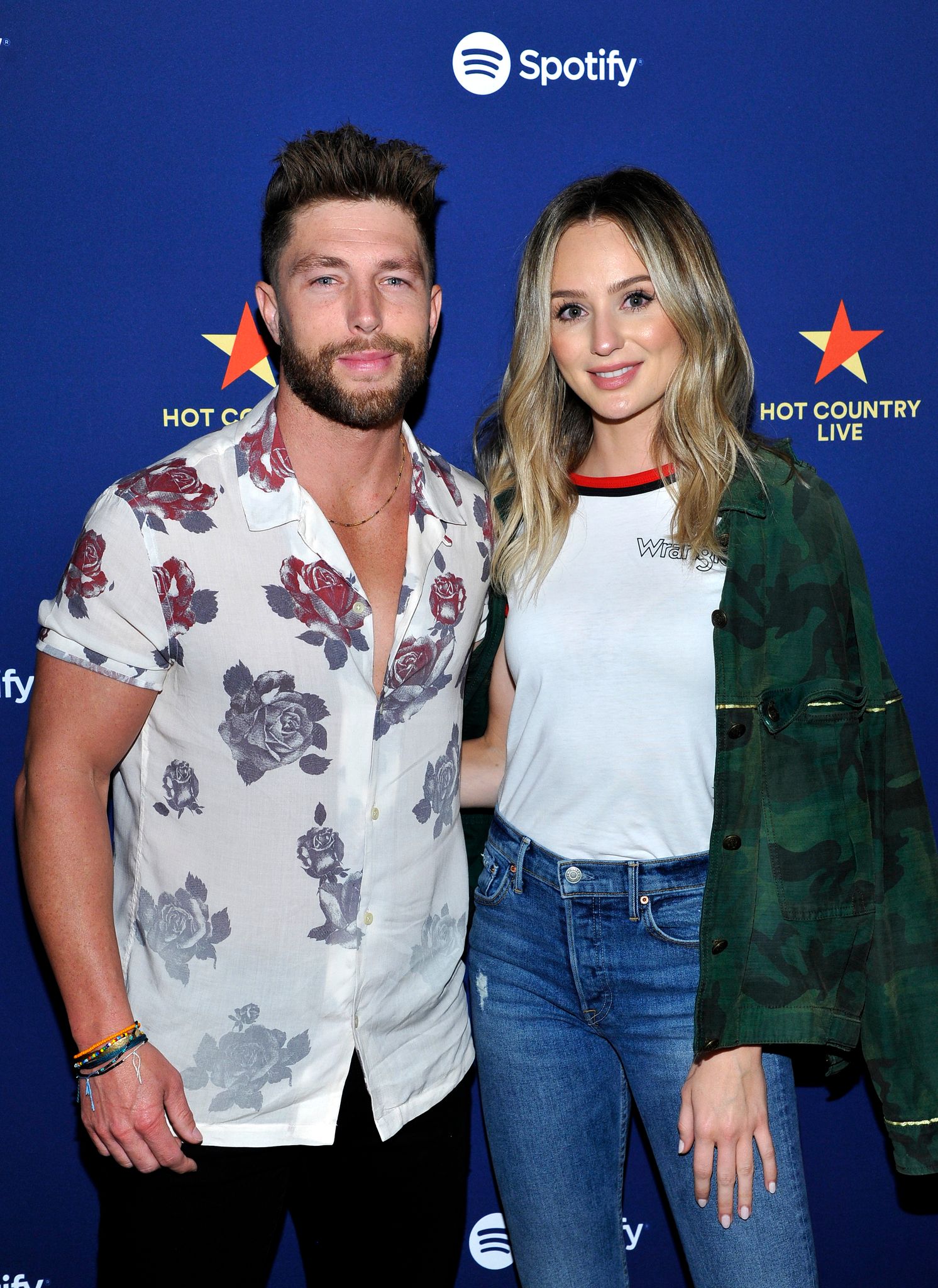 COUNTRY LOVE SONG
The story of how Lauren and Chris met sounds like the lyrics to a country love song. The reality star and the country singer had met at the iHeart Radio Awards in Austin in 2016, a month after accepting Ben Higgins' proposal.
In 2017, Lauren and Higgins made an announcement that shocked fans. The picture-perfect relationship fell apart under the pressure of real-life as opposed to reality TV and they broke up.
Chris picked out a quiet corner in the yard, sang Lauren a love song, got down on one knee, and popped the question.
TROPICAL GETAWAY
After her breakup with Higgins, Lauren dated real estate agent Devin Antin, but the two ended their relationship in August 2018. Then Lauren ran into Chris, and he invited her on a group holiday with some friends to the Bahamas.
But the trip ended up not being very romantic at all. Chris spent most of his time telling Lauren that he wasn't interested in romance and had no interest in having children. "The Bachelor" alum was not impressed.
But once Chris and Lauren went back to the US -- the reality star to Los Angeles and the singer to Nashville -- the two started exchanging regular phone calls, and love blossomed.
The courtship proceeded at breakneck speed, they moved in together, and by June 2019, Chris was determined to make Lauren his wife. His big decision had to do with how to propose to "The Bachelor" alum.
THE PROPOSAL
The perfect opportunity presented itself when Lauren's parents decided to hold a cookout in their backyard for Father's Day -- on June 16, 2019. First, Chris consulted Lauren's father, Dave, who supported the idea enthusiastically.
On that fateful day, Chris picked out a quiet corner in the yard, sang Lauren a love song, got down on one knee, and popped the question. Who could resist? Lauren certainly didn't and said yes.
THE WEDDING
When they announced their engagement, Chris immediately made it clear that the wedding would be sooner, rather than later. Over the next four months, the celebrity lovebirds planed an autumn wedding.
On October 25, 2019, Lauren walked down the aisle in a sheath dress of breathtakingly elegant simplicity, with an extravagant train. Her hair was drawn back in a classic chignon and festooned with a short tulle veil.
The wedding was held in Nashville, with 160 guests in attendance, including, of course, the couples' family and close friends. The wedding party celebrated first with a cocktail hour, followed by dinner.
Even the Nashville rain couldn't put a damper on the couple's high spirits, and they danced the night away surrounded by their loved ones. The couple opted to postpone their honeymoon.
BABY NEWS
In December 2020 Lauren and Chris made a new and exciting announcement: they are expecting their first child together, and the reality star shared a sweet snap of her baby bump on Instagram.
Lauren also shared a video taken during a sonogram, showing the baby. Another of Lauren's Instagram posts on January 1, 2021, announced the baby's sex: it's a boy.
Lauren and Chris are now quietly waiting for the day of their baby boy's arrival, due sometime in June 2021. The happy couple has yet to announce the name they have picked out for their son.