Getty Images
Jason Landau Shares Twins with Cheyenne Jackson — inside the AHS Star's Personal Life

Cheyenne Jackson, best known for "American Horror Story," has been married to "American Dreams" alum Jason Landau. They have been open about parenting after welcoming twins.
Born in July 1975, Cheyenne Jackson has been involved in the entertainment industry since the mid-2000s and has appeared in "Glee," "Rockefeller Plaza," and "American Horror Story."
On the other hand, Jason Landau is an actor turned entrepreneur who portrayed four characters in "American Dreams" between 2002 and 2004. Jackson and Landau's love story is one of a kind.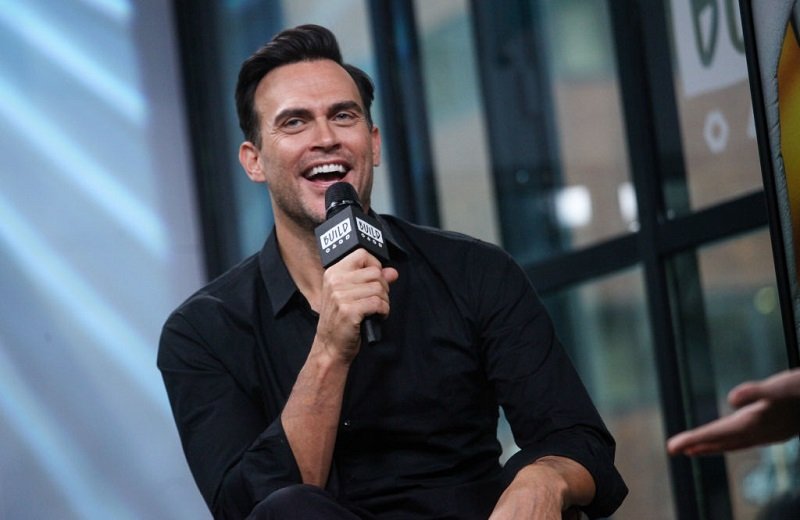 Cheyenne Jackson on November 8, 2017 in New York City | Photo: Getty Images
CHEYENNE JACKSON HUSBAND, JASON LANDAU
It all began in August 2013, when Jackson and his first husband, Monte Lapka, parted ways. According to people, they mutually decided to divorce after being together for 13 years.
Shortly after their split was announced, Jackson labeled Lapka as "a wonderful man" and admitted to being sad about their separation. Fortunately, he found love pretty soon.
In October 2013, only two months after calling it quits with Lapka, Jackson and Landau went public with their romance. Then, in February 2014, they announced their engagement.
On September 13, 2014, Cheyenne Jackson and Jason Landau tied the knot during an interfaith ceremony (Landau is Jewish) held at a friend's property in Encino, California.
While the entire wedding was beautiful, the most moving part happened when both grooms' mothers kissed their sons on the cheek on the altar, symbolizing that they've been given away to one another.
The couple, who met in rehab for alcohol addiction, saw their marriage as a "new beginning." According to Jackson, it was "love at first sight," and their wedding was the "culmination" of that.
CHEYENNE JACKSON'S TWINS
In October 2016, Landau and Jackson announced their fraternal twins' birth on their respective Instagram accounts. The new fathers named their children Ethan and Willow.
About five months later, Jason Landau revealed that his children's personalities were developing naturally. For example, Ethan is "sensitive, funny, and playful," while Willow is "serious business."
Back in 2014, Jackson labeled himself as a high-functioning alcoholic.
Cheyenne Jackson pointed out that he and his husband were committed to parenting from the start as he even took six months off to be a stay-at-home dad.
Then, in May 2018, Jackson attracted a lot of attention for celebrating five years of sobriety. He shared a post on Instagram to mark such an important milestone and admitted it has not been easy.
CHEYENNE JACKSON'S ROAD TO SOBRIETY
The "American Horror Story" actor confessed that he experienced more "highs and lows" than he sometimes thought could take, including the passing of friends, life disappointment, and anxiety. He added:
"I felt every twinge, every splinter, every heartache. It didn't break me. I was present for my life and present for those in my life, and for that I am so grateful."
Back in 2014, Jackson labeled himself as a high-functioning alcoholic, adding that he hid his problem from everybody – even his parents. The actor said that he always "showed up" and "looked okay."
However, he always felt like missing out, which led him to do drugs and drink alcohol. According to Jackson, staying sober in the gay community was especially hard as most of their interactions involve "bars and parties."
Landau's husband admitted that the idea of quitting all that seemed hard at first as he felt his social life would be over. Luckily, he realized that it'd be better as he'd do the same fun stuff, but he'd "remember it."
Nowadays, Jason Landau and Cheyenne Jackson have their hands full. Apart from raising twins, Jackson is expected to appear in "Werewolves Within" and "Stellar People." One thing is clear: their family is beautiful!
Please fill in your e-mail so we can share with you our top stories!