Kamala Harris Slammed for Wearing an All-Black Ensemble at Inauguration Concert — See Comments
Twitter users slammed Kamala Harris for wearing an all-black ensemble at the Inauguration Concert. Check out the comments below. 
Kamala Harris, the new Vice President of the United States, was criticized by Twitter users for wearing an all-black ensemble to the Inauguration Concert on the evening of the Presidential Inauguration. 
The outfit in question was a black floor-length coat with a silk lining. Underneath was a sparkly black cocktail dress that had strong shoulders and a pencil skirt fitting. 
The designer of the ensemble is Sergio Hudson, an LA-based designer. She had worn the outfit to introduce the singer John Legend at the concert. Hudson had shared his concept on the dress with Harper's Bazaar.
He shared that the country needs to be uplifted right now, so "why not put her in something sparkly." He shared the sequins added glamour and shine to the outfit. He continued and said:
"'Liquid sequins give her glamour and shine, because her influence and the way she's broken barriers is a light for so many of us. "
Of course, everyone wants to give their opinion of the momentous occasion. Twitter was abuzz with compliments for the VP for her first look of the day, a Purple coat and dress by designer Christopher John Rogers.
However, for her evening look, users were less forgiving about the choice. Many Twitter users likened her outfit to something they would wear to a funeral. 
That's what I wear to a funeral to.

— Billie Horttor (@HorttorBillie) January 21, 2021
However, many of her fans were blown away by her fashion choices and her speech. Many women opted to wear outfits that celebrated and supported the first woman Vice President. 
Including Beyonce's mother, Tina Knowles, who encouraged fans to wear the signature look of Harris, including converse tennis shoes and her iconic pearl necklaces. Her caption read: 
"On Inauguration Day to honor Vice President elect Kamala Harris . Jeans , blazer , converse tennis shoes. , pearls . I think it is a great idea !"
Harris is known for wearing interesting and beautiful pearl pieces, and the one she wore on Inauguration Day holds its own importance and significance. 
Puerto Rican-designer Wilfredo Rosado made the pearls she wore on the day. It features a gold chain and south sea pearls and is connected by small diamonds.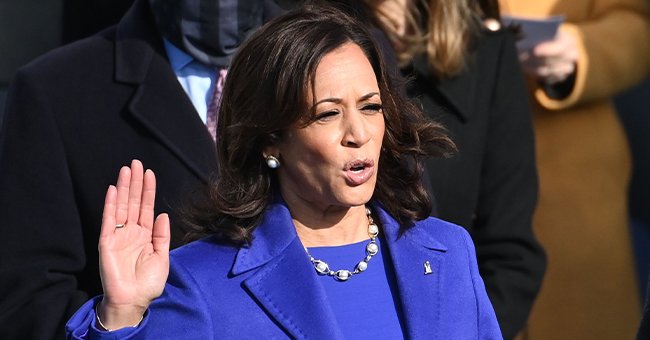 Rosado shared that the chain was meant to represent toughness, and although it is a pearl necklace, it is bold, glamourous, and makes a statement. 
Harris may have received mixed reactions for her all-black outfit at the concert, but there is no doubt that she has an immaculate style that many of her supporters admire.