Exclusive: Shannon Amos, Daughter of 'Good Times' Star John Amos on Her Wellness Journey & Sharing Her Father with the World
Shannon Amos, the daughter of "Good Times" star John Amos, has found her life purpose in the healing arts, wellness, and travel. AmoMama had the chance to talk to her about her new life in Playa del Carmen, Mexico, her parents, and more in this exclusive interview. 
Shannon Amos gets to claim the one and only John Amos, who gave life to one of the strongest Black father figures in America, James Evans, as her real dad.
Still, she's not selfish and embraces the fact that people all over the world also think of Mr. Amos as a paternal figure.
Born in New Jersey to Amos and late artist wife Noel Mickelson, Shannon grew up on the set of movies and sitcoms, where her dad encouraged her to learn the business side of the entertainment industry.
Her diligence paid off when she landed an intern position on Director Spike Lee's film "Mo Better Blues." Shannon worked her way up from a production assistant at MTV's "Yo! MTV Raps" to associate producer before moving on to Fox's "America's Most Wanted."
She went on to write and produce for BET, MTV, ESPN, and others. She even produced music videos for stars like Rick Ross and Snoop Dog. She also launched her own production company, Afterglow Multimedia, LLC.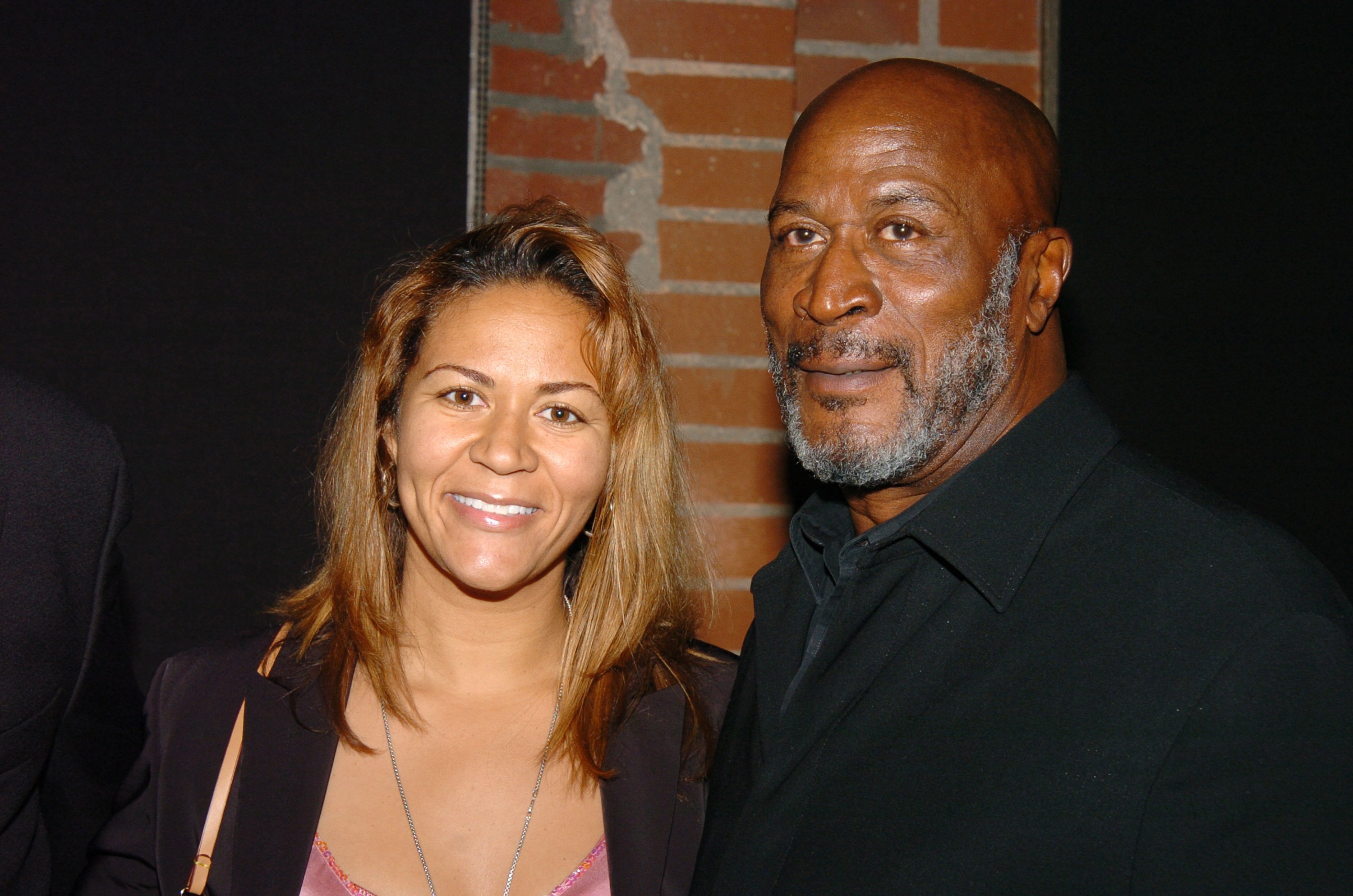 For the last six months, Shannon has been living in Playa del Carmen—a city in the exotic Mayan Riviera, Mexico; a move that was, in part, caused by the COVID-19 pandemic.
During the pandemic, sitting still gave Shannon the chance to embrace her passion for helping others heal holistically through mindfulness, retreats, plant medicine, and self-care practices. A new chapter in Shannon's life was born in the middle of a global crisis.
Here, we talk with Shannon about the quarantine, living as an ex-pat, how her mother's death inspired her new passion, growing up with a famous dad, and more. 
Q. Hi, Shannon! Thank you for taking the time to talk with us. First of all, how are you? How is the situation with COVID-19 in Playa del Carmen? 
Hello! The city of Playa del Carmen seems to be handling the COVID situation pretty well. As far as I know, our numbers are low.
I think the government has been good at installing sanitization stations and enforcing temperature checks in public places. Most people are wearing masks. We also have an outdoor lifestyle, so it's easier to be safe here. 
In Tulum, I've seen parties and large groups of people not wearing masks. I don't know how many people are being tested, so that's something tourists should consider. 
Q. How was your New Year's celebration? Did you enjoy the holidays?
It was really beautiful spending the holidays in the tropics.  I spent it with a close friend -- we watched the sunset over the ocean and enjoyed midnight fireworks over the city from my rooftop. 
There's also a large community of color here and ex-pats from around the world. We connect through Facebook groups. Having that connection has made it easy to find the places and things we need to get established here. It's also a great way to meet like-minded people and make new friends. 
Q: We heard you run a Facebook Group in Playa del Carmen...tell us about it.
Yes, I launched a Facebook Group called Black, Well and Good that connects us with all things wellness. While it is launching here, my team and I plan to make it global.   
The intention behind Black, Well, and Good is to help Black Indigenous People of Color (BIPOC) to find all the resources they need to heal and live a healthy life. 
Q. As a businesswoman, what else have you been doing in Playa? 
I'm hosting wellness retreats in Playa del Carmen and Tulum beginning in April. Also, my colleague and friend Momodou Mambouray and I are working with Shamans to bring alternative plant medicines like Cacao and Ayahuasca to our community.
We're assisting people of color who are seeking alternative ways to heal from past trauma, depression, PTSD, addiction, Alzheimer's, Parkinson's, and other diseases that are common in our communities. We are co-facilitating retreats, deep in the jungle, on Mayan land, twice a month.
Q. We know you love to travel and have created a company to curate luxury wellness travel experiences. As an entrepreneur, how has the COVID crisis impacted your business?
COVID hit the U.S. just as I was launching my company, Sumanah.com.I was concerned at first because I knew it would impact the travel industry. Eventually, I had to pivot and put all of my group trips and itineraries on hold.
I used the time to facilitate guided meditation sessions online. I began group mentoring sessions and co-hosted Heartmath and mindfulness workshops online.
This February, I'll begin a Mindfulness Teacher Training program where I'll be studying under world-renowned leaders like Jack Kornfield, Tara Brock, George Mumford, Dr. Bernard Beckwith Eckhart Tolle. I'm excited to gain new skills and insight that I can share with others.
Also, there's been an explosion of tourism to Cancun and Tulum, which has inspired me to begin hosting small group retreats locally. Unfortunately, I had to postpone my global itinerary for Sumanah.com until late 2021.
Q. You recently mentioned on your Instagram feed that you're starting your journey as a Shaman. Tell us more about that.
Yes, I am. Many people don't know what Shamanism is. They think it's a religion. For me, it's a spiritual practice that incorporates ancient healing traditions. It's a way of life that brings us closer to nature and all of creation through holistic means.
Q. Could you share with us what inspired you to take on this spiritual path? Were you brought up to be spiritual?
My parents never forced me into a religion. They always encouraged me to be open and to find my own path. So, I guess I've always been a seeker.
In December 2016, my Mom was in the process of transitioning. I was present the entire time. Just before she passed, I asked her if she had any regrets. My Mom said, only that she didn't get to travel and see the world.
Since I knew she wanted to be cremated, I asked her, "What if I take your ashes with me and I travel around the world?  My Mom's eyes lit up, and she smiled. She said, "Shannon, go see the world and let the world see you." 
It was a beautiful moment. I knew that she meant to go and meet people where they are without fear or judgment and to let them see me - the real me with my heart wide open.
So, in January of 2017, I left the US on my soul sabbatical. With only $700, and a one-way ticket, I left for Bali. I wanted to see just how far I could go just on grace.
It was a huge leap of faith that carried me to 14 countries in a year. I had so many magical moments.  Traveling solo also gave me the time and space I needed to heal. Traveling alone changed my life.
Q: Where did you go?
I traveled and lived with indigenous people in some amazing places like Malaysia, Vietnam, India, Bali, Cambodia, Thailand, and the Philippines. I discovered a lot about myself, and it boosted my confidence.
Q. What is the biggest lesson you have learned through travel and wellness that you want to share with the world?
I think one of the biggest takeaways that travel changes you. You see how the media has manipulated and lied to us about other countries and people, how our governments feed us fear.
Travel not only changes your perception of who you are in the world, but it also teaches you how everything you do creates a ripple effect throughout the world.
I witnessed everything from the realities of human trafficking to the changes in our ocean, to the exploitation of indigenous people, nature, and wildlife. I've traveled to places that I was told were super dangerous only to discover they were safe and amazing.
I saw first hand how climate change is real and how serious many social and environmental issues really are.  Travel opened my eyes and my heart in ways I never expected. 
Q. We recently saw you recently met with your gorgeous daughter Quiera Noelle; please tell us about her.
My daughter Quiera also has a case of wanderlust. I guess he gets it from her Mama (laughing). My daughter has been traveling with me in Mexico. She recently returned from three years of living in South Korea and Thailand.
Quiera recently launched a new company called NomadiqNoelle.com. She's coaching millennials and preparing them on how to teach, work and live abroad.
It's important for young people of color to see someone who looks like them doing what they may think is impossible. 
Q. Also, we have to ask about your Father. How is Mr. Amos doing?
My Dad is good. He turned 81 in December. His latest film is coming out -- "Coming to America 2". My family and I are very excited for him.
Since theaters aren't open, I believe it will debut on Amazon Prime on March 5th. The movie stars Eddie Murphy and Arsenio Hall.
Q. Do you get to spend time with him?
Yes, I just visited him during the holidays in L.A., California. He was in town doing a shoot for Netflix. He's now back home, in Colorado, where he lives.
My Dad always encouraged me to live my best life -- and so I do that, but I still miss him when I'm away.
Q. This is probably a question you get a lot, but how was it growing up with a famous Dad?  At what point did you become aware that your Dad was "John Amos- the movie star"?
For me, my Dad was just my Dad. As a child, I just saw what he did as a job, but as I got older, I began to see how many lives he impacted through his role as a strong Black man and father.
It's really sweet to see people of all nationalities see him and say, "You were my TV dad growing up."  I've witnessed grown men crying when they meet him because they're like, "I didn't have a Dad, and you were my TV Dad."  That says a lot about his work.
Q: Was your Dad anything like the character James Evans?
Yes, that character wasn't a big stretch for him. My Dad was no joke when I was young. He's still no joke [laughing].
He was always strict, but he was also very funny and super adventurous. He's created some incredible memories. He's also the one that introduced me to travel at a young age.
My Dad took me to live in Monrovia, Liberia, in West Africa when I was a little girl. We also lived in Nassau Bahamas in the summers as a kid. He took our family to many places...so I guess that's what inspired my wanderlust. I'm grateful to him for that.
Q. At one point in your professional life, you followed your father's footsteps into the entertainment industry, even though it was behind the scenes. How did your experience in Hollywood shape the woman you are today?
I spent 20 years as a writer and producer in the entertainment industry. I think growing up on sets with my Dad inspired that.
He always encouraged me to learn what was happening behind the camera, so I learned all I could. That exposure introduced me to what would become my career.
Now, in the second part of my life, I'm excited to combine my experience producing with my passion for wellness. I'm still creating content, but now I'm doing it with an amazing team as we travel.
We have a lot of new content coming through our new media company Black, Well and Good, so stay tuned. 
Q. Please give our readers some words of advice on how to live peacefully and authentically. What are the best wellness practices they can apply to their lives?
I'd invite people to get into the practice of being present and grateful - this is the best way to experience more peace, joy, and abundance. Life is precious...don't waste it doing something you don't love.
You can follow Shannon for more information about her upcoming projects here:
IG @OfficialShannonAmos,  FB @OfficialShannonAmos, ShannonAmos.com.