Kourtney Kardashian Wows Fans Showing off Her Toned Body in Black Top & Matching Shorts (Photo)
Kourtney Kardashian impressed her fans with a recent picture where she flaunted her toned body, leaving fans with nothing but admiration for her.
When it comes to keeping fans on their toes, every Kardashian clan member is naturally gifted with that unique ability. Kourtney Kardashian gave her fans no choice but to trip over her incredible physique.
She did this with a couple of pictures she shared on Instagram, where she left her fans at the mercy of her beauty. In the series of pictures, Kardashian is seen posing alongside her son and daughter as they enjoyed their time in Amangiri, Utah.
Kardashian looked breathtaking in a black top that showed off her toned body and matching shorts that revealed her curves. She chose matching footwear and a blue hat to complete the ensemble. 
Just a few hours after the post was shared, fans flooded Kardashian's timeline with more than eight hundred thousand likes and over a thousand comments.
One stunned fan remarked that the reality star looked lovely in the pictures, while a second fan commented, "gorgeous." A third fan noted that the 41-year-old looked cute.
Just like every member of the Kardashian clan, Mason is friendly with the camera.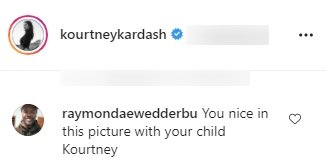 Kardashian has been making waves in recent times not just for her breathtaking pictures but also for her budding romance with long time friend Travis Barker.
The duo was recently spotted having a cozy time together at Palm Springs, leading to many speculations that their friendship was more than casual.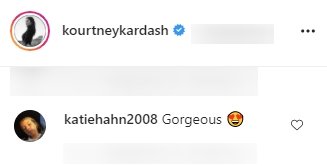 Kardashian and Barker look like they are becoming the next big thing in Hollywood, with sources confirming that their romantic relationship is in its early stages. The duo is said to be deeply bonded and spend a lot of time together on and off the phone.
Although the news of their relationship is new, their friendship has been ongoing for a while. Baker and Kardashian are reportedly neighbors and live on the same block in the highbrow area of Calabasas, California.
All the speculations have, however, not stopped the mother of three from filling her Instagram with gorgeous pictures of herself doing what she does best; looking amazing!
Kardashian recently shared an eye-popping bathroom picture with her 108 million Instagram followers. Her toned figure and incredible curves did all the speaking.
While enjoying her new romance, the reality star still enjoys being a doting mom to her kids. The "Keeping Up With The Kardashians" star shares her three children - Mason, 11, Penelope, 8, and Reign, 6, - with ex-boyfriend Scott Disick.
Her son Mason is reportedly becoming an internet sensation in his own right. Just like every member of the Kardashian clan, Mason is savvy with the camera.